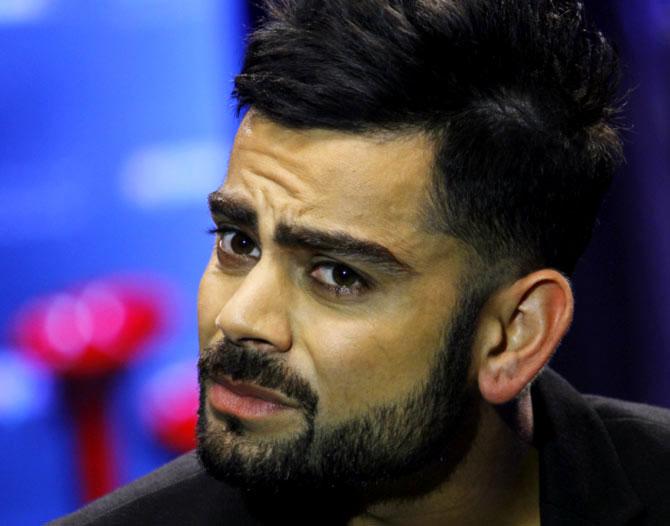 The result was as expected -- India beat Bangladesh and sealed its place in the semi-finals... So why was Virat Kohli spotted in Mumbai?
It's the all-important knockout match against Bangladesh and Virat Kohli scores a measly three runs.
Of course, India put up a respectable 302 for 6, but Kohli was probably wishing he hadn't tweeted about girlfriend Anushka Sharma's film, NH10.
Which is why, when he walked into the rediff.com office in Mumbai, Abhishek Mande/Rediff.com and Sonil Dedhia/Rediff.com -- who were analysing the match on The Rediff Cricket Show -- were stunned.
Watch what happens.
Of course, that wasn't Virat... But Anup Pande, who looks quite a bit like India's swashbuckling vice-captain was a sporting stand-in :)
During the first innings, in which Rohit Sharma made a speedy, if slightly marred by controversy 137, Manish Jhaveri (the quick pen behind Amul's catchy reactions to news events) -- armed with his ever-present wit -- joined Abhishek Mande/Rediff.com for a quick discussion.
Do join our Live Discussion at the end of the match between Australia and Pakistan. Which of these two countries will meet India in the semi-finals?
Don't forget to post your questions/comments here.
Catch our earlier videos:
Follow our World Cup coverage here.