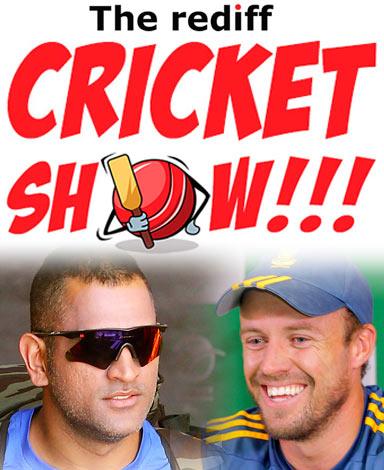 30 wickets across two games... a good day for the bowlers at last...
Cricket may now be a batsman's game, but there are days when the bowlers send hearts soaring.
Trent Boult and Mitchell Starc were awesome when the Kiwis took on the Kangaroos.
Both lionhearts had career bests on Saturday, and it was a pity that one team had to win in what was clearly the game (scorecard) of the Cup so far.
Ravichandran Ashwin too had a career best later that day.
The offie's show was not in the Boult-Starc league, but his 4/25 (scorecard) will give Indian fans, who had begin to despair about his wicket ways, something to cheer about.
Abhishek Mande-Bhot/Rediff.com and contributor Chandresh Narayan discuss both games on The Rediff Cricket Show.
Here's the first part of the discussion:
And here's the second :)
Videos: Afsar Dayatar/Rediff.com and Hitesh Harisinghani/Rediff.com
Catch The Rediff Cricket Show here.
Friday, March 6: India versus the West Indies
Tuesday, March 10: India versus Ireland
Saturday, March 14: India versus Zimbabwe
Watch earlier Rediff Cricket Show videos:
Are you watching the World Cup? Please share your videos, photos and comments below!