How will young batsmen brought up on T20 learn to build an innings?
What about the technique to patiently negotiate hostile seam bowling conditions or the skill to play on difficult dusty turners?
What about leaving the swinging ball outside off stump?
These are some of the questions raised by S Giridhar and V J Raghunath in their book, From Mumbai To Durban: India's Greatest Tests.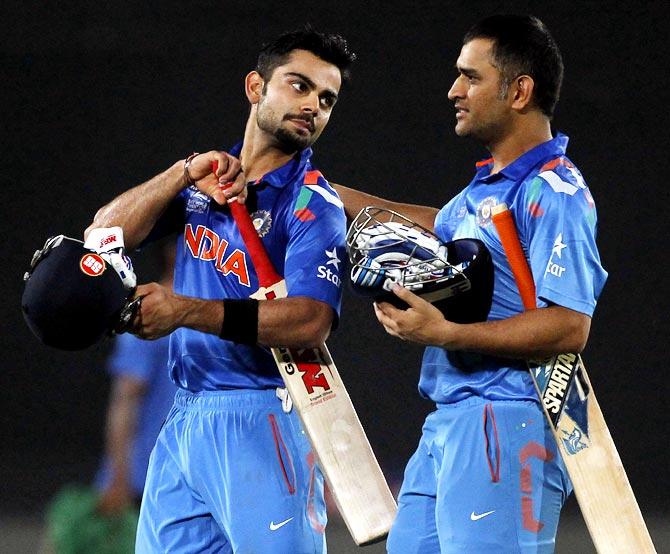 IMAGE: M S Dhoni has handed the baton to Virat Kohli. Photograph: Andrew Biraj/Reuters
Dhoni has made way for Kohli.
The early signs since Kohli took over in 2014 indicate that the young captain is a clear-thinking leader with intent and passion.
India are again on the upswing.
A heartening performance in Australia in 2014 -- though they lost 2-0 -- and a series triumph in Sri Lanka and a home series win against South Africa in 2015 augurs well.
There are signs that a promising nucleus is emerging; between Kohli, Vijay, Rahane and Pujara, India has a batting outfit for all conditions.
Ashwin is at the peak of his prowess and a proven match-winner.
If he can bowl abroad as well as he has in the subcontinent and is supported by spinners Jadeja and Mishra and by the promising pace attack of Shami, Bhuvaneshwar, Ishant and Umesh Yadav, India will win overseas.
Kohli with his positive intent is making it clear that he wants 20 wickets every time he steps on to a Test ground.
He will have his sights set on a series win in South Africa and Australia, a feat no Indian team has achieved.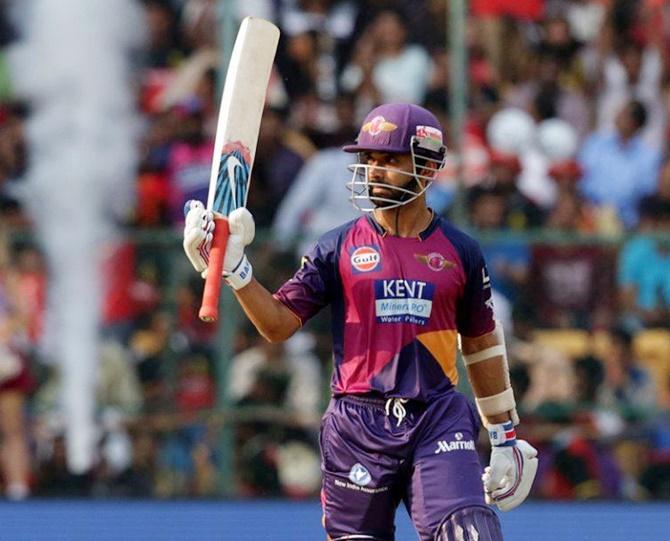 IMAGE: Ajinkya Rahane acknowledges the crowd after scoring a half century for the Rising Pune Supergiants who were pitted against the Royal Challengers. Photograph: BCCI
It is once again an exciting period for India and its young guns.
Meanwhile, the effects of T20 on our cricketers cannot be ignored.
While truly versatile and talented cricketers like Kohli, Rahane and Ashwin can adapt to all formats, and have in fact raised their cricket by bringing in strengths from their T20 experience, lesser cricketers could be permanently damaged.
How will young batsmen brought up on T20 learn to build an innings?
What about the technique to patiently negotiate hostile seam bowling conditions or the skill to play on difficult dusty turners?
What about leaving the swinging ball outside off stump?
In the last few years, Indian batsmen have struggled as much against spin (be it Nathan Lyon, Rangana Herath or Moeen Ali) as against high-quality pace, be it James Anderson in England or Mitchell Johnson and Mitchell Starc in Australia.
The bowlers brought up on T20 face their own problems.
Trained to bowl dot balls for containment, they do not have a repertoire or the practice to vary their length, line or spin in the longer game.
Spinners need to play matches to hone the art of flight, drift and variations in spin, but T20 has frozen that.
The domestic calendar is subservient to the packed international calendar and therefore top players don't play the longer version of domestic cricket any longer.
While fielding and boundary line catching have improved unrecognisably, close catching conversely has not improved, as the shorter version of the game hardly has a role for short leg or silly point.
Unless the pitch plays a part -- a raging turner or a green seaming wicket -- the game is tilting the way of batsmen.
Even when bowlers beat batsmen, the edge carries to the fence because of the monstrous bats.
The compressed willows have a bow and an edge so thick and formidable that bowlers are fodder for the cannon.
Limited overs game has the money.
India is the economic fulcrum and the public in India seem to enjoy the frenetic whirligig compressed into a few hours.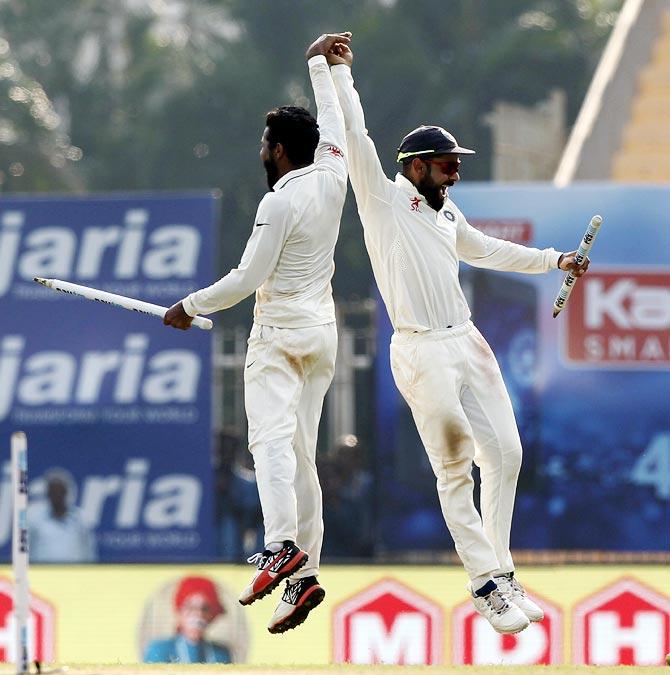 IMAGE: Virat Kohli, right, and Ravindra Jadeja celebrate winning the fifth and final Test against England in Chennai. Photograph: BCCI
Two years ago, we argued that Test cricket would survive; that, in fact, cricket would survive only if Test cricket survived.
We pointed out that the crowds in Melbourne, Trent Bridge and Lord's for Test matches were undiminished; that Boxing Day Tests at Melbourne and Durban were marquee events in those nations' sporting calendar.
We are less sure now.
Unless Test cricket survives and thrives in India, it will not have a future.
Ask any cricketer and he will tell you in complete earnestness that Test cricket is the ultimate challenge.
Ask him what hurts and he will recall the 0-4 hiding at England and the 0-4 routing in Australia in 2012-2013.
Ask him to recall similar painful matches from India's bilateral one day series, and he will be hard pressed to recall one.
There is a permanence to Test cricket that cannot be expected from the 50- or 20-over bilateral games.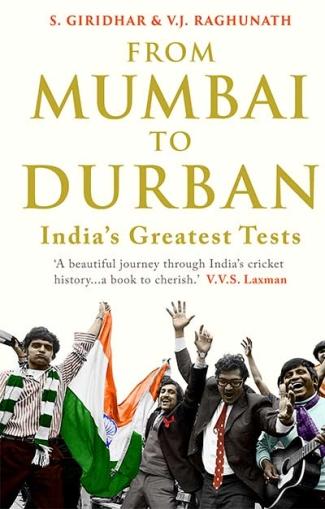 The World Cup tournaments in the 50-overs version and the T20 version are absolutely brilliant and certainly have a critical salience, but bilateral one day games are meaningless, without the lasting impact and relevance that come from Tests.
Of course, the public too has to buy this.
When Hashim Amla and A B de Villiers batted for hours against Ashwin and Jadeja on a turner at Nagpur in November 2014, hardly scoring a run but demonstrating tremendous skills to stay and save a game, they made for edge-of-the-seat viewing, but for how many?
How many would watch this sort of a game, or would they prefer the thrills of an IPL jamboree?
We have a problem, and we cannot wish it away.
In this age of TV watching, sponsorship money and media hype, who will watch Tests, even if they produce results?
If crowds do not come to the grounds, can the present team of players and support staff be a sustainable proposition?
What must we do to ensure Test cricket does not merely survive but thrive?
The best answers to these questions will come from the committed and ambitious cricketer who believes Test cricket is the acme of the game.
Someone like Kohli, who is committed to Test cricket and excels in every format of the game, will have as many good ideas as a recently retired Dravid or the older thinkers like S Venkataraghavan and Bishan Singh Bedi.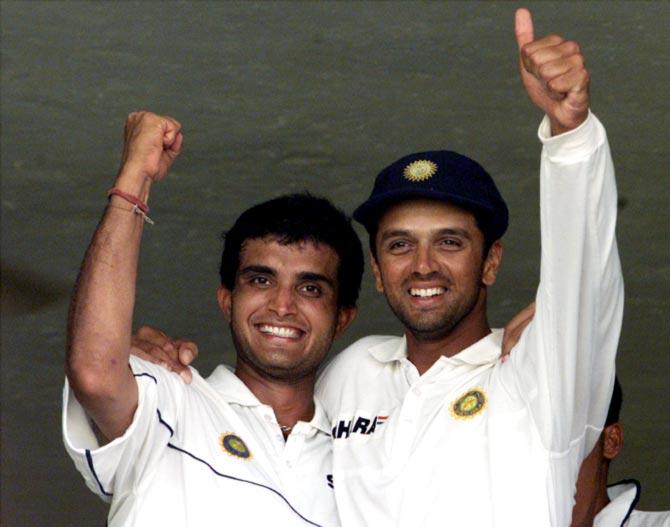 IMAGE: Rahul Dravid, seen here with Sourav Ganguly, may have retired from the game, but remains passionately committed to honing its future. Photograph: Reuters
We set the ball rolling here with a few suggestions and if some of them seem desperate that only means we have a desperate problem:
Play Test cricket in the more traditional centres, where there is a better chance of the public coming to watch the longer version, while reserving the limited overs games for other venues;
Do not telecast the Test match live in the city (at least till noon) where it is being played; so if there is a game at Chinnaswamy Stadium, the match will not be beamed live into homes in Bengaluru;
Have a cap of 125 overs for the first innings of the Test match as this will leave at least two days for the teams to go for a result;
All players must participate in a minimum number of first class games in a season to qualify for national Test selection;
Give children under the age of 15 free admission to Test matches when accompanied by parents;
Designate certain dates in the calendar for Test matches as a tradition: Pongal at the Chidambaram Stadium, January 1 at Eden Gardens, and so on, just as Australia and South Africa have designated Boxing Day Tests.
From a perspective of building capable Test teams, some thoughts could be around the possibility of players being selected for Test cricket only after playing a certain number of longer version first class games.
Thus, a hugely talented player like Shreyas Iyer would know that only his exploits in Ranji Trophy and Duleep Trophy will land him in a Test squad, while his IPL exploits can get him a place in the ODI and T20 squads.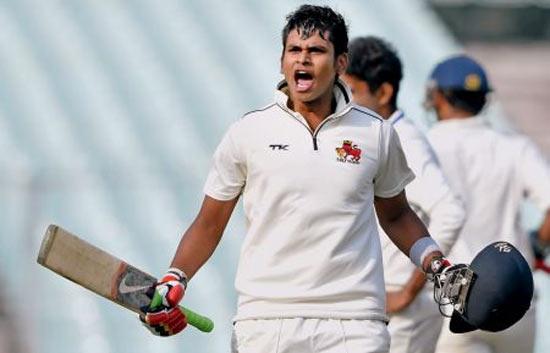 IMAGE: Shreyas Iyer celebrates after scoring a ton for Mumbai in a Ranji match. Photograph: PTI
If there are some very talented opening batsmen and spinners whose technical abilities could get eroded by limited overs games, the BCCI could keep them exclusively for Tests but compensate them with a handsome contract so that they do not lose out on the lucrative limited overs cricket.
The most knowledgeable coaches and cricketers have emphasised that the players must learn the basic skills before venturing into innovations.
Thus, batsmen must first learn to use their feet well to play back and forward, learn balance, wrist-work, correct grip and back-lift.
This thorough grounding is necessary before they attempt the 'dilscoop' or the reverse sweep; so the thousands of youngsters and more importantly their pushy and ambitious parents must be made to watch the longer version of the game (lure them to the ground with whatever incentives necessary) to appreciate that a limited overs career will in fact be more likely if the youngster has a good grip of the longer version.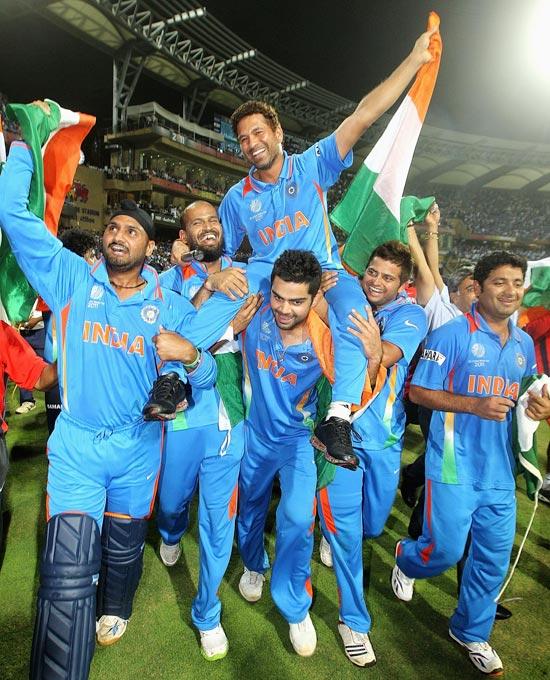 IMAGE: Sachin Tendulkar is chaired around the field by his team-mates as they celebrate winning the 2011 World Cup. Photograph: Hamish Blair/Getty Images
As Venkataraghavan told us, Richards, Lloyd, Greenidge and Tendulkar were perfectly prepared by the longer version and that is why they were so good at the shorter version.
Finally, for India to spot and groom promising Test players, the IPL or the Junior World Cup is not the place to search.
It has to be the performances in three day games in domestic tournaments and the matches that the India 'A' and India Under-19 squads play at home and under a variety of testing conditions abroad.
Selection to these squads will come on the back of consistent performances in Ranji Trophy and Duleep Trophy games.
It is the exposure and examination of promising talent in these longer version games against international opposition that will give us our next crop of quality Test players.
Excerpted from From Mumbai To Durban: India's Greatest Tests by S Giridhar and V J Raghunath, with the permission of the publishers, Juggernaut. It is available in bookstores and on the Juggernaut app.