A B de Villiers could do anything and everything.
If he defied gravity on field, with a bat in hand the laws of physics bent to his wishes, says Chetan Narula.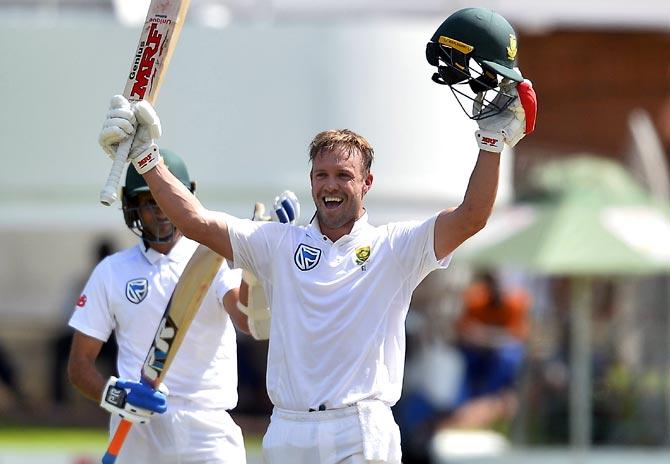 On May 17, Superman was spotted in Bengaluru.
The Sunrisers Hyderabad were trying to chase an improbable 219, and English opener Alex Hales provided a quick start.
On the final ball of the eighth over, he smacked compatriot Moeen Ali over deep midwicket, and the entire cricketing universe held its breath as the ball looked set to sail for six.
Then, a blur in red (Royal Challenger Bangalore's jersey) flew up -- right hand outstretched, plucking the ball out, safely within the boundary.
It was the most tantalising moment of T20 cricket history, and arguably the greatest bit of fielding since Jonty Rhodes' gravity defying run-out of Inzamam-ul Haq in the 1992 ODI World Cup.
No one knew it that evening, but A B de Villiers had left a lasting impression of his superhuman abilities on our collective cricketing subconscious.
This one electric moment encapsulated everything about him: A naturally gifted athlete who excelled at rugby, athletics, swimming, tennis and golf, yet chose cricket to exhibit his grandeur.
When de Villiers announced his retirement from all forms of international cricket after a 14-year-long career, he left this sport poorer.
Over the past decade or so, there have been many magical moments as described above. Rhodes was his obvious inspiration, and it was no surprise seeing de Villiers emulate him on the field early in his career.
In 2006, against Australia at Port Elizabeth, de Villiers had his first superhuman moment -- fielding the ball at mid-off covering an improbable distance with a forward dive, throwing the ball whilst rolling over and hitting the stumps mid-air, running out Simon Katich in a bewildering manner.
De Villiers could do anything and everything.
If he defied gravity on field, with a bat in hand the laws of physics bent to his wishes.
Defining him as an explosive batsman was an understatement, for he changed that definition twice in six months as the West Indies bore the brunt in 2015 (149 off 44 balls at Wanderers and 162 not out off 66 balls at the SCG).
Having tightened up his defence early, there was no shot he couldn't play, no surface he couldn't master, no bowling attack he couldn't subdue, no angle, nook or corner of the field he couldn't persuade the ball into.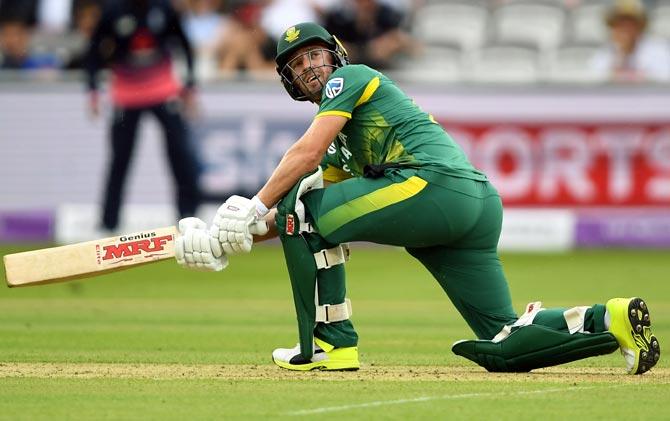 De Villiers came to be known as Mr 360 for many reasons: Hitting the ball onto the roof at Ahmedabad during his Test double ton against India in 2008; scaling the highest fourth-innings chase in Australia (helping South Africa win their first Test series Down Under at Perth in 2008-2009); batting out entire days with blockathon innings in Adelaide (2012-2013) and Delhi (2013-2014); scoring the fastest ever ODI hundred off 31 balls against the West Indies in Johannesburg (2015).
The recent home Test series against India and Australia are prime examples. Pitches were different in both contests, ranging from rapid green tops to benign flat tracks. De Villiers batted as if he were on a surface different from all other batsmen.
Only Virat Kohli and Steve Smith came within touching distance, and that too because they are at the prime of their careers, compared to de Villiers who was already 34 at the time. The duo will compete for batting honours now that he has exited the stage.
De Villiers, though, was the best batsman of his time, across formats. Period.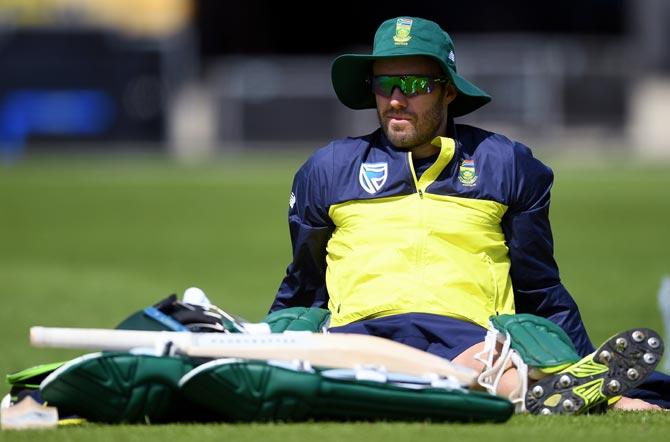 Perhaps the only accolade missing is the tag of 'World Champion'.
Over the years South Africa have struggled to take that last step in ICC world events, whether in ODIs or T20s.
De Villiers was seen as the man to carry them over this last hurdle but the closest he came was a heart-breaking semi-final loss to New Zealand in Auckland (2015).
And this aspect makes the timing of his retirement all the more surprising, with the ODI World Cup in England just a year away.
'It would not be right for me to pick and choose where, when and in what format I play for the Proteas,' de Villiers said in his retirement video posted on social media.
As the Proteas prepare for a World Cup they are desperate to win -- amid some grumbling about de Villiers's skipping a Test or ODI and then showing up to play T20 -- it was clear that he no longer enjoyed the freedom to 'pick and choose'.
Yet, with the burgeoning international calendar, and the pull of T20 money, it is a fine balance.
Can one really argue when a player makes this tough call, one way or another?
Superman he might have been, but even de Villiers was unable to punch his way through this particular wall.