'He was not even 15 when he showed skills at captaincy.'
'Now that he is the captain, I keep telling him not to expect from others what easily comes to him.'
Another fascinating excerpt from Vijay Lokapally's must read biography of the cricket superstar, Driven: The Virat Kohli Story.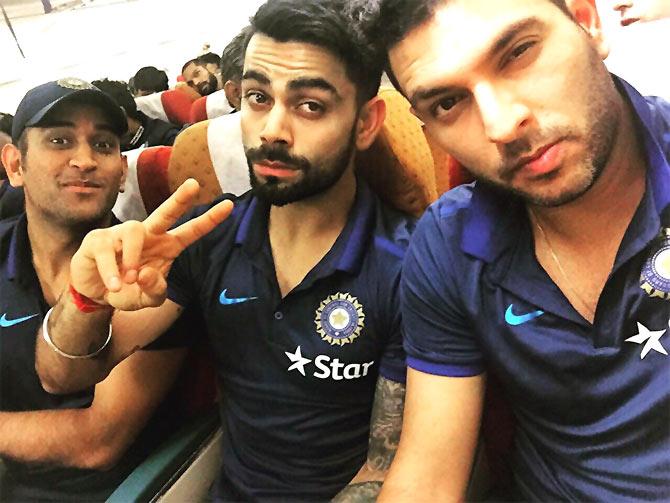 IMAGE: Chilling with Mahendra Singh Dhoni and Yuvraj Singh. Photograph: Kind courtesy Virat Kohli/Twitter
Virat was born to play cricket.
"And born to lead," insisted (his childhood coach) Raj Kumar.
From the day he played his first match for the WDCA (West Delhi Cricket Association), Virat appointed himself as the leader.
"He would become captain and call the shots. Even his seniors would marvel at his reading of the game."
"When the regular bowlers would struggle, he would offer his wicket-taking abilities. Virat would announce that he would get the set batsman out and believe me he would get him out."
"I can't forget his first day at the WDCA. That throw from the boundary, flat into the wicketkeeper's gloves, had startled us. Such a powerful arm at nine years of age!"
"But here he was demonstrating all-round abilities and showing leadership skills. He was not even 15 when he showed skills at captaincy," said Raj Kumar.
Raj Kumar can also never forget the day when his ward was mocked at by the under-15 state selectors.
Raj Kumar had played along a couple of them. He was obviously hurt when they dismissed Virat as just another youngster from the stables of Delhi's club cricket.
"Virat was in tears and I really felt for the boy."
"He had done everything possible to merit a selection, but Delhi had some very exacting standards and not always cricketing ones," Raj Kumar lamented.
IMAGE: #Family time: At the Wagah border and the Golden Temple in Amritsar. Photograph: Kind courtesy Virat Kohli/Twitter
The crestfallen and exasperated Virat, unable to comprehend the reasons for his exclusion from the state under-15 team, received a warm and encouraging pat from former India captain Bishen Singh Bedi, who happened to be at the Ferozeshah Kotla as coach of the Delhi Ranji Trophy team.
It was the first time Raj Kumar had raised his voice at a fellow cricketer and the two state junior selectors responsible for keeping him out were acutely embarrassed when Virat earned selection next year by scoring heavily in the local grade.
At one point, Raj Kumar, in a dilemma, had contemplated shifting Virat to another state, but was stopped from making that move by some prudent seniors.
Virat's fervour to make it big did not stop at getting into the state under-15 squad. He now wanted a contract with a bat manufacturer and Raj Kumar had a task at hand.
Virat would nag him until one day the coach sent him to BDM, a renowned brand based in Meerut.
"He is too young for a contract. Are you sure he will go the distance?" asked a representative of the company.
"He is a good investment," Raj Kumar assured the BDM official. "You sign the boy and I promise you it will be a long and fruitful association," assured Raj Kumar. "He stayed with BDM for a while even after playing for India. I am glad he proved my judgment right."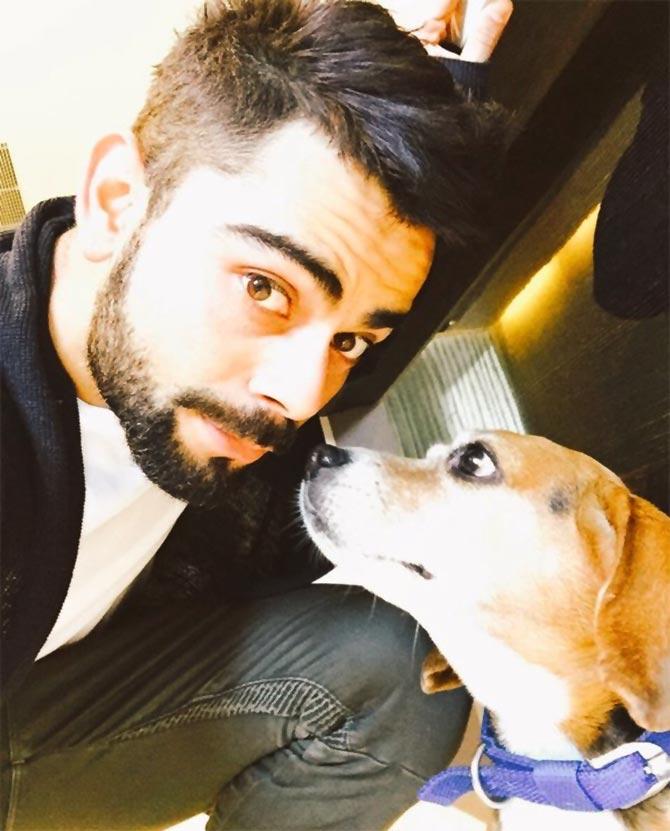 IMAGE: With Bruno. Photograph: Kind courtesy Virat Kohli/Twitter
The biggest challenge for Raj Kumar was to keep Virat calm.
He was like a storm looming large on the field and threatening to sweep them all.
He was restless even when he excelled because if he got a 50, Virat would visualise a century as if by right.
It was tough to keep Virat glued to his seat. If the opposition got out cheaply, Virat wanted to go in early and finish the game.
"What if I did not get to bat?" was his innocent query to the coach.
Always slotted at No 4, Virat had this tendency to pad up along with the openers.
If he got out, he never took off the pads until the contest was over.
He hated losing his wicket and had to be constantly involved, conveying his message by keeping his pads on.
Mistakes were always dealt with a firm hand by Raj Kumar.
"I did not simply stop at scolding him. A few hard slaps have sometimes worked well," said Raj Kumar, who has been more of a father figure than a coach for Virat.
Raj Kumar has had a huge influence on Virat.
The making of Virat was a process that also marked Raj Kumar's evolution as a coach. His rapport with Virat was impeccable.
"I can read his mind. He also knows what goes on in my mind. I have set certain benchmarks for him and he meets them. Sometimes they are about hitting centuries or winning matches. We have worked countless hours on technique and temperament and he has responded beautifully."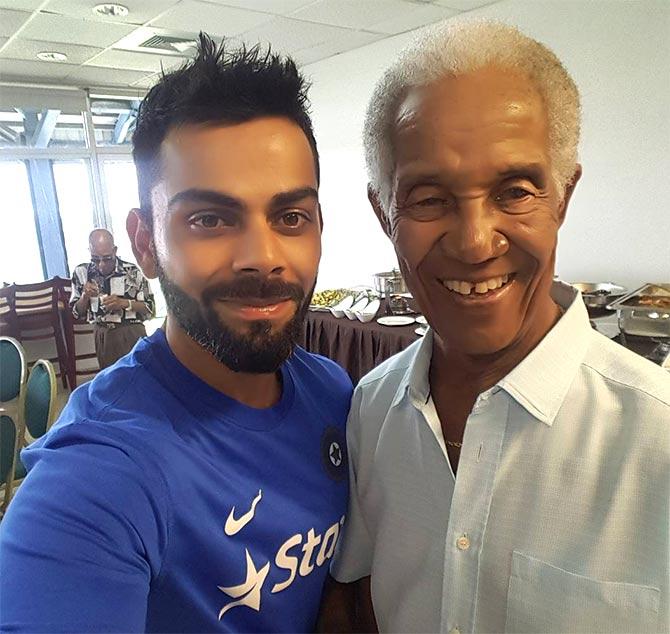 IMAGE: #FanboyMoment with the legendary Gary Sobers. Photograph: Kind courtesy Virat Kohli/Twitter
The flick has always been one of his productive shots. He would nonchalantly pick the line early and meet the ball with the firm face of the bat to hit boundaries at will. However, not always to Raj Kumar's liking.
"I honestly did not like Virat playing the flick. There is always an element of risk when you play across the line. I remember scolding him many times. I wanted him to play the shot to mid-on and not from the middle stump. To his credit he worked hard and came to master the shot."
Ruushill (Bhaskar), his Delhi teammate in under-15 and under-17, averred, "Virat took pride in his flick shot. He absolutely loves it."
"I remember an under-19 camp where Raj Kumar Sir was the coach. At the end of a video analysis session, we were asked to fill up a form which included our problem areas and list our favourite shot among other things."
"Raj Kumar Sir had advocated that we need to play with a straight bat; cover drives and on-drives could wait. Virat put down the flick as his favourite shot and told me to play what I liked best and mention that shot. I also wrote the flick and remember Raj Kumar Sir's smile at the end of it."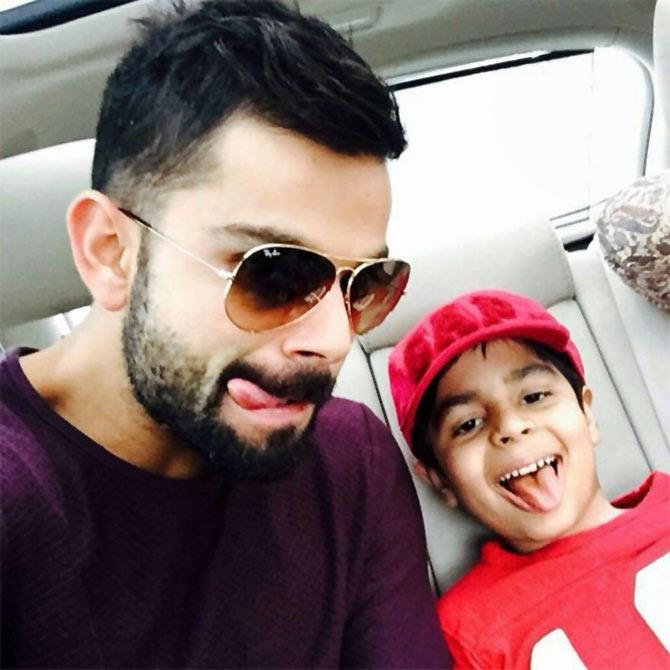 IMAGE: Having fun with his nephew. Photograph: Kind courtesy Virat Kohli/Twitter
The cover drive, Raj Kumar emphasised, was Virat's strength.
He did not develop this shot later in his cricket career, as most critics erringly observe. Virat had always loved playing the cover drive, Raj Kumar confirmed, "He loved it to the extent that he also began getting out to the cover drive. I advised him to avoid the shot. Then he developed a liking for sixes and began getting out while playing the shot in the air. That was not Virat's game."
"Once I had to scold him severely. This incident took place when he was playing for India. I warned him not to attempt to hit a six until he had 50 on the board against his name. I did not want him to play the cut and the sweep because I was keen on him playing the ball close to the body."
"I had never trained him for the cut and the sweep because I wanted to make sure he did not err in playing those shots when he had other strong ones in his arsenal. He improved dramatically and is now well-versed in all the shots in the book. The idea was to improve his shot selection," Raj Kumar said with pride.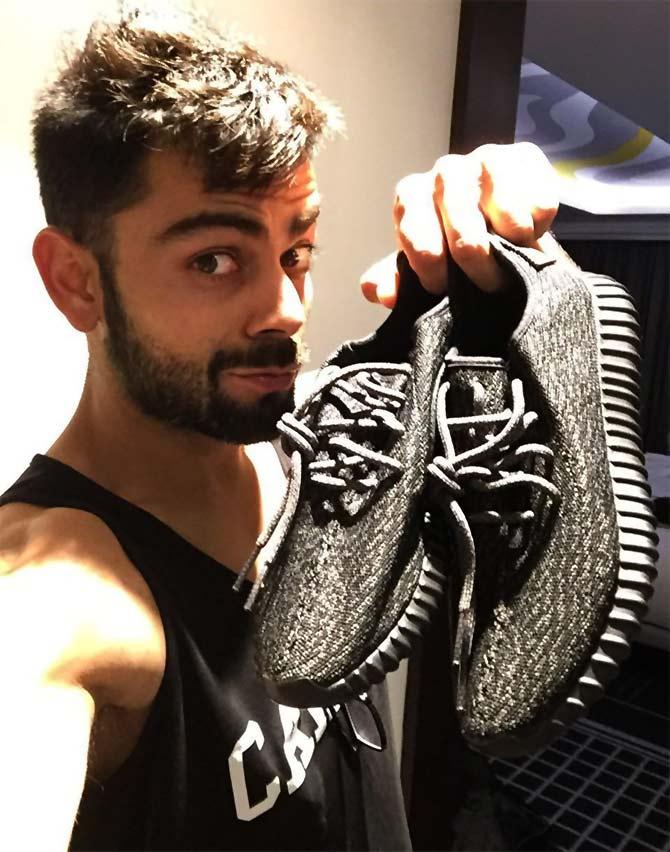 IMAGE: The latest addition to his shoe collection. Photograph: Kind courtesy Virat Kohli/Twitter
'I am really blessed to have him as my guru. I owe my cricket to him. He has always been there in my tough times. His technical inputs helped me develop as a cricketer. He is an ideal teacher,' Virat was quoted in The Hindu.
'It is very important. People don't understand that in the long run, you can't do without a mentor. It doesn't help. I don't talk to many people. It helps to open up because you are under constant pressure, and have to discuss things with someone.'
'I only talk to him. He is the only one I fear. Yes, I do get scolded by him, but I like it because it keeps me grounded and focussed. He's the best coach one can ever have.'
Raj Kumar is the only go-to man for Virat when things don't work. "I keep him grounded by constantly reminding him that he has a long way to go. Breaking records is not the best way to evaluate a batsman."
"He must be confident, but there is always the danger of over-confidence blocking your objectivity. I look to get the best out of him and we both minutely analyse his failures."
"Now that he is the captain, I keep telling him not to expect from others what easily comes to him. It is not a feasible method to go about the game. Hence, his thinking and approach to the game is so different from the rest."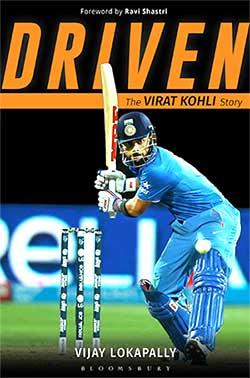 No doubt about that. It is evident that Virat is not cut from the same cloth as his teammates, thanks to the guidance of a thoroughly professional coach like Raj Kumar, who was bestowed with the Dronacharya Award on the heels of his ward winning the 2016 Test series in West Indies.
Excerpted from Driven: The Virat Kohli Story by Vijay Lokapally with the permission of the publishers, Bloomsbury India.