Suresh Raina's 18-month journey in international cricket can only be termed as a seesaw one. As a youngster he excelled at every level of cricket he played, and it was no surprise to see him make his international debut at 18, in a tri-series tournament in Sri Lanka.
However, he had a horrific start to his career, dismissed first ball by Muttiah Muraliatharan.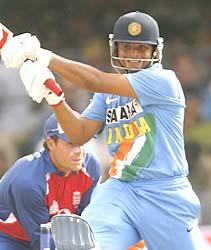 His next big opportunity came during the home ODI series against Sri Lanka, and, as super-sub, he made a mark with the bat and as fielder. He then showed his ability to bail the team out of pressure with a couple of match-winning knocks against England at home.
But poor form in the tri-series in Malaysia, the 2006 ICC Champions Trophy and in South Africa saw him face much criticism. The team's baby suddenly turned villain and question marks about his temperament and ability to perform on foreign soil crept.
But the 20-year-old is unfazed; he feels criticism is part of a cricketer's life.
"If you don't do well, then obviously you will be criticised. The important thing is how you handle yourself in the face of criticism. Mentally, I try to be very strong and not let myself get affected by criticism. When I am going through a bad patch, I try to focus on my batting and look to improve," he told rediff.com in an exclusive interview.
Raina played just a single one-dayer in South Africa and could not retain his place in the Test side, as seniors like Sourav Ganguly and VVS Laxman were reinstated. Told to prove his form in domestic cricket, he did not let himself down. He played in five matches for Uttar Pradesh, scoring 327 runs, inclusive if  a century and two half-centuries. More importantly, he helped his team avoid relegation to the Plate division of the Ranji Trophy.
"I have been doing well in domestic cricket this season. I am feeling confident after a few good innings in the Ranji Trophy matches lately," he said.
The youngster added that his main focus in those matches was spending time in the middle and concentrating on playing the big innings.
"Last season I scored a few hundreds [for Uttar Pradesh], but now I am looking to score big hundreds and double hundreds. So I am always looking to work on this aspect of batting," Raina said.
"I am focusing on my batting now. I am doing well in domestic cricket at the moment and I hope to carry on batting like this in the upcoming international matches too," he added.
The Uttar Pradesh batsman was quite effective as supersub when the rule was in operation last year. He was drafted in for a bowler when the team batted second and proved his worth by finishing a few close matches. But now he is looking to cement his place in the playing eleven with consistent big scores.
"Wherever the team management wants I will bat in that position. Obviously, as a batsman, you would prefer if you get a few overs to build an innings. But I am satisfied with what I have achieved so far. I have done well in whatever position I have batted so far in my career. I have won quite a few matches for the team," he says.
Raina's entry to the Indian team came at a time when they were on a roll in ODIs, creating a world record of 17 successful run-chases. But then came the low, as the team lost 15 of the 30 ODIs it played in 2006, including the 0-4 rout in South Africa.
The left-hander feels that though those were tough times, there were a lot of things to learn from the adversities.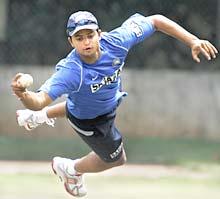 "You get a lot of things to learn when the team is not doing well. Yes, the team was not able to perform to expectations, but this was the same team that won 17 matches chasing. We need to put in a lot of hard work and look to improve every day. We need to carry forward the process and work with the same determination and discipline as we have done in the past, and there is no doubt we can achieve it again," believes Raina.
So what is exactly is plaguing the Indian team in one-dayers?
"I think the team has performed well recently, but we lost a few close matches. Our batting has not lived up to expectations but we are working on it and looking to improve."
For him, one of the highlights of the year was squaring up against World champions Australia, in a tri-series in Malaysia in September.
"It was a great experience playing a team like Australia. They are the world's best team, but I think I did well playing for the first time against them. I batted quite well and also fielded brilliantly.
"I played a good innings of 26 against them, but could not covert it to a big score. So I am working on that aspect of my batting. It's important to convert the 20's and 30's into a big score if you want to be a successful batsman," he said.
Raina's long-term utility was clearly underlined by the fact that he was selected in the Test squads against England and West Indies. But his recent run of poor form saw him being dropped from the Test squad in South Africa, as the national selectors insisted on performance and consistency and not just talent.
"It's not a big setback being dropped. Anyway, I have not played Tests before, so it didn't make that much of a difference. In the one-dayers [in South Africa] I played just one game, but it was a good experience for me to go there and experience what it is playing in South Africa.
"It was sad to lose the ODI series, but I think we played some good cricket, won our first-ever Twenty20 match. So it was quite a good tour in terms of learning for me."
He also credits coach Greg Chappell for helping him out since making it to the Indian team.
"Greg Chappell and Ian Fraser have definitely helped me a lot. But, finally, it's all on you on how to use that advice or help when batting in the middle. It's all in the mind on how you try to improve your batting, find out the weak areas and work on that. The way you prepare or plan for a game is very important."
Raina also vividly remembers the advice Chappell gave him while leaving South Africa to return back home.
"Chappell told me to spend some time in the middle and look to score some runs in first class cricket. He said 'you have a good technique; you have got a good game. Just keep up the good work and believe in yourself. Just go out there and enjoy your game. The important thing is to focus on the basics'," recalled Raina.
The left-hander believes that whatever the walk of life or profession, "one is bound to make a few mistakes, but the key is improving on those and not repeating them".
His priority now should be learning to deal with conditions away from home. While his home record is good, his away record can be termed dismal.
Home and away statistics:
Away: 20 matches, 263 runs at 20.23,
Home: 14 matches, 326 runs at 36.22
Total: 34 matches, 589 runs at 26.77
For the moment though he is focusing on the ongoing series against the West Indies and the one against Sri Lanka that follows. With the World Cup round the corner, a couple of good knocks could see him make a spot in the middle order his own. Otherwise, it could be a long way back to restoring the faith of the selectors.
PHOTOGRAPHS: Getty Images