The IPL has the potential to make cricketers among the best paid athletes in the world if you look at what they will earn per hour.
Surajeet Das Gupta reports.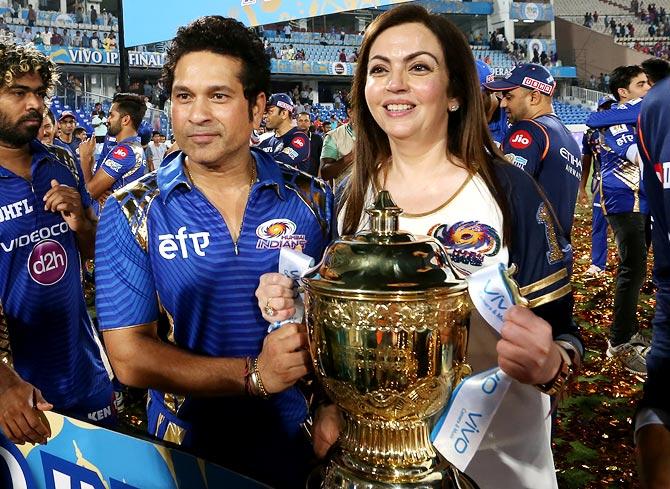 IMAGE: Mumbai Indians Owner Nita Ambani with icon player Sachin Tendulkar. Photograph: BCCI
The Indian Premier League is a centrestage cricketing festival that attracts everything glamorous. And its next season is only going to be flashier, given the money being poured into it.
Celebrity owners are strategising to pick a disparate mix of Indian and international talent at the upcoming auction to build formidable teams.
The permutations are getting more complex.
Rules for retaining favourite players have been overhauled and the introduction of a mid-season transfer window will ensure there's never a dull moment in the competitive spirit of the 60-day tournament.
New flavours will spice up cocktails at the VIP lounge where the ball travels in frequent sixers and new partnerships will spring from casual conversations.
As cheers get louder in stadiums and more viewers tune in from their homes, the rich in cricket are set to get a lot richer.
For the love of the game, it's time to get down to business.
The money roll for some IPL franchisees has been consistent, but not all have tasted soaring profits. Season 11 is set to change that.
The teams that have been waiting to see the red ink disappear from their balance sheets are rejoicing at Star India's audacious bid to broadcast the tournament.
Star India has won the global media rights, which Sony held for a decade, for a whopping Rs 16,347 crore (Rs 163.47 billion). This gives Star worldwide exclusivity on both television and digital media for the next five years.
Breaking down the math, Star will spend Rs 55 crore (Rs 550 million) per match against Sony's Rs 17 crore (Rs 170 million) last season.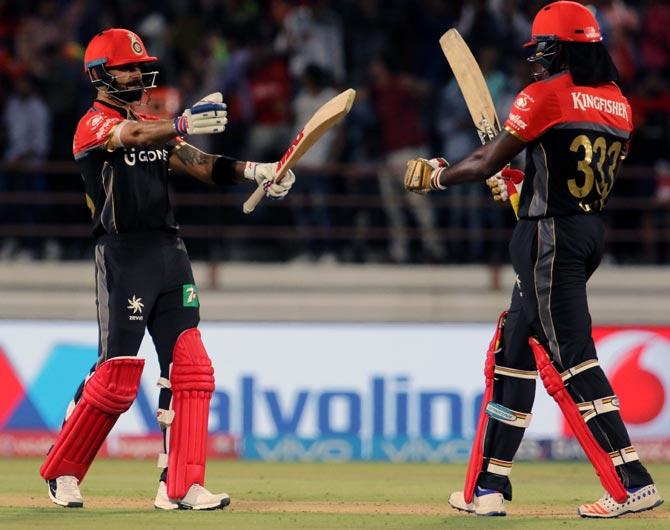 IMAGE: Royal Challengers Bangalore Captain Virat Kohli, left, with Chris Gayle. Photograph: BCCI
This means IPL's central revenues -- 50 per cent of which are shared by the Board of Control for Cricket in India with the eight franchisees, including media rights and title sponsorships -- will climb.
Vivo's staggering Rs 2,199 crore (Rs 21.99 billion) payout for the title sponsorship for five years adds more money to the pool.
Hemant Dua, CEO, Delhi Daredevils, estimates that each team will earn an additional Rs 100 crore to Rs 120 crore (Rs 1 billion to Rs 1.2 billion).
"We have all made huge investments in the last 10 years. The next five years will be payback time," says Dua.
On average, the balance sheets of the bottom rung teams have fluctuated between a profit of Rs 20 crore to Rs 30 crore (Rs 200 million to Rs 300 million) and a loss of Rs 10 crore to Rs 20 crore (Rs 100 million to Rs 200 million) a year.
"Now everyone will make good money and clear up any losses that teams may have accumulated," says Dua.
Venky Mysore, CEO, Kolkata Knight Riders, seconds Dua's profit estimates.
KKR, one of the most profitable IPL franchisees, is expected to make over Rs 350 crore (Rs 3.5 billion) this season.
"We expect EBITDA (earnings before interest, taxes, depreciation and amortisation) margins to go up as we will get an additional Rs 100 crore, at least, from the central revenues," says Mysore.
Another tweak in rules in favour of the teams is the scrapping of the per-season fee that each franchisee paid to compete in the IPL.
The fee -- a total of around Rs 330 crore (Rs 3.3 billion) annually -- varied for each team, with Mumbai Indians paying the most.
This has been replaced by a new revenue-sharing model. Each franchisee will now pay 20 per cent of its topline -- which is a total of a team's central revenue, franchisee sponsorships and sale of tickets -- to BCCI.
Daredevil's Dua says this is an equitable model and a win-win situation for everyone.
If a team's revenue grows, BCCI also ends up making more money compared to the fixed annual fee it charged the last 10 years.
To ensure that players get a piece of this savoury pie, the IPL Governing Council met to increase the maximum that teams can spend on buying players for the next three years -- from Rs 66 crore (Rs 660 million) in the last season to Rs 80 crore (Rs 800 million) this year, which will go up to Rs 82 crore (Rs 820 million) and Rs 85 crore (Rs 850 million) in 2019 and 2020, respectively.
The minimum reserve price paid to a young uncapped player -- one who is yet to debut in international cricket -- on joining a franchisee has been doubled to Rs 20 lakh (Rs 2 million).
Capped players will make a minimum of Rs 50 lakh (Rs 5 million) against Rs 30 lakh (Rs 3 million) last season.
What makes the decisive pre-game buys even more exciting is how teams will retain their star players from existing squads.
The franchisees can reserve a total of five players from last year's squad.
Each team can pick a maximum of three capped players (spending up to Rs 33 crore/Rs 330 million on them from its auction purse of Rs 80 crore), two uncapped Indian players and two overseas ones.
The tournament has the potential to make cricketers among the best paid athletes in the world if you look at what they will earn per hour.
During the tournament, each player can appear for a maximum of 14 games.
In the last season, Yuvraj Singh made Rs 16 crore (Rs 160 million) playing for Delhi Daredevils.
In a three-hour game, he earned Rs 40 lakh (Rs 4 million) per hour.
The increase in reserve price and the maximum that a team can spend at the auction will earn the 200-odd players even more.
Among the unreserved players who will enter the auction pool, star players are set to gain the most.
According to team managers, about 75 per cent of a team's auction purse is spent on buying 25 per cent of the players.
The average salaries of these celebrity players are slated to increase by over Rs 1.5 crore (Rs 15 million).
But even for the 150 other players, for whom IPL is a dream platform, the average salaries per player per season would breach the Rs 1 crore (Rs 10 million) mark for the first time.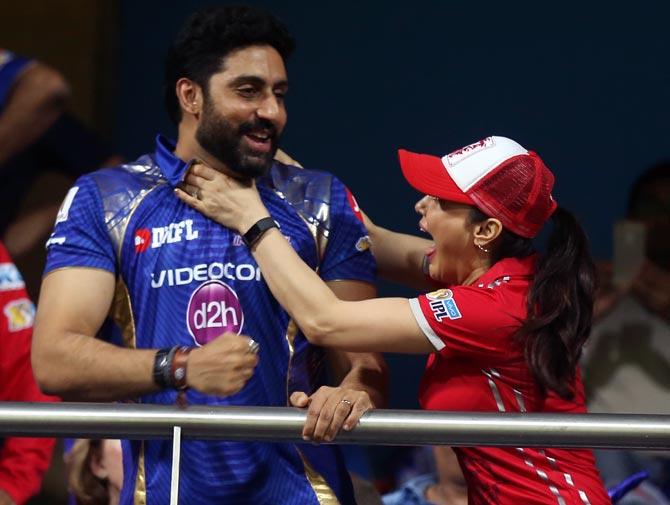 IMAGE: Kings XI Punjab Co-owner Preity Zinta, right, with Abhishek Bachchan. Photograph: BCCI
The world's richest cricket board is not complaining either.
Thanks to Star India's bid, the board will probably add another Rs 1,000 crore (Rs 10 billion) to its kitty this season. This cache will grow further as the revenues of the franchisees expand.
But Star India has a steep climb ahead. The company is strategising to make its Rs 16,347 crore bid profitable.
To ensure that advertisers willingly pay a premium per 10 second slot during the IPL, Star will have to ensure a massive increase in viewership on both television and digital media.
Says Venkatasubramanian Ramachandran, senior vice-president, Initiative, a media buying house, "Advertisers are mentally prepared to spend the extra money to feature in the IPL. They will either spend more or prioritise their yearly spends."
Star TV India Managing Director Sanjay Gupta is ready with an aggressive pitch. "As one company holds both digital and TV rights for the first time, we will offer advertisers a platform that has a much bigger reach, is seamless and provides a dramatic improvement in value for money. They will get a better return on their investments."
Star will work towards realising a 40 per cent increase in viewers (both TV and digital) -- from 411 million in the last IPL to 550 to 580 million in 2018 -- and an increase in usage on both platforms, from 260 billion minutes to 350 to 360 billion minutes.
No other property, says Gupta, can make advertisers reach out to 300 million viewers -- that's nearly one-third of India's population -- in a week.
The plan looks highly ambitious, considering that 780 million people in India watch TV. But there is a method to the madness.
Gupta says IPL has a dominant viewership in north, west and east India, but is yet to pick up in the south, which offers a huge opportunity to advertisers.
The problem, so far, has been giving local language options.
Star's solution is to launch Star Sports in Kannada, Telugu and Bengali. Its Tamil channel has already taken off.
Star's digital brand Hotstar will also telecast the tournament with language options.
"Star has a much more comprehensive coverage in the South compared to Sony. This alone will bump up the number of viewers by 20 to 25 per cent -- a pure bonus for advertisers," says Sandeep Goyal, chairman, Mogae Media, a marketing and communications agency.
Matches on Hotsar last season had a delay of five minutes compared to the live telecast. This, say experts, was done to ensure TV viewers didn't move to digital. But while digital has far-reaching potential, television screens have not lost their charm.
A large percentage of those who are on Hotstar were incremental viewers -- they used Hotstar as a second screen (95 per cent of homes in India have a single TV set).
This year, Hotstar will Web cast matches live without any delay. Star expects this will double the number of digital viewers to 200 million.
Advertisers have much to gain from the convergence of TV and digital media, which will bring them a step closer to potential buyers.
Digital media's biggest advantage over TV is that it is a two-way medium.
For instance, a car-maker can advertise a new model on TV, but on Hotstar, potential customers can book a test drive while watching IPL.
Gupta candidly admits that Star does not expect to start making money immediately. To break even, Star has to generate over Rs 3,000 crore (Rs 30 billion) from advertising (TV and digital), annually -- more than twice of what was made last year.
Insiders at Star say they are looking at least a Rs 1,000 crore increase (from Rs 1,400 crore/Rs 14 billion last year) for the first year from both platforms. They will also cover part of the costs from subscription revenues, which are around Rs 500 crore and are not expected to go up at least in the first year.
"The ad rates are obviously headed north. My personal assessment is that TV ad rates will go up 50 to 60 per cent, which will be a very smart move by Star as the expectation is for a much steeper climb," says Mogae's Goyal.
The CEO of a leading broadcaster in India differs. "A dramatic shift in ad spends to IPL will not happen," he says. "Globally, sports companies make up for a large part of the high investment on sports properties through a substantial increase in subscription revenues, and not just advertising. And that is the problem."
Star's gamble will also change the landscape of advertising spends in India. IPL could become a single property that cashes in over 8 per cent of the total TV and digital advertising spend of Rs 28,000 crore (Rs 280 billion) in 2018.
At present, Hindi entertainment channels command 27 per cent of the advertising revenue share. Star's IPL success could see a dramatic shift from entertainment to sports.
Gupta estimates that sports' share of advertising revenue will soar from 8 per cent currently to 20 per cent in five-odd years.
Many would not agree. The game has only just begun.
Veer Arjun Singh contributed to this report.