Star India paid Rs 16,347.50 crore -- Rs 163.47 billion -- for the Indian Premier League's global media rights for five years.
Rediff.com's Harish Kotian reports on why Rupert Murdoch's company went all out for the IPL media rights.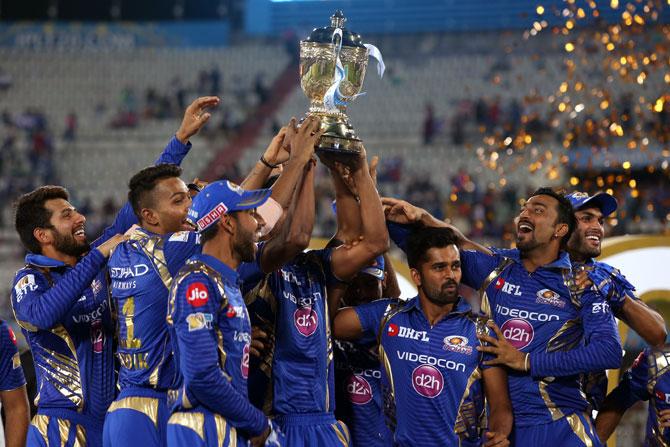 IMAGE: Mumbai Indians celebrate winning IPL 10. Photograph: BCCI
Star India CEO and Chairman Uday Shankar has his hands full after bagging the hottest property in world cricket -- the media rights for the Indian Premier League.
The IPL media rights, which will cost Star India a massive Rs 16,347.50 crore (Rs 163.47 billion), will consist of the global broadcast and digital rights for five years from 2018 to 2022.
It gives Star India complete control of the lucrative Indian cricket market. The broadcaster also hold the rights for international cricket games played in India and also International Cricket Council events.
"I would like to convey my delight at finally being able to bring the IPL to what we believe is the rightful home of cricket in this country and elsewhere," Uday Shankar, a former journalist, said in Mumbai on Monday after Star India bagged the IPL rights.
It was a massive jump in the price of the IPL media rights. Sony paid Rs 8,200 crore (Rs 82 billion) in 2008 for the first ten seasons of the IPL.
"What was paid in 2008, that was in 2008. India and cricket and the IPL have changed dramatically in the last 10 years, it is a reflection of that," Uday Shankar pointed out.
The growth in mobile technology and increase in mobile users in India, he explained, had seen a huge interest in the IPL's digital rights.
Star India edged out the competition by paying Rs 500 crore (Rs 5 billion) more after it made a consolidated bid of Rs 16,347.50 crore.
The total of the highest bid for all the properties came to around Rs 15,819.51 crore (Rs 158.19 billion), including a huge bid of Rs 11,050 crore (Rs 110.50 billion) for the India broadcast rights by Sony.
"Even if it was slightly less, we would have not got the rights and that should tell you that this is the right figure," Uday Shankar said.
"When one person or one company bids very highly, then you can ask that question, but you seen that in every category it was so competitive. There are three digital rights that have gone over Rs 3,000 crore (Rs 30 billion) and digital did not even exist 10 years ago," the Star India CEO added.
"In television you have seen it was very aggressively tendered too and equally for the rest of the world and this should tell you that cricket continues to be very strong, continues to be very attractive in this country," Uday Shankar said.
"Whoever puts in that money they put in that money because they believe in the fans of the sport. The universe of cricket fans it tells you continues to be healthy and continues to grow," he added.
With the prices of mobile Internet data services going down steadily in the last couple of years, the market has seen a huge growth in the Indian digital market.
"Indian consumers have surprised everybody in the world and you can see that from the level of intensity that was there for the digital rights for India, the way people actively bid for that," he said.
"Till a few years ago, India was characteristically dismissed as a country that was not broadband ready. People said there was not enough broadband, that data was too expensive, there was not enough phones, it was still a voice only market. And then in less than two years it has emerged as one of the world's most exciting markets for video consumption," Uday Shankar said.
"You should see the number of people who bid for the digital rights and the number of people who took interest by buying the tender documents so that should tell you the story. It can become a lot more exciting depending on how the data prices behave and how the availability to wifi and broadband continues to grow in the market," he said.
"If that happens, it will be one of the world's most exciting digital markets," he added.
Uday Shankar believes that Indian cricket can be a powerful tool to drive the growth of other sports in India.
"We believe that IPL is a very powerful property, and we believe that a lot more value can be created for the fans and the viewers of the IPL on digital as well as on TV. We would remain very committed to make sure that the growth of sports in this country continues to be driven by cricket."
"The excitement that sports in general and cricket in particular has continued to generate in this country despite everything that is written in the media and all the issues that have come up," Uday Shankar said, "it has given credence to our faith in the continued power of cricket. That is why we remain committed to it."
"Regardless of whatever happens, India is one country where when cricket happens on the ground, it is still an amazing experience for the people and that is corroborated by the number of people watching it on TV and the number of people the way they throng the stadiums."