Editor's Note: The story of cricket is studded with many defining moments; not all of them take place on the field of play.
One such moment occurred during India's 1999-2000 tour of Australia.
In the lead-up to the three-Test series, India had played its usual quota of warm-up games; one of them was against New South Wales. On the field for the Blues that day in early December was a Sydney off-spinner whose brief Test career was entirely played out on the subcontinent.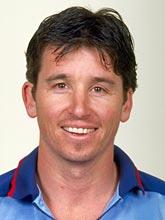 Gavin Robertson was one of the unfortunate footnotes in the story of Australia's pace-oriented dominance; he managed to play just four Tests, three of them in India in course of the 1997-98 season.
In the NSW game against the touring Indians, Robertson surprisingly bowled a sum total of seven overs in the two innings as India coasted to a 93 run win -- a rare result for the tourists on what was to be a disastrous tour.
While the game was on, Robertson got a good look at the Indians -- and went away impressed by one V V S Laxman. It is not immediately apparent why. In that game, Laxman scored 37 off 62 in the first innings (before being caught by Robertson), and was bowled by Brett Lee for a second-ball duck in the second.
That set the pattern. In the first Test at Melbourne, Laxman made 5 and 1; in the second, dropped down the order to number 3, he made 41 and 0. Going into the third Test, questions were being asked about the 'leaden-footed' right-hander's fitness for the highest level of the game.
In the first innings of the third Test in Sydney, Laxman, now back as opener, managed seven runs. On January 3 (day two of the Test), the discomfited Indian stylist bumped into Robertson; the two had a brief chat about matters cricketing.
Next day, Laxman went out to bat, for the last time in the series. The game, by then, was effectively over. Australia had taken a lead of 402 on the first innings.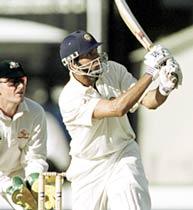 What followed was magic, as the Indian opener lashed an incredible 167 off 198 deliveries in 255 minutes, with 27 fours. It was a one-man show, like few others in the history of the game. Laxman made 167; the rest of the side together managed 94. Ganguly was second highest with 25; extras came third with 21.
India lost Dravid for no score, Tendulkar for four. Yet, India's 50 came up in 53 minutes and 11.1 overs; Laxman's own 50 took just 55 balls to score. India's 100 came off 24.3 overs, the 150 off 31.6 overs; Laxman reached his own hundred off just 114 balls; his 150 took 172 deliveries. With Anil Kumble, Laxman put on 50 in 37 minutes off 57 balls; of these, Kumble managed 15 off 45 deliveries; Laxman brought up the other 35 off just 12 deliveries.
You could go on, without ever managing to capture the essence of that innings. Yet, brilliant as it was, it was merely a prelude to another Laxman classic -- a few months later, at the Eden Gardens, when he proved to be the insurmountable barrier between Steve Waugh and his dream of conquering India.
Laxman has since gone on to fame, as a Very Very Special batsman; Gavin Robertson, meanwhile, continues in his career of sports commentator when he is not playing, and touring, with Six And Out, the rock band he founded along with the Lee brothers Brett and Shane.
He remains an unknown, therefore unhonoured, footnote in the history of a special player; whether his Aussie mates have forgiven him for creating a Frankenstein is another matter.
Ahead of the upcoming Indian tour of Australia, Gavin Robertson weighs in, in this first-person piece, with some advice for the tourists:
THE phone rang.
The noise coming through the earpiece was typical of an Indian cricket arena screaming for success; it had to be either the great man, Sachin Tendulkar, clearing the fence or Anil Kumble taking a wicket.
Whatever, that kind of noise comes from only one part of the world -- India, a country crying out for success in a cauldron of concrete and metal covered with fans who know no greater love than the art of cricket.
On the other end of the phone is my Indian friend shouting at me through the earpiece, "Robertson, we are on our way to your land to destroy hopes and dreams on a journey that will make us the number one team in the world. Sehwag, Tendulkar, Dravid, VVS, need I say any more? Oh! sorry, how are you anyway, man?"
The Indian team is in fact landing in Australia any minute now, and they come here knowing they have one of the poorest away records in world cricket.
The Indians have not tasted success on the Australian continent in the past, and will not do so again unless they come with two essential ingredients.
They must step off the plane armed and dangerous -- armed with a positive, aggressive attitude that is uncompromising; armed, too, with bats that are somewhat lighter than their usual ones.
Here's why.
When Australia flew to the West Indies in 1995 in search of some success after many years of constant failure, they went armed with attitude -- the attitude of people who were sick and tired of being pushed around by the schoolyard bully who had reigned supreme for so long; the attitude of people who wanted to push right back.
Attitude builds confidence, because it commits you to a positive outcome more often than not, and stops the negativity that can often creep into a dressing room.
That year, the Australians were not going to be pushed around anymore; they were going to give back whatever the Windies dished out, and they were adamant that there would be no more intimidation.
If they lost it, they would have no regrets in their hearts, because even in defeat they would know that they had drained themselves of every inch of fight left in them; they could return home satisfied that they had given it their all.
That attitude was the contributing factor in their success against the West Indies that year; the Aussies have reigned supreme ever since.
Attitude is the primary gene in the mental game of any cricketer, and if the Indians come with that type of mindset, the stands will be full and the days will be long. It is widely known here that on the talent scale the Indians have an abundance; only application and belief seem lacking, and in this lack lies their downfall whenever they are away from the warmth of curries and of a cricket-crazy nation.
The other important factor is cricket bats.
The amount of willow used by Indian players in their bats could easily build many houses.
I remember picking up Sourav Ganguly's bat in Sharjah and thinking, wow, we use these for telegraph poles at home. It was by far and away the biggest cricket bat I had ever picked up.
The Australians use much lighter bats than the Indians, and the reason for this is simple.
In India, the wickets can be a bit slow and low and it is beneficial to use a heavier bat because it helps you hit through the ball on the up, and also to put the spinners out of the ground -- I should know what I am talking about, having suffered enough at their hands.
In Australia, the wickets are faster and often provide more bounce.
The Aussie batsmen use lighter bats because it helps them work the ball off the back foot and also to play square of the wicket shots. You do not require a heavy bat to play on Australian wickets, because the pace of the wicket is there for you to use.
I remember walking up to V V S Laxman in Sydney, the last time India toured here, and saying to him, "What is going on mate, you are a brilliant player only showing the Australian public maybe 20 per cent of the real V V S Laxman..."
I told VVS that day about how I had spoken of him to many people in Australia; of how I had told anyone who would listen that Laxman was an amazing player, just wait until you see him play, he is a majestic player who is a combination of Greg Chappell and Sunil Gavaskar...
We talked a bit -- about bats, among other things. He is one of those who uses a lighter bat than most other Indian players. What he needed to do, I thought, was make small adjustments to counter the bounce on the wickets.
At that point, he was despondent; he had almost given up -- but I thought he was too good to give up, and told him so. Next day, he scored an amazing Test century which brought people into the ground after tea and gave Australia a glimpse of the real V V S Laxman.
That was the first glimpse; his talent would later destroy a dream for Steve Waugh in Calcutta at the home of cricket, Eden Gardens, to secure one of Test cricket's greatest victories.
Yes, cricket wickets in Australia are different from what they are in India, but they are not so different as to turn a Test cricketer into a grade player.
The Indians can change their fortunes not only on Australian soil but also around the world -- they just need a shot of belief in themselves and a strong sense of unity. And yes, they need to leave some of the wood at home.
Do that, and Australia will see at first hand just why cricket is a religion on the subcontinent.
Photographs: Getty Images