Whenever Santosh Kumar played Daler Mehndi's popular number Ho Jayegi Balle Balle, offspinner Harbhajan Singh could not contain himself and would break into whoops of joy, dancing the bhangra with vigour.
"Bhajji was the most popular guy among the cricketers at the training camp," said physical trainer Kumar, who runs a popular gymnasium chain called 'Figurine Fitness' in Bangalore. "He would keep the whole group alive simply by enjoying himself so much that all the others were infected by his enthusiasm."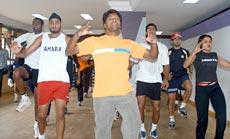 As part of their week-long fitness camp in Bangalore, the 36 cricketers, from amongst whom the 14 to play New Zealand next month will be chosen, did an hour of dance aerobics with Kumar everyday.
"The rest of their daily schedule was very tough," the instructor told rediff.com in an exclusive interview at his newly opened gym and aerobics studio in Indiranagar. "They had yoga, circuit training, sprints and running, gym work, swimming, fielding practice, nets, all with just an hour off from 1pm to 2pm every afternoon for lunch and rest. "[But] they all used to tell me they looked forward to the aerobics workout."
The 36 players were divided into two groups for the camp, one led by [captain] Sourav Ganguly, the other by Sachin Tendulkar. The two groups did the aerobics session separately, one between 2 and 3pm, the other between 3 and 4pm. "Very few of them, like Sachin and Sourav, had done aerobics before," Kumar said. "[Fast bowler] Zaheer [Khan] had done a little bit too. [But] most of the others were strangers to the whole idea.
"Sourav and Sachin coped well, but many others found it hard at first," he continued. "They were used to rigorous physical training in the form of sprints, jumps, and other kinds of circuit training, but this is an entirely different kind of exercise that calls for very high stamina."
In fact, before their first class, many were strongly opposed to the idea of doing an aerobics workout every day. As Santosh pointed out, until two or three years ago, aerobics was considered to be mostly a women's exercise. "But these guys had no choice, because [coach] John [Wright] and [physical trainer] Greg [King] felt it would be very good for them," he said. "But after the first five minutes, they were all screaming and dancing. The whole workout became more like a party!"
Kumar had clear instructions from Wright and King. "For the first two days, they just wanted the guys to have fun," he said. "They did not direct me to do any specific training. So they just did a lot of fun dance-type routines to a whole range of popular music."
So for the first two days he just played numbers like Babuji zara dheere chalo, Tamil numbers like O Podu from the film Gemini and Sarakku Vachirukken from Shah Jahan, and popular Marathi numbers and Hindi film songs. "I had to drive an interest in aerobics into them," he explained.
Thereafter, he introduced some specific exercise routines. "My normal workouts for my regular clients have only one dance number," Kumar explained. "The workouts for these guys had two or three at times. Greg had told me that since the players did a lot high-impact exercise at the camp, he wanted me to just do high-intensity routines, not high-impact. Plus a lot of dance, for both exercise and fun."
The bhangra numbers were by far the most popular. Kumar went through his entire range of exercise routines set to bhangra music, including various Daler Mehndi numbers like Dardi Rab Rab and Sukhbir numbers like Munde Pangda Poude. The younger boys, like Parthiv Patel, made a lot of noise and jumped around very vigorously.
Ganguly, Kumar said, "freaked out" on the studio's music collection. Kumar even taped some music for the India captain, to use either for exercise or just for his listening pleasure.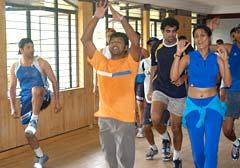 Coming to the individual players, Kumar said Tendulkar seemed quiet and a little stressed out. "I feel it's really sad that players like him are not allowed to concentrate peacefully on a fitness camp without being constantly subjected to unnecessary pressure from the media and from backbiters," the instructor remarked.
Legspinner Anil Kumble, he said, is not a particularly "dance-y" person. "He was quite stiff at first, and not too keen to do aerobics. [But] once he got started, he enjoyed it."
Zaheer Khan too, he said, is basically a quiet person who is "not so expressive". Besides, his back was giving him some trouble, for which team physiotherapist Andrew Leipus had prescribed some exercises. Kumar helped Khan do the exercises through his workouts.
"Both Sachin and Sourav mixed so well with all the players," said Kumar. "They were an integral part of the group, and never kept aloof even for a moment."
Kumar runs a studio in a wing of the Karnataka State Cricket Association's stadium in Bangalore. He has had the studio built at his own cost with wooden floors and cork layering underneath, the only kind advised for high-impact aerobics. He caters to a large celebrity clientele of the fitness-conscious elite of Bangalore.
He has a whole range of 45 minute workouts set to music, which includes box aerobics, rope aerobics, step aerobics, and circuit training. An engineer by training, Kumar quit his job with Wipro many years ago to become a full-time physical instructor. His wife Anu works with him as a trainer. The couple has two small children.
Kumar said the large group of cricketers he trained at the Bangalore camp was much fitter than any other cricketers he has trained in the past. "Previously, they would just train for 2-3 months before a major series," he said. "Now they know that fitness has to be a way of life for them. They are on a fitness regime everyday. This group was able to cope with my workouts much better than earlier ones. Also, they are more relaxed. Previously, cricketers were always a very serious lot!"
When the camp got over, the players swore they would come to Kumar's gym whenever they are in Bangalore. "Sourav and Sachin both said they had done aerobics before but never knew it could be such fun," Kumar said. He is now planning to take a proposal to Wright suggesting ways in which aerobics can be incorporated into the team's regular fitness regime.
But what if the team wants him to travel with it? "No," said Kumar. "I have too much going for me here in Bangalore. But I can certainly hire out any of my instructors."