- 'To be able to sit around and see that a group of guys have achieved something over five days and to sit around with smiles on their faces, a bit of music going, you've got dirty whites and sweaty black caps and a beer in hand, and you've been able to look back on the hard work achieved. That's what I got into the game for and that's going to be the last memory of the game as well.'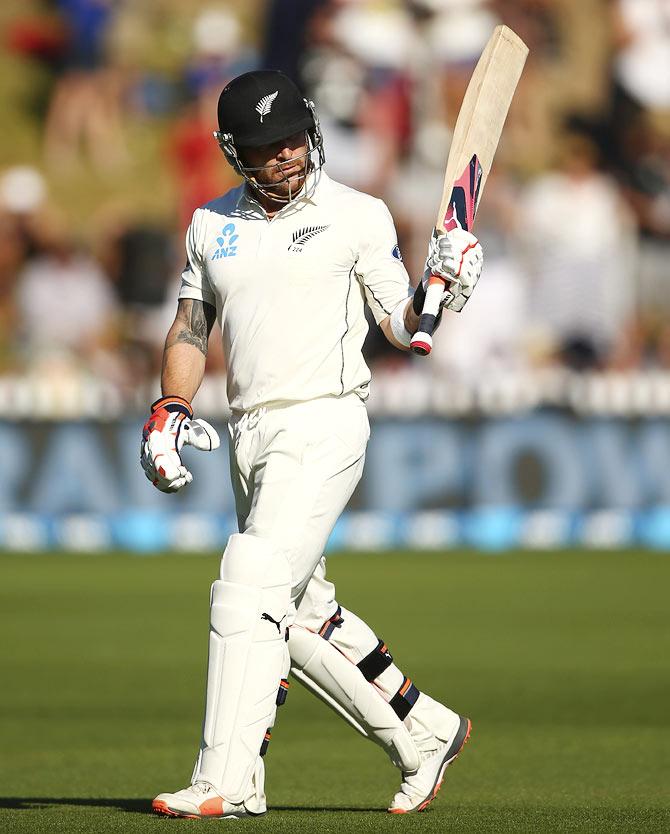 IMAGE: Brendon McCullum walks back after his dismissal during the first Test against Australia in Wellington, on Feburary 14, 2016. Photograph: Ryan Pierse/Getty Images
Brendon McCullum's singular contribution to New Zealand cricket extends far beyond the pyrotechnics with the bat which attracted a new generation to the game and helped make the 2015 World Cup such a spectacular success.

McCullum, who retires from the international arena after the second Test against Australia starting at Hagley Oval on Saturday, encouraged New Zealand to play with a freedom and aggression that has had a "ripple effect" on the game.

After losing by an innings in South Africa in early 2013 in his first Test as captain, he and his team vowed to reconnect with a disenchanted public angered by the abrupt dismissal of his predecessor Ross Taylor.

McCullum led from the front, both with the bat and in the consistently attacking fields he set.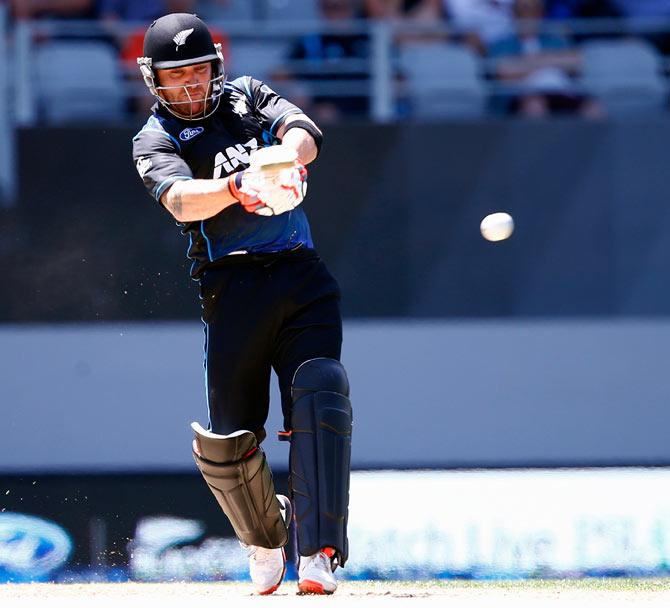 IMAGE: Brendon McCullum hits out. Photograph: Phil Walter/Getty Images
His team won plaudits for accepting the rough with the smooth and refusing to make excuses on their rare bad days.

Mike Atherton, The Times' cricket correspondent and former England captain, was effusive in his praise after New Zealand drew 1-1 in England last year.

"New Zealand have managed to transform themselves on and off the field under McCullum's captaincy and that has had a ripple effect on cricket more generally," he wrote.

"They are setting the agenda in Tests and one-day cricket, pushing the boundaries of rapid run-scoring and attacking field settings like never before.

"They have impressed in the way they had conducted themselves too. England have unashamedly followed suit, imitation being the sincerest form of flattery."

HOME RECORD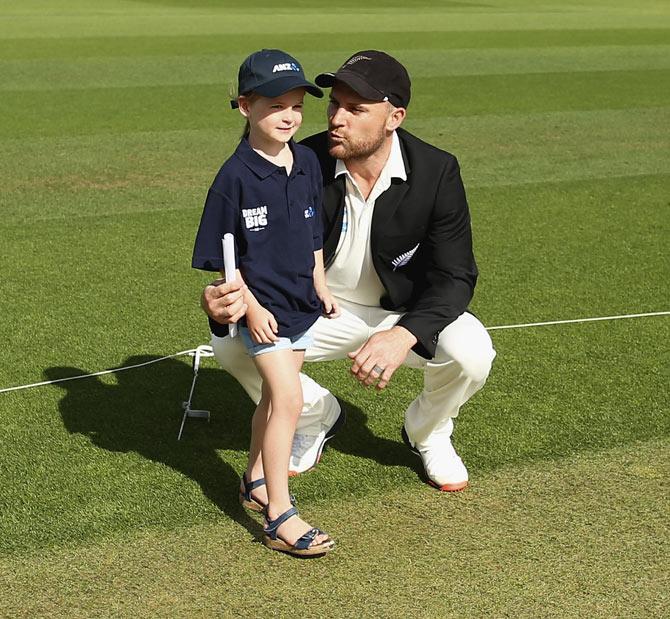 IMAGE: Brendon McCullum with his daugher Maya McCullum before his 100th Test, against Australia in Wellington, on Feburary 14, 2016. Photograph: Ryan Pierse/Getty Images
New Zealand have not been beaten in a home series under McCullum, though they will need to win in Christchurch to preserve that record.

Last year they qualified for a World Cup final for the first time before being well beaten by Australia at the Melbourne Cricket Ground.

In Wellington earlier this month, McCullum became the first cricketer to play in 100 consecutive Tests since debut, this despite a persistent back problem that saw him give up the gloves after starting his career as a wicketkeeper-batsman.

He moved up to open the innings before dropping back down the order, where he has been able to express his full range of shots and extraordinary bat speed.

An average of a couple of points below 40 confirms McCullum's honest assessment that he was not a great Test batsman.

However, he was able to summon enough patience and concentration to record four Test scores in excess of 200, including a New Zealand record 302 to save a Test against India which appeared lost at the Basin Reserve.

AUTHENTIC, HUMBLE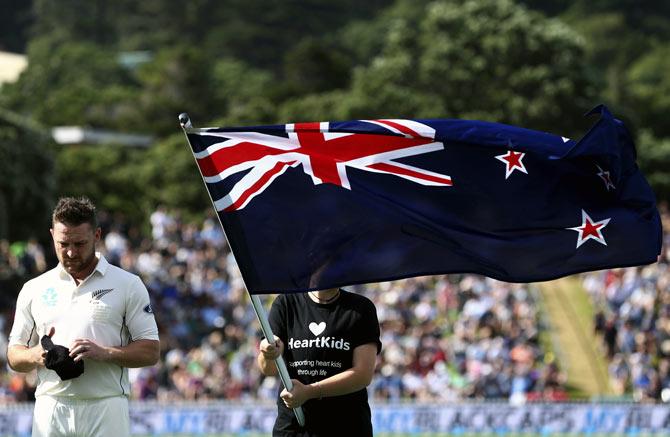 IMAGE: Brendon McCullum of New Zealand looks on during the national anthem before his 100th Test. Photograph: Ryan Pierse/Getty Images
Reflecting on his career before the first Test against Australia in Wellington, McCullum said he is proud of the team's evolution.

"The last 15 or 20 Tests have been an incredible part of my life, the changes that we've been able to make, the evolution of the environment and the performances we have started to put up," he said.

"You look back with a sense of pride in what you've been able to achieve with a group of guys.

"It's got to be authentic to your nation. That's one thing we've tried to instil in this team, make it authentic to what our country is about, that real humbleness and ability to take on stronger opposition a collectiveness in a group of men."

The 34-year-old added that on a personal level, working his way through injuries and dips in form to keep his place in the team was also satisfying.

"And to be able to play 100 straights Tests as well, I'm pretty proud about the longevity and being able to overcome not only injuries but also the toughness of touring and the ups and downs of performance and still being able to get back off the canvas and still warrant a place in the team," he said.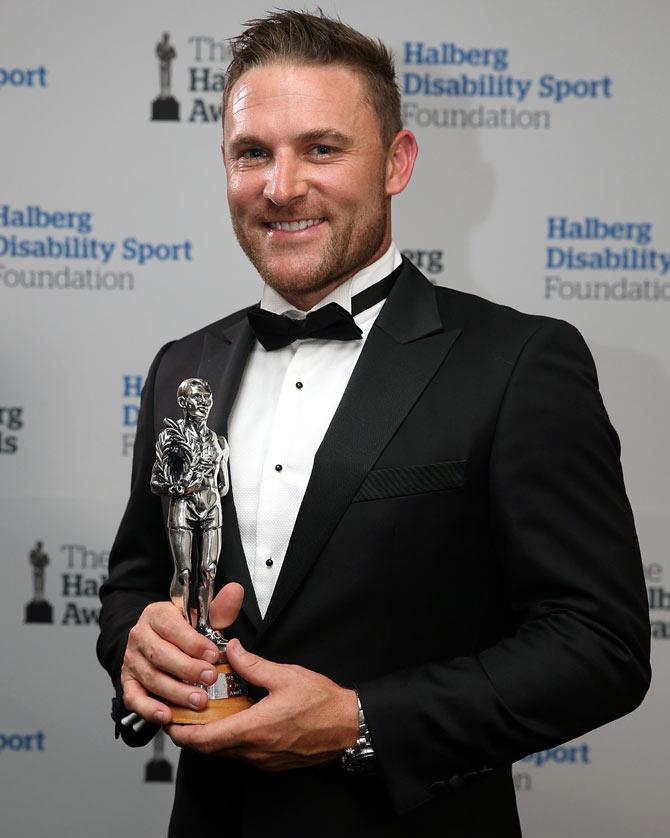 IMAGE: New Zealand captain Brendon McCullum wins the leadership Award during the 2016 Halberg Awards at Vector Arena in Auckland. Photograph: Fiona Goodall/Getty Images
While the triple century against India and an away series win over West Indies were the highlights of his career, McCullum said it was the camaraderie of the dressing room that would linger longest in his memory.

"To be able to sit around and see that a group of guys have achieved something over five days and to sit around with smiles on their faces, a bit of music going, you've got dirty whites and sweaty black caps and a beer in hand, and you've been able to look back on the hard work achieved," he added.

"That's what I got into the game for and that's going to be the last memory of the game as well."