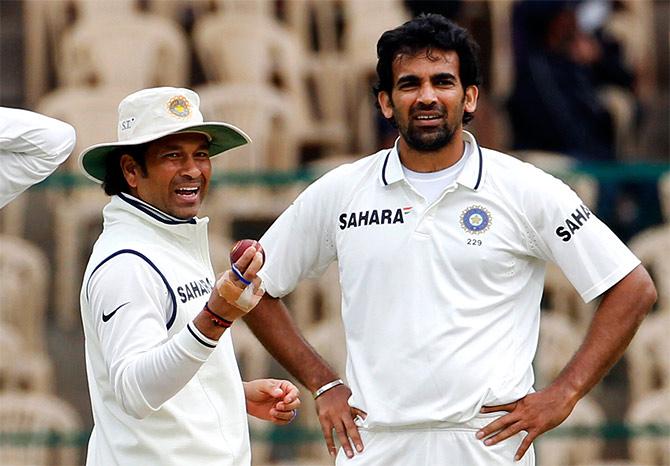 IMAGE: Sachin Tendulkar and Zaheer Khan share a light moment during a Test match. Photograph: Vivek Prakash/Reuters
Iconic batsman Sachin Tendulkar and limited-overs' captain Mahendra Singh Dhoni led the bandwagon of former and current cricketers saluting Zaheer Khan, who announced his retirement from international cricket on Thursday.
The 37-year-old former India pacer called time on his international career with immediate effect, but will bid adieu to the domestic circuit at the end of the Indian Premier League Season 9 next year.
"One of the coolest pace bowlers I know. He was a bowler who could 'out think' the batsman most of the times. Always up for a challenge... I am sure he will do well as he begins a new chapter in his life. Wishing @ImZaheer all success in his retired life," Tendulkar tweeted.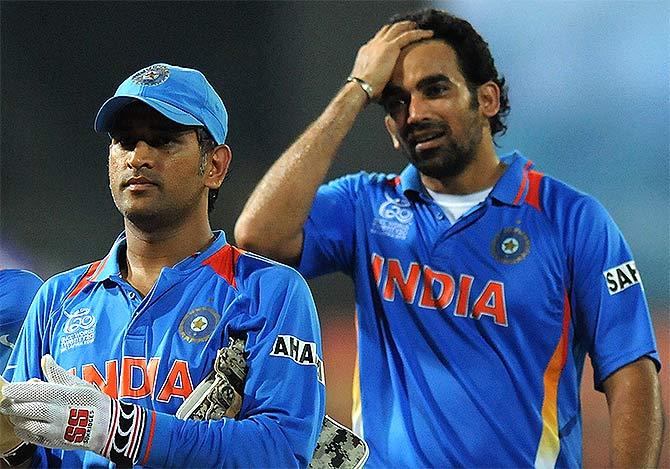 IMAGE: Mahendra Singh Dhoni and teammate Zaheer Khan walk back to the pavilion after a One-Day International. Photograph: Philip Brown Livepic/Action Images via Reuters
India's limited-overs' captain Mahendra Singh Dhoni said it would have been tough to have a successful team without the pacer's presence in the dressing room.
"Well done ZAK on a fantastic career.without U it wd hve been very difficult to achieve what the ICT did.most clever fast bowler I know...Life has just started now,U still can and definitely will contribute a lot to Indian Cricket.wish U all the success," he tweeted.
Also lauding the pacer was Test captain Virat Kohli, who called Zaheer an inspiration.
"To a great fast bowler & an even greater person, I wish you luck in all future endeavours @ImZaheer bhai. You have inspired many like me," he said.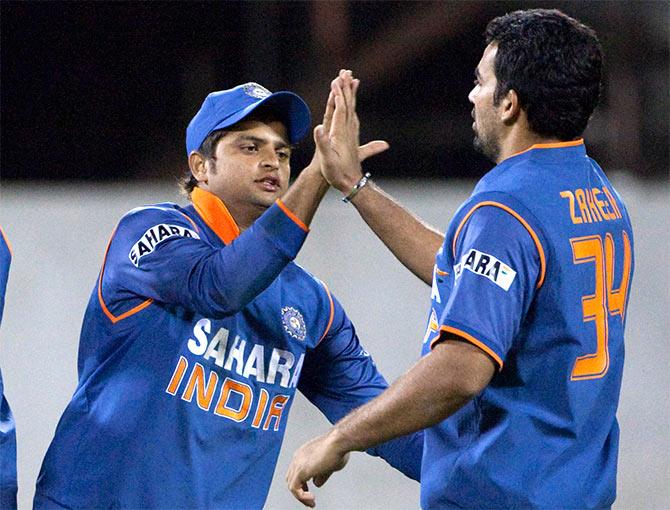 IMAGE: Suresh Raina and Zaheer Khan (right) celebrate a dismissal. Photograph: Simon Baker/Reuters
Zaheer's teammates Suresh Raina and Harbhajan Singh also tweeted their good wishes for the bowler.
"My go-to man. Perfect gentleman. Big Brother. And a legend in his own right. Good luck for your new innings @ImZaheer Wonderful to know u," said Raina.
"What a bowler mr khan and supper dildar yar. God bless you my brother. Love you zakiiiiiiiii @ImZaheer @BCCI," added Harbhajan.
Former batsman VVS Laxman said he felt honoured to have been a part of the teams in which Zaheer played.
"Congrats @ImZaheer on an outstanding career. Was a pleasure playing with u.Will always cherish the gr8 time we had while playing for Ind???," he said.
Former India pacer Irfan Pathan said, "Congratulations 4 great career Khan Saab @ImZaheer I'm sure there is lot in u 2 give back 2 Indian cricket in the future. #legend."
Board of Control for Cricket in India president Shashank Manohar complimented Zaheer on a wonderful career, saying: "The BCCI appreciates Zaheer Khan's outstanding service to Indian cricket. He served Indian cricket with remarkable passion and commitment.
"Being a fast bowler in the Indian subcontinent is challenging but he led the bowling attack with distinction and contributed significantly to the success of Indian cricket. I wish him all the best for the future."
BCCI secretary Anurag Thakur said: "Zaheer will go down as one of the finest fast bowler in the history of Indian cricket. He has been the leader of Indian fast bowlers in the last decade or so and of the best exponent of reverse swing in the country.
"He has been an outstanding role model on and off the field for Indian cricket. Zaheer has been of the key reasons for India's success over the last fifteen years. I congratulate him on his wonderful career."