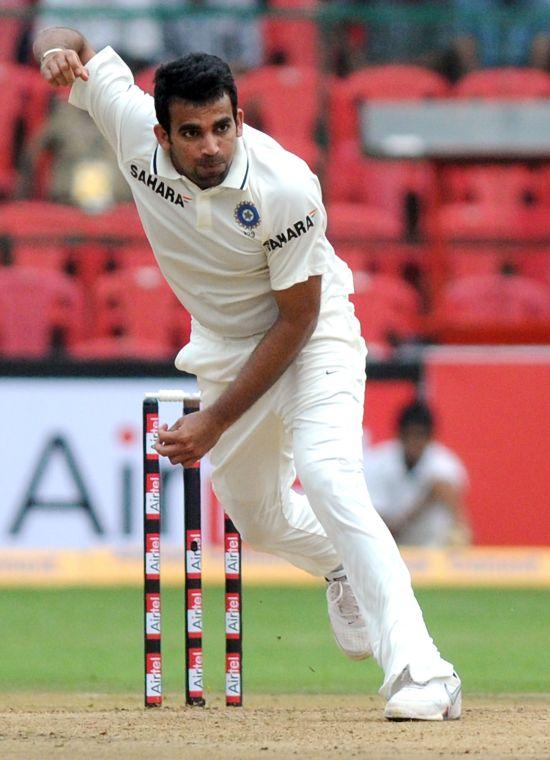 IMAGE: Former India pacer Zaheer Khan. Photograph: Pal Pillai/Getty Images.
Former India pacer Zaheer Khan has been conferred honorary life membership of the Marylebone Cricket Club.
He is the 24th cricketer from the country to be bestowed the honour.
"MCC has elected Zaheer Khan as an Honorary Life Member of the Club," read a statement from the club.
Zaheer is the second India international to be elected in recent weeks following Virender Sehwag, who became an honorary life member last month. The list includes the likes of Sunil Gavaskar and Sachin Tendulkar, who were inducted earlier.
Zaheer played 92 Tests for India, taking 311 wickets at an average of 32.94 runs.
The 37-year-old was a key member of India's One-Day International side. Making his debut in 2000, he took 282 wickets in 200 ODIs at an average of 29.34.
He played three Tests at Lord's, and narrowly missed out on a place on the Lord's Honours Board when he took 4/79 in the drawn Test between England and India in 2007.
He also played three ODIs at the 'Home of Cricket', including the famous NatWest Series Final in 2002, in which he took 3/62.
Having retired from international and first class cricket in 2015, Zaheer remains highly sought after in the Indian Premier League, after successful spells with Delhi Daredevils, Mumbai Indians and Royal Challengers Bangalore.
John Stephenson, MCC Head of Cricket, said: "Zaheer Khan was a fantastic servant to cricket in India and an integral part of their very successful side for many years. For this reason the Club is very pleased to award him with Honorary Life Membership.
"He was always great to watch when he played at Lord's and we look forward to having him back here as an MCC Member."
Honorary Life Membership is awarded by the MCC Committee to individuals in recognition of the service they have given to the cricket and projects surrounding the game, often over a very long period.
There are now more than 300 Honorary Life Members of MCC out of a total Full Membership of 18,000.