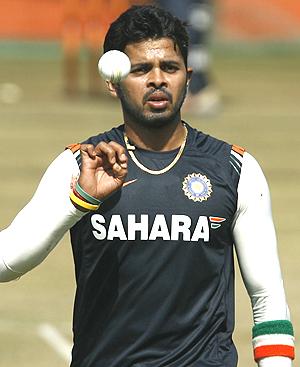 Throwing his weight behind tainted India pacer Shantakumaran Sreesanth, Kerala chief minister Oommen Chandy on Sunday said it is "wrong" on the Board of Control for Cricket in India's part to not revoke the ban on the fast bowler after a Delhi Court dropped criminal charges against him in the Indian Premier League spot-fixing scandal in the 2013 edition.
- 'If there is no case against Sreesanth, the BCCI's ban is totally unjustified'

"No injustice should be meted out," Chandy said supporting Sreesanth, who is seeking to resume his career after spending two years in the wilderness.

"I don't think the BCCI's position on this issue is correct. He was discharged in the spot-fixing case by the court. In such a situation, the Indian board should accept the verdict and lift their ongoing ban," Chandy said in Kochi.

All the 36 accused persons including Sreesanth and his Rajasthan Royals team mates Ankeet Chavan and Ajit Chandila were discharged in the IPL-6 spot-fixing case by Patiala House Court last month but the BCCI had refused to lift their ongoing ban.

"Ours is a democracy. In all aspects of our polity, there is a system of checks and balances...In view of the court decision favouring Sreesanth, the Board should accept his right to return to mainstream cricket. But the Board is taking a different approach...It is wrong. Sreesanth should get justice," the chief minister said when asked about the BCCI's decision.

The Kerala Cricket Association had requested the BCCI to allow Sreesanth to play again but Board secretary Anurag Thakur said there will be no rethink on the life ban of the two cricketers.

"The earlier decision of BCCI's disciplinary committee ban on this case will stay on," Thakur had said.

"Disciplinary proceedings are different, criminal proceedings are different. The action taken in the past were based on the disciplinary action for the indiscipline of these players, reports submitted by the anti-corruption unit. So the same decision of ban will continue on these players," he had said.

All the three accused cricketers had to spend time in jail during the course of investigation. Of the three, Sreesanth and Chavan are currently serving life bans imposed by the BCCI after the scandal shook the high-profile league, while Chandila's hearing is still on.
Image: Shantakumaran Sreesanth