'I don't think it has sunk in yet. When we wake up in the morning it's going to be like is it real trophy'
'We have to move on from here not just enjoy look at it stepping stone. We definitely need some infrastructure like in Australia and England'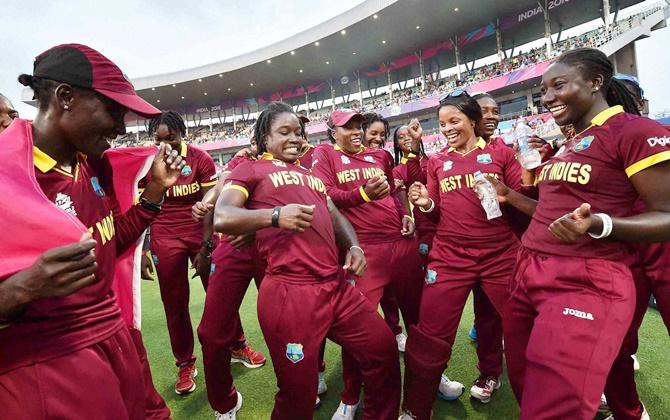 IMAGE: West Indies women's cricketers celebrate after winning the ICC World T 20 at Eden Gardens in Kolkata. Photograph: PTI Photos.
Having clinched their maiden women's World Twenty20 title, West Indies skipper Stafanie Taylor, on Sunday, said that the historic triumph should act as the stepping stone for the development of the women's game in the Caribbeans.
West Indies women stun Australia to win World T20 title
Taylor called for the Caribbean authorities to develop infrastructure so that the women's game is developed there.
"We have to move on from here not just enjoy look at it stepping stone. We don't want to stuck here. We definitely need some infrastructure like in Australia and England. We need young guys coming up," Taylor said after West Indies beat three-time defending champions Australia by eight wickets in the summit showdown.
"When these core players go, it will deteriorate. We need to start building. We need consistency to compete teams like England and Australia," she added.
Taylor, who hit a 57-ball 59, said the mindset of targetting to bat through instead of thinking the England total helped to her side win the final match.
"It's funny, we never discussed the total. We just we wanted to bat through, it was good to keep wickets in hand. We could do that stay there and bat through," Taylor said as the West Indies chased down the target of 149 to halt a quadruple of titles by the Australians.
Taylor said she and her team-mates were still feeling 'unreal' about winning the title.
"I don't think it has sunk in yet. When we wake up in the morning it's going to be like is it real trophy. I will ask myself is this real. When we touch down at the Caribbean that's when it's going to hit you. When we see a lot of people with cameras then we will realise that we have won the World Cup," Taylor said.
18-year-old Hayley Matthews was the star of West Indies run chase with a match-winning 66 from 45 balls to be adjudged the Player of the Tournament.
Taylor credited she and Matthews' stint in Women's Big Bash in Australia for their side's dominating show.
"It actually helped us. It was good for her to exposure and build on her. She's matured the way she played," Taylor said about Matthews.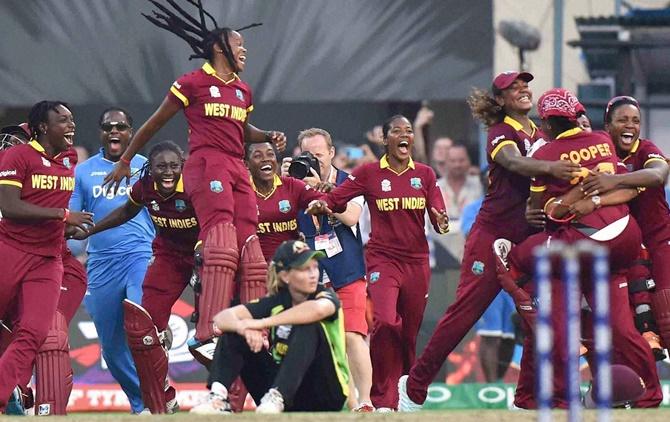 IMAGE: West Indies women's cricketers celebrate. Photograph: PTI Photos.
She further said they enjoy full support from the men's team.
"We have their full support. When we won the semis Darren Sammy said we need to celebrate and have a drink."
Asked about the men's team being involved in a row with the West Indies Cricket Board ahead of the World T20, she said: "We don't really get caught up on what's happening. We're focussed on cricket, we cant control what's actually there. We have to concentrate on playing cricket."
She said she and her team-mates want to play Test cricket.
"That's one of my dream to play Test cricket. It will suit my style and build my game. Some of the girls playing here will like the longer format and build their game. It will help us in ODI games."
Among the sparse crowd at the Eden Gardens, there were a handful of supporters from the Caribbeans and Taylor thanked them.
Meanwhile, a disappointed Australian captain Meg Lanning said her side were short by 10-15 runs when they batted.
"It was a pivotal moment. We needed 160-plus to set us up. It was disappointing not to finish such a good batting side," Lanning said.
West Indies medium pacer Deandra Dottin bowled a tight last over, conceding just one run and claiming two wickets in two balls as the Australian batswomen could not capitalise on a strong start to be restricted to 148/5.
Lanning heaped praise on Windies batter Hayley Matthews who struck a 45-ball 66 to set up her side's win.
"She's very talented, she had a good series against us. It was not a surprise. She played exceptionally well," Lanning said.
With the West Indies clinching their maiden WT20 title, Lanning said the gap was no more wide between the teams in women's cricket.
"Everyone is catching up and going past. We have to keep improving to stay on top. We were not good enough today to beat West Indies. Their standards have been really good. It's no easy games in cricket any more. It just did not go our way today," the Australian skipper added.