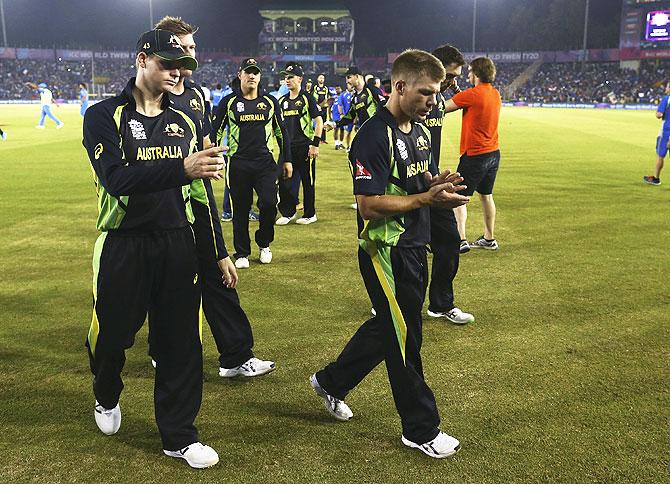 IMAGE: Australia's players wear a dejected look after losing to India in the World T20 Super 10s match, in Mohali. Photograph: Ryan Pierse/Getty Images ..
Australian spin legend Shane Warne has slammed coach Darren Lehmann and selector Mark Waugh for keeping out Aaron Finch and John Hastings of their playing eleven at various points during the ICC World T20.
"Our selection was wrong ... we messed around with it too much rather than sticking with what's been a proven formula," Warne told cricket.com.au.
"Because we had so much talent in our team and so much skill, they (the selectors) thought 'it doesn't matter what the combinations are, we're still going to do OK'."
India knocked out Australia by six wickets in a last-over thriller, riding on Virat Kohli's epic innings at Mohali last Sunday.
Warne believes Finch, the best T20 batsman in the world according to the ICC's rankings, and David Warner would have been a better choice to open the batting for Australia.
Finch had played the pool games against Pakistan and India but was left out for matches against New Zealand and Bangladesh, with the selectors selecting Shane Watson and Usman Khawaja instead at the top.
Warne did not agree with the decision to leave out Finch, who had opened the batting with Warner in 12 T20s and 24 ODIs, including last year's World Cup triumph on home soil.
"It upset the balance of the team. Those two guys had been batting together for a long time. They have done well in Twenty20, they've done well in One-day cricket. Suddenly they got split up," he said.
"That Finch-Warner partnership, it's an intimidatory factor before a ball was bowled and people would have worried about Finch and Warner.
"I know Khawaja was in unbelievable form and had to play, but I would have batted him at No 3. But I just think the other two are more destructive," he added.
Warne also said he would have preferred John Hastings ahead of Josh Hazlewood in knock-out games against Pakistan and India.
"Hastings is a better option in a Twenty20 game because of his yorkers. We saw him in the Big Bash bowl his yorkers, he's just about the best we have. We were one-dimensional by not playing Hastings all the time."