Afghanistan coach Kabir Khan has credited his team's respectable performance against India in the World Twenty20 opener to the players who "stuck by each other during difficult times."
"It's the unity among the players that has led to this improved show. This team is one unit. The players have faced a lot of difficult times due to war in the country and being in the camps," Khan said on Wednesday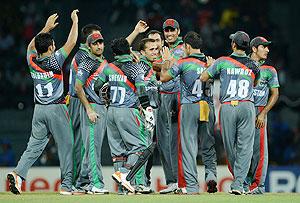 "There are times when a player has faced problems as his family has struggled. In such conditions, the others in the team rally around that person and help him like their own family members," he added.
The coach seemed happy with his team's performance against India but hoped that they get to play international matches more often in order to bridge the gap between them and top international teams.
"We have now played India only twice in two years. Had we played five or six times in the intervening period, the result would have improved considerably.
 "Today, we dropped four catches and those who dropped them are our top fielders. The more we play the better we would get," Khan said.
Khan seemed happy with his batsmen.
"I was confident of a good fight in the manner we started the chase. May be we could have batted a bit more sensibly but then experience counts.
"I knew that even if we had held on to all the catches, we couldn't have stopped India from scoring 140 as they have one quality batsman coming behind another.
"While batting, our idea was to negotiate Ashwin safely and attack the part-timers as we knew that they are playing one bowler short."
About their final group league match against England, he said that it will be a totally different game.
"Spinners will play an important role against England. They are a completely different side and their pacers have generally struggled in sub-continental conditions. We have some good spinners in our side," he signed off.
Photograph: Gareth Copley/Getty Images