India's T20 World Cup challenge has ended.
But it is likely that Virat Kohli (MVPI of 338) will go on to become the tournament's most valuable player because he enjoys a lead of 109 runs over second-placed Joe Root (229).
In all probability the battle for the second place will be between Root, Andre Russell (221) and Jason Roy (219).
The reason for India's demise becomes clear when you scroll down the MVPI table searching for the second Indian on the list.
MS Dhoni (138) is at #22, and Shikhar Dhawan (37) isn't even in the top 100! The message is clear: even a Virat Kohli, or a Sachin Tendulkar back in 1996, can't win you a cricket world cup. The whole team must fire.
Srinivas Bhogle and Purnendu Maji present Rediff.com's Most Valuable Players ratings.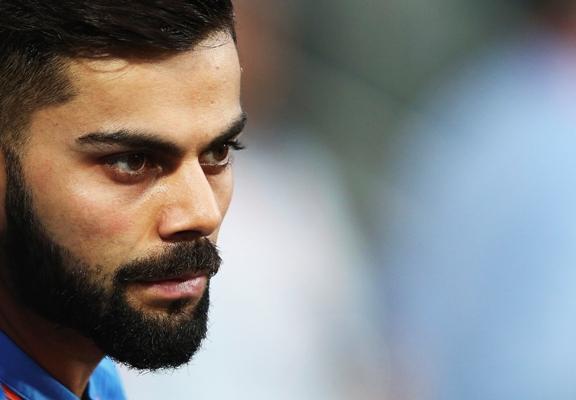 IMAGE: Virat Kohli of India looks on during a practice session. Photograph: Ryan Pierse/Getty Images.
| | | | | | | | | | | |
| --- | --- | --- | --- | --- | --- | --- | --- | --- | --- | --- |
| Rank | Player | Team | Runs | 4s | 6s | Str Rate | W | Eco | M | MVPI |
| 1 | Virat Kohli | IND | 273 | 29 | 5 | 146.8 | 1 | 9 | 5 | 338 |
| 2 | Joe Root | ENG | 195 | 17 | 7 | 145.5 | 0 | 13 | 5 | 229 |
| 3 | Andre Russell | WI | 90 | 8 | 5 | 147.5 | 8 | 8.4 | 5 | 221 |
| 4 | Jason Roy | ENG | 183 | 22 | 7 | 151.2 | 0 | - | 5 | 219 |
| 5 | Quinton de Kock | SA | 153 | 18 | 6 | 143 | 0 | - | 4 | 212 |
| 6 | Jos Buttler | ENG | 155 | 12 | 9 | 158.2 | 0 | - | 5 | 203 |
| 7 | Mitchell Santner | NZ | 29 | 3 | 0 | 107.4 | 10 | 6.3 | 5 | 201 |
| 8 | Shane Watson | AUS | 96 | 9 | 4 | 150 | 5 | 7.4 | 4 | 197 |
| 9 | Martin Guptill | NZ | 140 | 15 | 8 | 157.3 | 0 | - | 4 | 193 |
| 10 | Chris Gayle | WI | 109 | 7 | 11 | 194.6 | 2 | 5.7 | 4 | 188 |
| 11 | Shahid Afridi | PAK | 90 | 7 | 7 | 183.7 | 4 | 7.4 | 4 | 184 |
| 12 | Ish Sodhi | NZ | 0 | 0 | 0 | - | 10 | 6.1 | 5 | 182 |
| 13 | Shakib Al Hasan | BAN | 107 | 8 | 4 | 124.4 | 4 | 7.6 | 4 | 177 |
| 14 | Mohammad Nabi | AFG | 35 | 4 | 1 | 97.2 | 6 | 6.4 | 4 | 174 |
| 15 | Usman Khawaja | AUS | 143 | 22 | 2 | 137.5 | 0 | - | 4 | 164 |
| 16 | Glenn Maxwell | AUS | 109 | 8 | 4 | 129.8 | 2 | 7.6 | 4 | 162 |
| 17 | AB de Villiers | SA | 110 | 5 | 9 | 180.3 | 0 | - | 4 | 155 |
| 18 | Mustafizur Rahman | BAN | 6 | 0 | 1 | 200 | 9 | 7.2 | 3 | 147 |
| 19 | Tillakaratne Dilshan | SL | 133 | 13 | 5 | 123.1 | 0 | - | 4 | 146 |
| 20 | Samuel Badree | WI | 2 | 0 | 0 | 100 | 7 | 5.7 | 5 | 145 |
| 21 | Dwayne Bravo | WI | 38 | 2 | 1 | 97.4 | 6 | 7.7 | 5 | 141 |
| 22 | MS Dhoni | IND | 89 | 6 | 2 | 127.1 | 0 | - | 5 | 138 |
| 23 | James Faulkner | AUS | 17 | 2 | 0 | 100 | 8 | 8.1 | 4 | 134 |
| 24 | Thisara Perera | SL | 80 | 6 | 4 | 145.5 | 3 | 10.3 | 4 | 132 |
| 25 | Sharjeel Khan | PAK | 112 | 18 | 3 | 143.6 | 0 | - | 4 | 131 |
| 26 | Samiullah Shenwari | AFG | 79 | 7 | 2 | 136.2 | 1 | 5.8 | 4 | 130 |
| 27 | Hashim Amla | SA | 120 | 13 | 4 | 134.8 | 0 | - | 4 | 129 |
| 28 | Chris Jordan | ENG | 20 | 3 | 0 | 95.2 | 6 | 8 | 5 | 129 |
| 29 | Angelo Mathews | SL | 114 | 6 | 6 | 118.8 | 1 | 6.9 | 3 | 128 |
| 30 | Imran Tahir | SA | 0 | 0 | 0 | - | 6 | 5.2 | 4 | 127 |
| 31 | Ben Stokes | ENG | 43 | 4 | 3 | 172 | 4 | 8.6 | 5 | 127 |
| 32 | Colin Munro | NZ | 118 | 11 | 4 | 114.6 | 0 | - | 5 | 126 |
| 33 | Shoaib Malik | PAK | 96 | 7 | 3 | 165.5 | 0 | 9 | 4 | 126 |
| 34 | Rashid Khan | AFG | 32 | 3 | 2 | 114.3 | 5 | 7.6 | 4 | 126 |
| 35 | Moeen Ali | ENG | 56 | 5 | 2 | 124.4 | 5 | 9.4 | 5 | 124 |
| 36 | David Willey | ENG | 20 | 0 | 2 | 117.6 | 7 | 8.2 | 5 | 124 |
| 37 | Mohammad Shahzad | AFG | 80 | 7 | 6 | 142.9 | 0 | - | 4 | 124 |
| 38 | Grant Elliott | NZ | 50 | 4 | 0 | 108.7 | 3 | 5.8 | 5 | 122 |
| 39 | Jean-Paul Duminy | SA | 83 | 5 | 4 | 172.9 | 1 | 10.3 | 2 | 117 |
| 40 | Johnson Charles | WI | 116 | 11 | 5 | 114.9 | 0 | - | 5 | 113 |
| 41 | Kane Williamson | NZ | 123 | 14 | 2 | 105.1 | 0 | 3 | 5 | 112 |
| 42 | Andre Fletcher | WI | 106 | 8 | 6 | 120.5 | 0 | - | 3 | 110 |
| 43 | Ashish Nehra | IND | 0 | 0 | 0 | 0 | 5 | 5.9 | 5 | 107 |
| 44 | Suresh Raina | IND | 41 | 2 | 2 | 124.2 | 3 | 4.8 | 5 | 106 |
| 45 | Faf du Plessis | SA | 98 | 11 | 2 | 112.6 | 0 | - | 4 | 103 |
| 46 | Corey Anderson | NZ | 86 | 8 | 1 | 97.7 | 2 | 7 | 5 | 102 |
| 47 | Lendl Simmons | WI | 82 | 7 | 5 | 160.8 | 0 | - | 1 | 100 |
| 48 | Najibullah Zadran | AFG | 86 | 7 | 4 | 141 | 0 | - | 4 | 100 |
| 49 | Sabbir Rahman | BAN | 75 | 11 | 1 | 108.7 | 1 | 5.5 | 4 | 98 |
| 50 | Kyle Abbott | SA | 0 | 0 | 0 | - | 7 | 8.1 | 3 | 98 |
| 51 | Adam Zampa | AUS | 2 | 0 | 0 | 200 | 5 | 6.3 | 4 | 91 |
| 52 | Ahmed Shehzad | PAK | 108 | 14 | 0 | 102.9 | 0 | - | 4 | 89 |
| 53 | Ross Taylor | NZ | 91 | 5 | 3 | 113.8 | 0 | - | 5 | 86 |
| 54 | Mahmudullah | BAN | 76 | 8 | 1 | 118.8 | 1 | 9.4 | 4 | 86 |
| 55 | Ravindra Jadeja | IND | 12 | 2 | 0 | 109.1 | 4 | 7.2 | 5 | 85 |
| 56 | Luke Ronchi | NZ | 50 | 3 | 2 | 151.5 | 0 | - | 5 | 83 |
| 57 | David Miller | SA | 48 | 4 | 3 | 200 | 0 | - | 4 | 82 |
| 58 | Steven Smith | AUS | 83 | 8 | 1 | 120.3 | 0 | - | 4 | 80 |
| 59 | Eoin Morgan | ENG | 61 | 2 | 3 | 129.8 | 0 | - | 5 | 79 |
| 60 | Mohammad Hafeez | PAK | 69 | 7 | 2 | 146.8 | 0 | - | 2 | 79 |
| 61 | Rohit Sharma | IND | 88 | 7 | 4 | 107.3 | 0 | - | 5 | 78 |
| 62 | Marlon Samuels | WI | 96 | 17 | 0 | 101.1 | 0 | - | 5 | 77 |
| 63 | Asghar Stanikzai | AFG | 86 | 3 | 6 | 108.9 | 0 | - | 4 | 77 |
| 64 | Umar Akmal | PAK | 78 | 4 | 2 | 121.9 | 0 | - | 4 | 76 |
| 65 | Chris Morris | SA | 16 | 2 | 0 | 94.1 | 5 | 8.9 | 3 | 74 |
| 66 | Nathan McCullum | NZ | 0 | 0 | 0 | 0 | 3 | 4.2 | 2 | 72 |
| 67 | Alex Hales | ENG | 65 | 9 | 1 | 116.1 | 0 | - | 4 | 72 |
| 68 | Sulieman Benn | WI | 0 | 0 | 0 | - | 2 | 5.8 | 5 | 71 |
| 69 | Jeffrey Vandersay | SL | 3 | 0 | 0 | 37.5 | 3 | 5.2 | 3 | 69 |
| 70 | Mitchell McClenaghan | NZ | 7 | 0 | 1 | 233.3 | 4 | 7.9 | 4 | 66 |
| 71 | Rangana Herath | SL | 6 | 0 | 0 | 60 | 3 | 6.2 | 4 | 66 |
| 72 | Ravichandran Ashwin | IND | 15 | 1 | 0 | 68.2 | 4 | 7.7 | 5 | 64 |
| 73 | Hardik Pandya | IND | 16 | 2 | 1 | 114.3 | 5 | 10.2 | 5 | 64 |
| 74 | Aaron Phangiso | SA | 4 | 0 | 0 | 80 | 3 | 5.6 | 2 | 62 |
| 75 | Peter Nevill | AUS | 18 | 1 | 2 | 360 | 0 | - | 4 | 60 |
| 76 | Adam Milne | NZ | 2 | 0 | 0 | 100 | 3 | 7.4 | 4 | 59 |
| 77 | Yuvraj Singh | IND | 52 | 2 | 2 | 100 | 1 | 6.3 | 4 | 58 |
| 78 | Jasprit Bumrah | IND | 0 | 0 | 0 | 0 | 4 | 7.7 | 5 | 55 |
| 79 | David Wiese | SA | 28 | 2 | 0 | 107.7 | 1 | 8.2 | 3 | 55 |
| 80 | Aaron Finch | AUS | 58 | 4 | 2 | 116 | 0 | - | 2 | 54 |
| 81 | Al-Amin Hossain | BAN | 0 | 0 | 0 | 0 | 5 | 9.3 | 4 | 53 |
| 82 | Denesh Ramdin | WI | 36 | 1 | 0 | 69.2 | 0 | - | 5 | 53 |
| 83 | Imad Wasim | PAK | 0 | 0 | 0 | 0 | 3 | 7 | 3 | 53 |
| 84 | Mohammad Sami | PAK | 4 | 1 | 0 | 200 | 4 | 9.3 | 3 | 52 |
| 85 | Dinesh Chandimal | SL | 56 | 5 | 3 | 96.6 | 0 | - | 4 | 52 |
| 86 | Mushfiqur Rahim | BAN | 44 | 7 | 0 | 110 | 0 | - | 4 | 50 |
| 87 | Tamim Iqbal | BAN | 62 | 5 | 2 | 103.3 | 0 | - | 3 | 49 |
| 88 | Shuvagata Hom | BAN | 29 | 3 | 1 | 103.6 | 1 | 6.6 | 3 | 49 |
| 89 | Shafiqullah | AFG | 44 | 4 | 2 | 141.9 | 0 | - | 3 | 49 |
| 90 | Liam Plunkett | ENG | 0 | 0 | 0 | - | 2 | 6.1 | 3 | 47 |
| 91 | Amir Hamza | AFG | 4 | 0 | 0 | 50 | 3 | 7.2 | 3 | 47 |
| 92 | Noor Ali Zadran | AFG | 62 | 4 | 1 | 93.9 | 0 | - | 3 | 46 |
| 93 | Adil Rashid | ENG | 0 | 0 | 0 | - | 4 | 9.1 | 5 | 44 |
| 94 | Mohammad Amir | PAK | 0 | 0 | 0 | - | 3 | 7.9 | 4 | 44 |
| 95 | Mitchell Marsh | AUS | 30 | 1 | 2 | 103.4 | 1 | 7.6 | 2 | 42 |
| 96 | Farhaan Behardien | SA | 0 | 0 | 0 | - | 2 | 5 | 1 | 42 |
| 97 | Khalid Latif | PAK | 49 | 4 | 1 | 102.1 | 0 | - | 2 | 42 |
| 98 | Ajinkya Rahane | IND | 40 | 2 | 0 | 114.3 | 0 | - | 1 | 40 |
| 99 | Milinda Siriwardana | SL | 22 | 2 | 1 | 110 | 2 | 9 | 4 | 39 |
| 100 | Kagiso Rabada | SA | 0 | 0 | 0 | - | 5 | 10.7 | 3 | 38 |
| 101 | Shikhar Dhawan | IND | 43 | 4 | 2 | 82.7 | 0 | - | 4 | 37 |
| 102 | Wahab Riaz | PAK | 0 | 0 | 0 | 0 | 3 | 8.2 | 3 | 37 |