'West Indies have proved that cricket is a team game'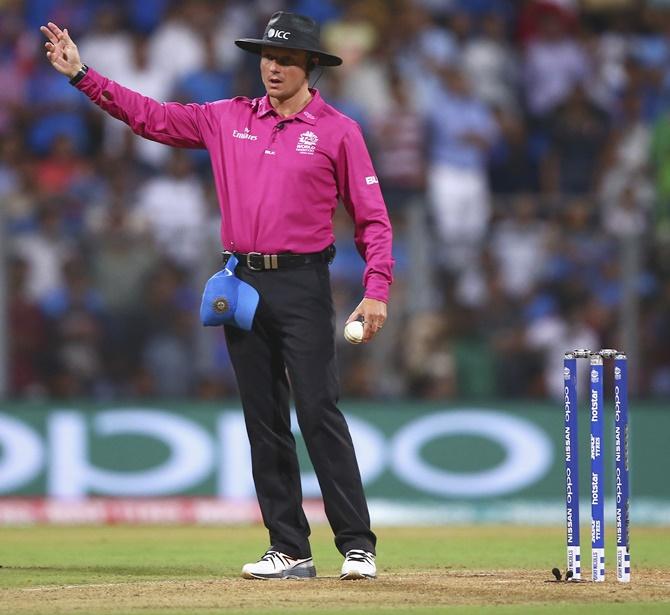 IMAGE: Umpire Richard Kettleborough calls a no-ball after Lendl Simmons of the West Indies was caught off the bowling of India's Ravichandran Ashwin during the ICC World Twenty20 semi-final. Photograph: Ryan Pierse/Getty Images .
Criticising India's bowlers for conceding no-balls at crucial junctures in the World T20 semi-final against the West Indies, former captain Sunil Gavaskar said it is 'unacceptable for a spinner to bowl a no-ball'.
"The spinners are really not expected to bowl a no-ball. Fast bowlers, in their effort to ball a yorker or a bouncer, can sometimes overstep. Thus, for a spinner to bowl a no-ball is unacceptable. This is something you got to practice in the nets," Gavaskar told NDTV.
Title aspirants India were knocked out of the ICC World Twenty20 on Thursday night after a heartbreaking seven-wicket defeat to the West Indies, who capitalised on the home team's sloppy bowling in a high-scoring semi-final showdown in Mumbai.
He insisted that the West Indies have proved that cricket is a team game.
"West Indies is not a one-man team. We were talking about Chris Gayle versus Virat Kohli. He didn't score runs, but look how others put their hands up and contributed. It has always been a team game. We tend to highlight one and two players and that is understandable. But it is never a one-man game and West Indies have proven that," said the legendary batsman.
Gavaskar said rather than talking about India's deficiencies, he would like to pay tribute to the West Indies, who capitalised on the chances they got.
"I would like to give credit to the West Indies. They capitalised on all the chances they got. Even West Indies had missed chances to run-out Virat Kohli twice and he cashed on it, scoring 89 and taking India to 192. West Indies also batted absolutely brilliantly."
The 66-year-old felt India fell short by 20 runs.
"I think India could have scored 20 runs more. I think it was possible. There was a time when we might have. Despite getting a good start, we never really actually got to more than eight runs an over.
"Eight runs an over against a good batting side and on a good batting pitch is not really expected, particularly with guys in form. You would expect more than 10 runs an over. So, I think even the West Indian bowlers bowled well."
Stating that "everything sort of worked against India", Gavaskar said: "It was a pitch for the batsmen. The ball was coming on to the bat very nicely. There was not much you could do with the dew factor and so the spinners were not able to grip the ball."
He said toss should not be a factor in major games like semi-finals and final of a tournament.
"Once I was doing commentary with Clive Lloyd when he was chairman of the ICC's Cricket committee. He made a very good point. He said 'when you come to the semi-finals and final, the toss should not be factor'. It should be a day game, where there is no dew because in a day-night game, there would be a situation where dew might get into play. I think it is a very valid point."
Elaborating on the need for India to focus on their bowling, the former skipper said: "They have got to improve as far as their bowling is concerned because their bowling while defending does take a bit of battering. India were lucky to get wickets of full tosses.
"Their batting has always been their strength. When they bat first, they should put up such a huge total, expecting that one or two of their bowlers would not do well."