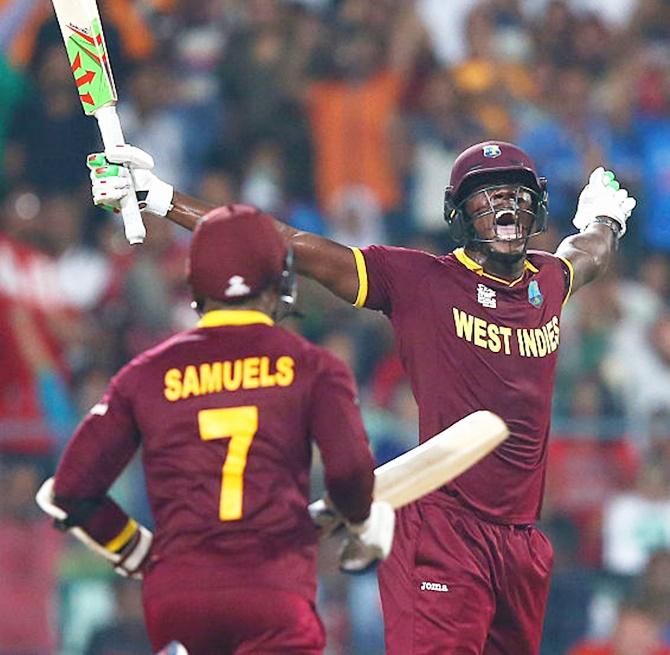 IMAGE: West Indies's Carlos Brathwaite celebrates hitting the winning runs during the ICC World Twenty20 Final match against England at Eden Gardens, in Kolkata, on Sunday. Photograph: Ryan Pierse/Getty Images .
Hero of West Indies' World Twenty20 title triumph, Carlos Brathwaite said he took the risk of hitting the now famous four consecutive sixes as he did not want to leave the tough job for Marlon Samuels given the 'nerve-wracking' situation.
Brathwaite smashed four consecutive sixes off Ben Stokes to steer his team to a four-wicket triumph in the final against England, a feat which propelled him to instant stardom.
"It was a little nerve-wracking to be honest, I just tried to stay focused, use my cue words, watch the ball and take some pressure off Marlon. It would have been too hard to give him a single and expect him to do it all. I just had to bite the bullet and try to get a couple of boundaries, which fortunately I did, give God thanks for bringing it home for the people in West Indies," Brathwaite told ESPN Caribbean.
The burly batsman said hitting a fourth six made sense to him even though a single could have done the job as he was in the groove after three maximums.
"In those situations, you can probably try to get a single, someone gets run out, then another good ball is bowled, and we may have a Super Over. My thing was just to get the ball over the in-field. Thankfully, it went for six."
Amid the euphoria of the win, Brathwaite did not forget to show commiserations for England paceman Stokes, who bore the brunt of the burly batsman's power-hitting.
"Ben Stokes is an absolute legend in his own right. You shouldn't forget what he has done for England in the past couple of months. Cricket is a cruel game, and a lot of people can be on him, but just remember Stuart Broad was hit for six sixes by Yuvraj (Singh) and his career has gone on the up ever since. To Ben, tough luck last night, commiserations to you and the England team. Wish he has a long and successful career ahead of him."
Asked what he and Samuels had discussed before the start of the 20th over, Brathwaite said, "Marlon came down to me and told me, 'Whatever happens, I am running. Just swing for the hills. Get bat on ball, make sure we use every delivery to get the maximum amount of runs we can get at that point of time'."
Brathwaite also remembered his bat-maker Erroll Edie.
"I just want say a special mention to everyone in Sergeant's Village, my family, my friends and especially to Mr Erroll Edie, the master bat-maker from the Caribbean. He made this special beauty for me to use in the World Cup and he told me, 'Carlos, go out there and smash 'em'. Erroll, I did, and now we are world champions," he said.