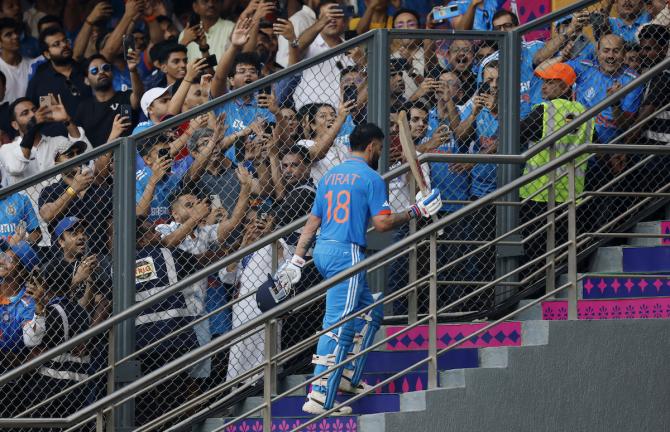 It just wasn't meant to be! Australia once again proved they have the champion's DNA as they rose to the occasion to deny favourites India a fairytale finish in the ODI World Cup.
Australia's sixth title dropped the curtain on the 2023 edition of the tournament. From record breaking performances to stunning wins and controversies, this World Cup too had its share of ups and downs peppered with groundbreaking performances.
A look at 7 memorable moments of World Cup 2023: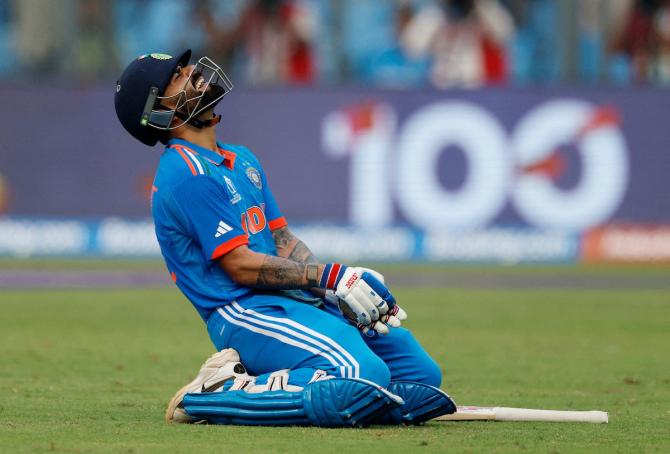 Kohli's 50th Ton
Without doubt, the most memorable moment from this World Cup was Virat Kohli's historic century. Picking the perfect stage to climb to the pinnacle, Kohli brought up his 50th ODI century in a perfectly scripted manner.
On his 35th birthday, Kohli played a special knock as he ended the wait to match Sachin Tendulkar's 49 ODI hundreds. Kohli struck his second ton in World Cup 2023 during India's match against South Africa.
If one thought that was the best moment he could serve up one couldn't be more wrong. After matching the legendary Tendulkar's record, Kohli went on to break his idol's record and he did it in style.
Playing against New Zealand at the Wankhede, King Kohli picked the big stage -- the semifinal -- to achieve the feat.
After bringing up his ton, Kohli bowed down to Tendulkar who was cheering him on from the stands. A moment that warmed the hearts of billions will go down as one of the most iconic moments of the sport and not just this World Cup.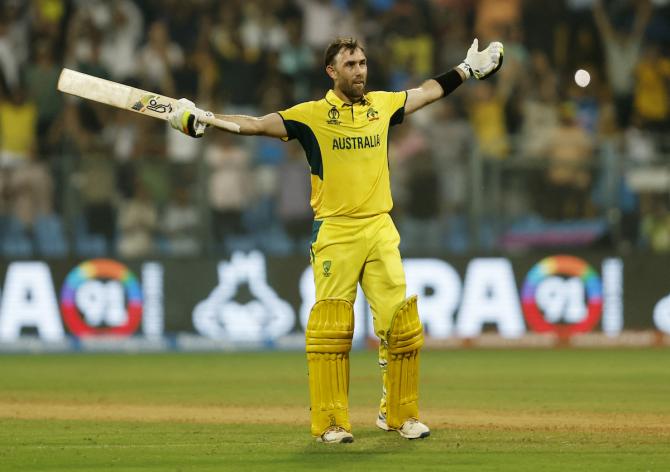 Maxwell's Double Century
Australia got their campaign off to a disappointing start with back-to-back losses. But never underestimate the Aussies! The five-time -- oh now six-time champions -- proved this all too quickly with a stunning turnaround.
But one of the most memorable moments of their campaign would be Glenn Maxwell's sizzling knock.
The former champs were staring at a third loss as Afghanistan threatened to pull off another shock win this World Cup. Needing 292 to win, the Australia line-up crumbled as they were reduced to 91/7 in 18.3 overs. With Australia staring at defeat, Maxwell single-handedly took them to a stunning win.
With an unbeaten 201 off 128, Maxwell's record-breaking knock sealed Australia's place in the semifinals.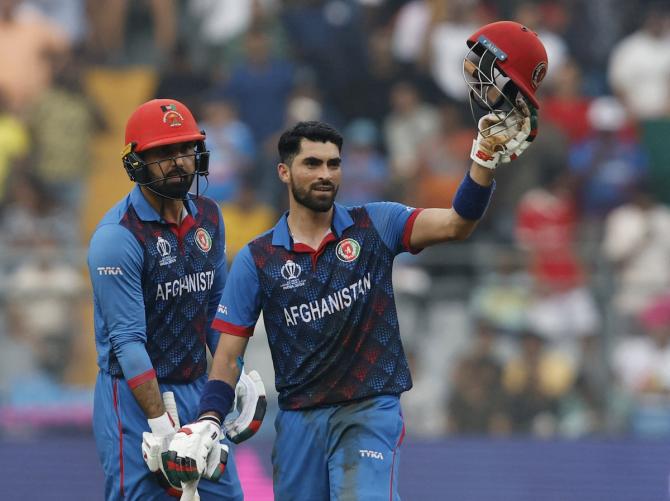 Ibrahim Zadran's 100
In the same match where Maxwell demolished the Afghanistan bowlers, Ibrahim Zadran became the first Afghanistan batter to score a World Cup century -- his unbeaten 129 was studded by eight fours and three sixes.
Zadran's knock was another feather in the cap of Afghanistan cricket after they made waves in World Cup 2023.
Prior to this World Cup, Afghanistan only had one win on the history of the World Cup, in 2015. This time the Afghans proved themselves tough contenders as they registered four wins out of nine matches. One of their stunning wins was over defending champions England.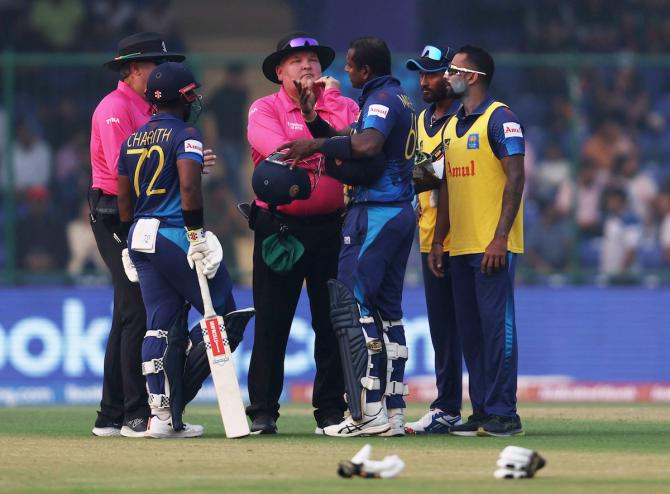 Angelo Mathews' Dismissal
This moment in the World Cup will not be remembered so fondly, but it will be one that will be remembered for sure!
Both Sri Lanka and Bangladesh had forgettable World Cups. But their contest against each other will leave both opponents with a bitter taste for a long time to come.
Both teams faced off against each other with no hope of making it to the semifinals. But Bangladesh Skipper Shakib al Hasan wanted to 'win at any cost'. That's what he said after the match.
Veteran Lankan all-rounder Angelo Mathews became the first cricketer to lose his wicket after being timed-out. In the history of the sport, this was the first dismissal of its kind.
Coming into bat at No. 6, Mathews wasn't ready to face his first delivery within the stipulated two minutes. Shakib took advantage of the fact and appealed for a dismissal. Mathews appealed to the umpires because his helmet strap had broken, but to no avail.
Despite Mathews requesting Shakib, the Bangladesh skipper stuck to his call as a dejected Mathews walked off without facing a ball.
Shakib's decision once again gave way to the hotly debated topic -- the 'spirit of cricket'. Though Shakib was well within his rights, he faced a lot of backlash for the decision.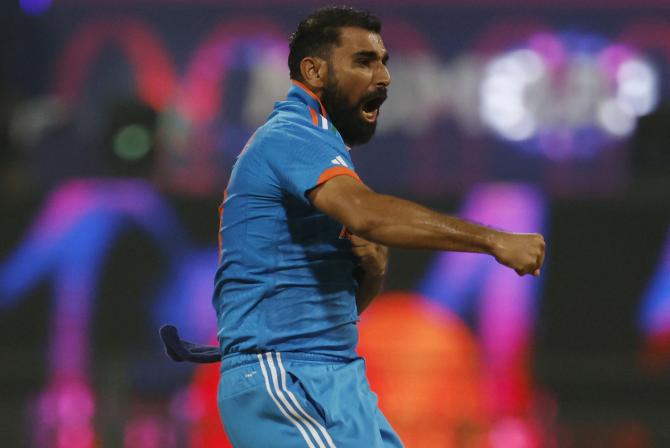 Shami's Lethal Spell
Mohammed Shami was warming the bench until India lost Hardik Pandya to injury. And what an explosive tournament Shami went on to have.
Shami made the most of the opportunity with two five-wicket hauls. But the pacer saved his best for the big semifinal at the Wankhede.
After Kohli and Shreyas Iyer's ton, the Wankhede crowd was treated to a record-breaking spell as Shami sealed India's place in the final.
Handing the Men in Blue the key breakthroughs, Shami ripped through the New Zealand line-up to pocket a sizzling seven wicket haul. The star pacer turned in sizzling figures of 7/57 in 9.5 overs to end New Zealand's campaign.
Shami has now ended both the 2019 and the 2023 edition of the coveted tournament as the highest wicket-taker.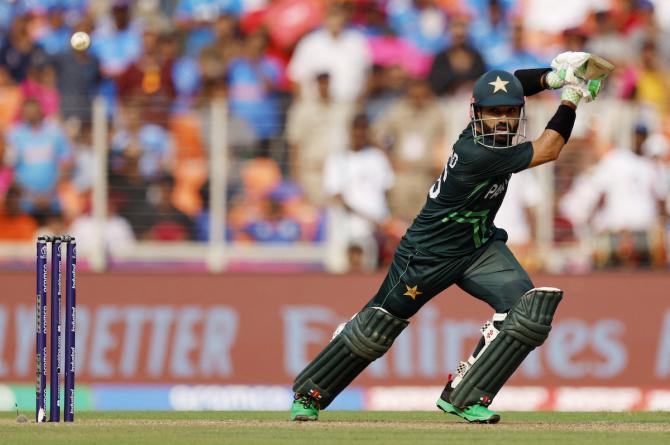 Pakistan's Record Chase
Pakistan had a forgettable World Cup, but Babar Azam's side did have their moment under the sun.
Pakistan got off their tournament off to a cracking start with two back-to-back big wins, before their loss to India derailed their campaign.
After beating The Netherlands in their opener, Pakistan grabbed eyeballs with a record win over Sri Lanka. The Pakistan batters were pushed to test their limits early in the contest and they thrived in that outing.
After the Lankan bowlers made short work of the famed Pakistan bowling line-up to amass 344/9 at the Rajiv Gandhi international stadium in Hyderabad, Babar's men pulled off a stunning win.
No other team had successfully chased this target before and Pakistan was staring at their first loss of the tournament.
Opener Abdullah Shafique and Mohammed Rizwan struck sensational knocks to guide Pakistan to victory. While Shafique handed Pakistan a cracking start with a 103-ball 113, player-of-the-match Rizwan hammered an unbeaten 131 to chase down the target with 10 balls to spare.
The win saw Pakistan enter the record books as it became the highest successful chase in a 50-over World Cup.
But Pakistan failed to build on their start as they lost to India in the next match.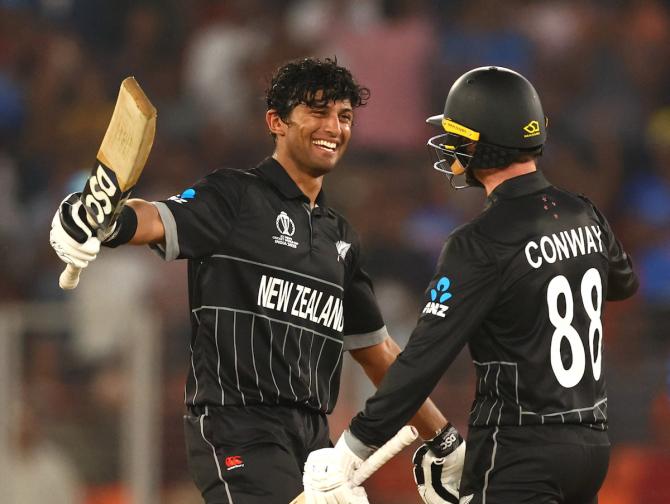 Kiwis Avenge 2019
Let's not forget the start of the World Cup. The Kiwis, who fell to a controversial and heartbreaking loss to England in the finals of the previous edition, got their revenge.
After electing to bowl first, New Zealand restricted England to 282/9 at the Narendra Modi stadium.
In reply, the England bowlers looked clueless as the Kiwis put up a dazzling show. After Sam Curran removed opener Will Young for a duck, Devon Conway and Rachin Ravindra put up a record stand.
The pair hammered centuries in their opener as they chased down the target with 82 balls to spare. While Conway struck an unbeaten 152, young Ravindra set the tone for his record-breaking World Cup with a sizzling 123.
New Zealand's nine wicket win over England set the tone for the campaign as the defending champions saw an early exit. The Kiwis went on to seal a place in the semifinals where India defeated them.
Apart from these, World Cup 2023 was peppered with several sensational knocks including Quinton de Kock and Shreyas Iyer's back-to-back tons, Rohit Sharma's flurry of sixes amongst several other heart stopping moments.
The World Cup in India was indeed a colourful one with its fair share of controversies, records and thrillers. In the end, it was the mighty Australians who walked away with the trophy.