Bangladesh fans have attacked captain Shakib Al Hasan's house, breaking a window following the team's resounding loss to the West Indies on Friday.
The International Cricket Council has described the attack on the West Indies bus and on al-Hasan's house, as very disappointing.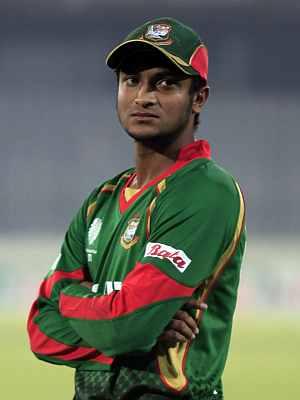 "Of course, it was disappointing. We would not like to see all this. I was told it was a minor incident. My understanding of the incident is that a few irate fans threw pebbles at the bus and they were pebbles. The police who were present at that moment have made certain arrests," ICC CEO Haroon Lorgat told reporters.
"I am sure the security is firm enough to handle such issues. I have said before that we are very pleased with the security arrangements in the ongoing World Cup. They have got the expertise and the experience. I have no doubt that this will be comprehensively followed through," he added.
Lorgat said the incident was not that big a security scare to warrant a change of venue.
"We will not move a game lightly but it is not something that we would discount for briefing. I do not believe that particular incident justifies any games to be moved from there just like that. I think we will consider moving with the schedule that has been set out.
"We do have contingency plans above security arrangements that are in place. I am extremely confident that you will see the tournament is held as scheduled," he added.
Bangladesh's elite Rapid Action Battalion arrested 38 people after the attack.