The Ferozeshah Kotla Stadium here, which will host four World Cup matches, has been turned into a virtual fortress with Delhi police personnel, gun-totting commandos and private security guards leaving nothing to chance ahead of Thursday's South Africa-West Indies clash.
International cricket has returned to Kotla following a one-year ban imposed by the ICC after the India-Sri Lanka tie was abandoned in December 2009 due to unplayable pitch, and the Delhi District Cricket Association (DDCA) officials are leaving no stone unturned to make the event a memorable one for the Delhittes.
The media is being frisked at multiple points before entering the venue. Metal detectors, DDCA officials and armed security guards are dotting the entry-exit points.
Barring accredited ICC and DDCA officials, no one is allowed to enter the field inside the Kotla, where pitch curator Radhe Shyam could be seen working tirelessly in the middle of the lush green ground.
The central government's disaster management force has also been deployed in and around the stadium while Delhi police senior officials could be seen briefing hundreds of volunteers ahead of cricket's biggest extravaganza.
Guards hired from city's private security agencies were also seen conducting a mock drill.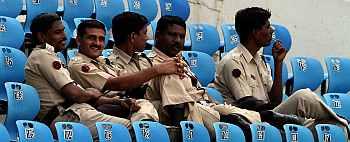 "We have made tight security arrangements and has put in place all the safety measures to avoid any untoward incident.
The disaster management team is also here, we have got large number of volunteers whom we are briefing on daily basis. We have also heavily guarded the entry-exit points so that only accredited people can get access," said a Delhi police officer.
"We are expecting a large turnout for the matches and we are ready for the event," he added.
Last week on Saturday, security and other agencies had conducted a mock drill at the stadium to check their preparedness in case of any eventuality.
Rains in the past few days have made things difficult for the DDCA but the officials are confident of hosting hassle-free matches.
"One can't do anything with the rains but if weather permits, we are confident of providing Delhi people a good outing," said a DDCA official.
There are three other matches to be played in Delhi -- West Indies-Netherlands (February 28); Canada-Kenya (March 7) and India-Netherlands (March 9).
Ticket sales, which began on Saturday, are priced between Rs 575 and 9,200. The stadium's seating capacity is 41,000 and tickets have also been sold through select Bank of Maharashtra branches in the capital.