Former Pakistan captain, Ramiz Raja, has backed the national team to put up a spirited fight in the World Cup semi-final against India in Mohali on Wednesday.
- Jacques Kallis: India vs Pak a spectacle not to be ignored
"It is very difficult to convince me on something. But, as far as this Pakistan team is concerned, I am totally convinced that even if it loses the semi-final it will not do so without putting a big fight," Ramiz said.
The cricketer-turned-commentator said that while everyone is under the impression that the crowd pressure in Mohali would affect the performance of the Pakistani players, he thinks otherwise.
"The way I look at it the pressure will be bigger on the Indian players because they are playing in front of their home crowd. The expectations are high from them, so they have to deliver," he said.
Ramiz admitted that on paper India appeared to have more resources, but believed that either Pakistan's bowlers or India's batsmen will decide the fate of the high-voltage semi-final.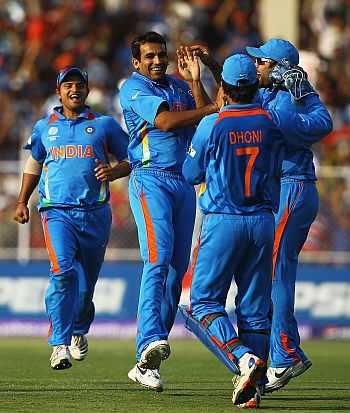 "One thing I am convinced about is that I have not seen a more well gelled, motivated and united Pakistan outfit and the credit goes to Shahid Afridi who has led the side well and turned them into a 15-member unit instead of a 11-member playing eleven."
Ramiz said the spirit in the Pakistan dressing room was the driving force and would serve them well in the semi-final.
"When the odds are stacked against you it is usual for all 15 players of a touring side to stick together and be motivated to perform above themselves," he said.
The former Test opener pointed out that Pakistan has a very strong bowling attack and, unlike in the past, the team's overall performance in the tournament has been consistent.
"That is why I am backing this Pakistan team to be tough against India and they might be in for a big surprise," he stated.
He also felt that Pakistan held the edge in bowling and fielding departments over India.
"I also appreciate the way the Pakistan team management has made no concessions on discipline and that has paid dividends in the long run," he said.