JACQUES KALLIS reflects on the disappointment of being knocked out of the World Cup after having had such high hopes
Unfortunately this is a familiar feeling. It started in Karachi in 1996 when I was at the beginning of my career and moved to Birmingham, Durban and St. Lucia -- the feeling of bitter disappointment after being knocked of a World Cup having had such high hopes.
There's not much point in analysing the match at the moment although I'm not avoiding my part in starting the collapse. Another couple of metres either way and it would have been a four, or even a six, but it was a brilliant catch by Jacob Oram and that was that.
It was always our intention to play positive, attacking cricket throughout the tournament and at least we stuck by that and went down fighting. It's so easy for people to say "he shouldn't have played that shot" but they don't say anything when it goes to the boundary.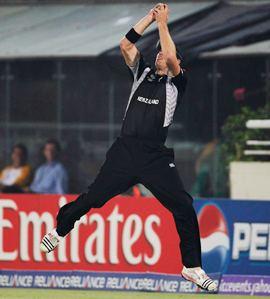 I have grown accustomed to the world's media focussing on South Africa's shortcomings every time we lose a match during an ICC tournament but that attitude consistently fails to give credit where it is due to our opposition.
Daniel Vettori deserves a huge amount of credit for just getting onto the field, never mind his bowling and captaincy which were superb. He knew exactly what his plan was and both he and Nathan McCullum bowled superbly to make it happen.
- 'We let ourselves and South Africa down'
On a slow pitch where the ball gets soft after about 20-25 overs, the 10-over period between 25 and 34 overs -- and the replacement ball -- becomes very important, often crucial. Unfortunately we lost four wickets in that period and that was where the game was won and lost.
Right now all I can focus on is getting home to Cape Town. I have no doubt that I will turn the television on for the semi-finals but I won't be sitting in front of it all day. But India versus Pakistan in Mohali is a spectacle not to be ignored. Like everyone else, my greatest wish is that the match takes place without any 'incidents', either on or off the field.
After India's fantastic performance against Australia they will be full of confidence and must start as favourites. They keep on making plans to counter what many people thought was a weak bowling attack and there's no reason why they can't keep doing that now they are only two matches away from becoming world champions.
At least South Africans can take a small amount of consolation from the fact that India's coaching team come from Cape Town.
The tournament was efficiently run and the host countries deserve credit for that. It was, by general agreement, too long, but is no fault of those who were in charge on the ground. I'm not sure whether I'll still be around for another try at the World Cup -- I'll be 39 by then. I'll wait and see what Sachin does before I decide!
- HAWKEYE COMMUNICATIONS / CHIVACH SPORTS
Photograph: Getty Images