Ponting 24 and counting… That's Ricky Ponting's record as a captain in the World Cup.
The record of the Australian side he leads is even better – the team from Down Under has not lost in 31 matches in the sport's flagship tournament.
Friday's comprehensive seven wicket triumph over New Zealand in Jamtha (Nagpur) took their winning streak to 30 -- one game against South Africa in 1999 ended in a tie.
It also helped the Australians retain the coveted Chappell-Hadlee Trophy.
No wonder Ponting was visibly pleased with the result.
"Our bowling was terrific," he explained, adding, "We took control after the first few overs itself.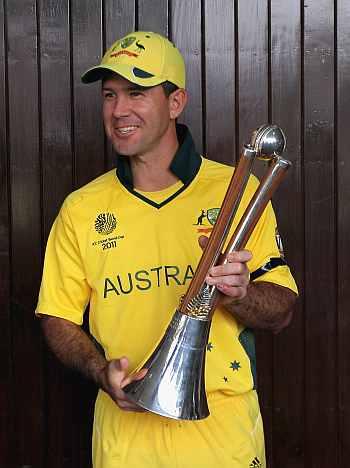 "And put them out of the game very early." Asked if he expected New Zealand to open with spin -- Daniel Vettori bowled the second over during the Australian innings -- Ponting replied in the affirmative.
"We were expecting them to open with spin, especially when you see the balance of their team today," he reasoned, adding, "Ray Price had done a great job for Zimbabwe in our first match.
"But I thought our guys applied themselves much better today."
Two matches out of two in this World Cup and nine wins in the last 10 ODIs played overall. Is the captain happy with the manner in which his team is performing?
"There haven't been many negatives for us in the first two games," explained Ponting, adding, "In the first game, it was a steady start.
"And I would say we expressed ourselves better today." The Australian captain though becomes cautious when quizzed about his team's next encounter – a match against Sri Lanka in Colombo.
"Playing in Sri Lanka will be a big challenge," admitted Ponting, adding, "Sri Lanka, especially in their home conditions, is a tough opposition.
"It is definitely going to be a good contest."
A good contest it will be for sure, considering the Lankans beat Australia in their own backyard late last year.
However, this time the stakes are very high. In the line is Australia's unbeaten streak.
And it will require a huge effort from Ponting and his men if they tend to extend it. 
On the positive side, a favourable result will help Ponting complete a silver jubilee of wins as a captain in the World Cup.
Photograph: Getty Images