Master Blaster Sachin Tendulkar was at his emotional best while talking to the media on Monday.
After all, his most cherished dream had been fulfilled after 22 long years.
- Key moments in India's win over SL in final
"Winning the World Cup was my biggest dream," he reiterated, adding, "I was only 10 when we won the World Cup in 1983.
"And my dream has got fulfilled now.  It doesn't get better than winning it in Mumbai.
"I became extremely emotional, which was rare. The tears in my eyes were happy ones."
Tendulkar also took the opportunity to express his gratitude towards his team.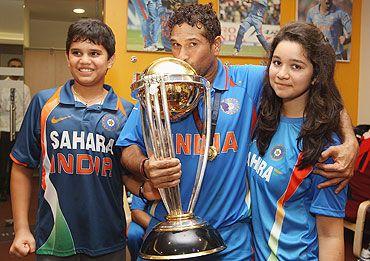 "I was touched when the players said they won it for me," he admitted, adding, "It was because of a collective effort and responsibility that we won the Cup.
"We had actually to convince ourselves that we won the Cup."
- Images: Sixth time lucky for Tendulkar
Asked what worked for Team India in the tournament, Tendulkar was categorical.
"We peaked at the right time and that was important," he said.
The Master Blaster was also all praise for captain MS Dhoni.
"Of all the captains I have played under, he's certainly the best," admitted Tendular, before proceeding to elaborate on his point.
"The maturity and alertness he showed was tremendous," explained Tendulkar. "He reads the situation well and works accordingly.
"He understands the situation and doesn't show frustration. And that's good for any captain."
The soon-to-be (on April 24) 38-year-old, though, avoided questions pertaining to his retirement.
Image: Batting maestro Sachin Tendulkar flanked by his son Arjun and daughter Sara.
Photograph: Getty Images