Pakistan captain Shahid Afridi has emphasised that bowling during the final powerplay will play a crucial role in the outcome of the matches in the World Cup and his side is paying special attention to this area. 
"We are working hard on improving our bowling and options for the final power play overs for this World Cup. This is an area we need to improve," Afridi told reporters in Karachi. 
He said the final power-play overs were crucial and any team which was unable to cope with the pressures of bowling in these overs will find it hard to do well.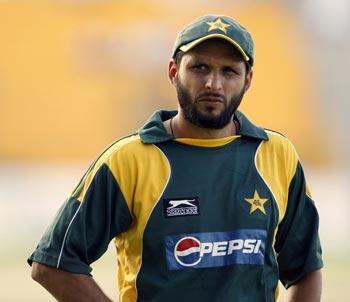 The Pakistan squad will leave on Thursday night for Bangladesh, where they play their warm up matches before going to Sri Lanka for the group matches. 
Afridi, who was named captain for the World Cup just last week, said they are almost ready for the mega event.
"We have completed 90 percent of our preparations for this big competition and if everyone puts up his hand we will do very well in the World Cup. If we are successful it will be to the credit of the entire team and if we fail this would also be responsibility of entire team because cricket is a total team game not a one-man show," he said. 
The flamboyant allrounder, playing in his fourth World Cup, said that the players were working hard on coping with pressure situations. 
"In the World Cup it is all about how well a team handles pressure and coming out of this pressure is what success is all about. I think we have a good combination ready for the World Cup." 
Afridi also promised to respond to his detractors with his performances in the tournament.
"I think that is the best to answer those who are criticising you," he said.