Indian women's team skipper Mithali Raj has said that she was surprised with West Indies captain Merissa Aguilleira's decision to field first after winning the toss in the ICC Women World Cup's opening match on Thursday.
"If I had won the toss, I would have batted first, because on this flat track, it would be easy to post a huge total rather than chasing 285 runs," Raj said on Thursday.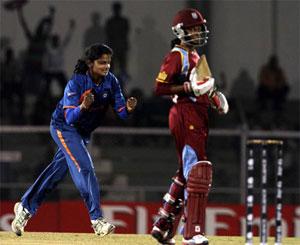 "You always have the pressure while chasing. They won the toss and decided to field, which is surprising to me," she added.
Her counterpart, Aguilleira, however said it was the team's decision.
"I think it is about what you are comfortable with. It was a good batting wicket but the team decided that we are going to field first. So it was a team decision... we need to go back to the drawing board and come back strongly for the next game," Aguilleira said.
Though India defeated the West Indies by a huge margin of 105 runs, Raj said she was nervous when the 21-year-old player from Barbados, Deandra Dottin, was at the crease.
"I was thinking from where she got so much of strength to clear the boundary and then (do it) repeatedly. I wouldn't say the bowlers were bowling bad but I give her credit for playing such wonderful strokes. Sometimes you just get zapped and say 'wow what shots'. But that period was a little dangerous. We were all a little nervous. I am glad that she didn't continue."
Dottin took the attack to the opposition with a 16-ball 39, which was studded with four sixes and three fours.
Asked if the youngster should have been promoted in the batting order, Aguilleira said, "I think Dottin is in a good position. If she would have spent another 10 overs there, she could have done extremely well and get the score closer. I guess it is about applying yourself and staying there for the team, though she didn't do that. I believe she has got the potential, so eventually that is going to happen."
Raj, who batted at number eight in the match, said she wanted the batters to slog in those last overs after the openers had provided them a good platform.
"The way they batted and went on till the power play over, they played the power play over as well, I thought it was wise to send those players who can throw the bat and get those runs. We had prepared a couple of batsmen especially for the slog.
"I was trying to send them across and that definitely paid us results. Jhulan and Harmanpreet's cameo had upped the run rate at that very important time," she said.
She praised openers Punam Raut and Thirushkamini Murugesan for sharing a 175-run stand and said, "The way Thrish has batted along with Punam, the partnership was very important.
"I am hoping that they continue this against the good sides as well, because whether you bat or field first, it is very important to get a good opening stand. On a batting track we expected them to give a good start so that the middle order can go and pile up more runs."
India will now take on defending champions England on February 3 and Raj said that the team will draw confidence from the last series they played at England, where they defeated them twice.
"If you see the last One-dayer we played was in England and we were on lead 2-0, though we lost the series. But we gained a lot of confidence, because when you can beat England in England, I would not say it would be much easier, but I would say we are capable of beating them here in the World Cup," she said.
"Before the England game it was very important that we win this match and the kind of form the batters and bowlers are in, it is going to be positive because England is a good side. We need to upgrade our performance to match theirs and beat them. Since they are the world champions in this format, it will be a tough competition," Raj said.
"They have come here 10 days before to prepare to this condition. They know their preparations are intact. The way the girls have performed today, it gives an inch more of confidence, because we are capable of putting the same performance or much better against England.
"Both the teams have played last year so we know the bowling attack and the batters. Because the matches are televised, the rest of teams would also be planning and to see the Indian team scoring 284, I am sure now the tournament is open," she said.
Murugesan, who returned to the side after three years and slammed a ton said, "I came back from an injury, so predominantly, I worked on my strengths. I concentrated on my shots. I preferred to work on my knocking and that is what I did."
Photograph: ICC /Solaris Images