'Bengaluru has generally been a ground where you can chase down high totals and tomorrow being a day game obviously that really matters a lot because under the lights the wicket is better during the day time.'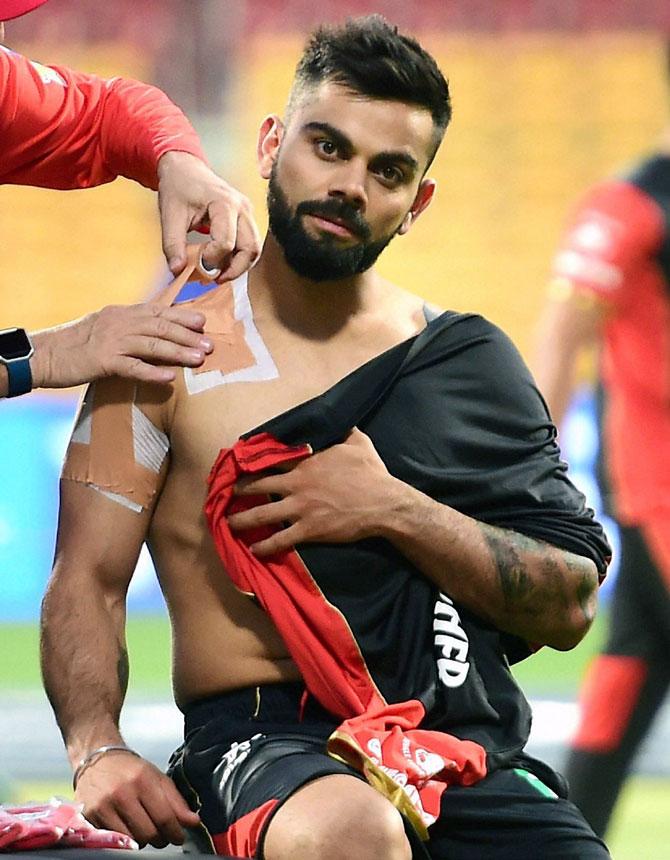 IMAGE: Royal Challengers Bangalore captain Virat Kohli receives some treatment on his shoulder. Photograph: BCCI
With their big-hitting batsmen back in the mix, Royal Challengers Bangalore would prefer chasing targets said skipper Virat Kohli, who himself has recovered from his injury and is set to play his first Indian Premier League game of the season against Mumbai Indians, in Bengaluru, on Friday.

A shoulder injury sustained during the four-Test series against Australia last month ruled Kohli out of the first two games while AB De Villiers and Chris Gayle played a game each as RCB opted to bat first in the first two games.

"Now with me coming back and all specialist batsmen playing, the thinking might change back again. Bengaluru has generally been a ground where you can chase down high totals and tomorrow being a day game obviously that really matters a lot because under the lights the wicket is better during the day time," Kohli said on Thursday, on the eve of the match against Mumbai Indians.

The captain emphasized on winning the away games to go deep in the tournament.

"We know we play good cricket at home but last year we won really some good matches away from home and that is why we reached the final, so in order to do that, that is the most important thing factor in IPL, we need to win away games. That is something that we will stay in focus for us through the season if we want to make it to play-offs."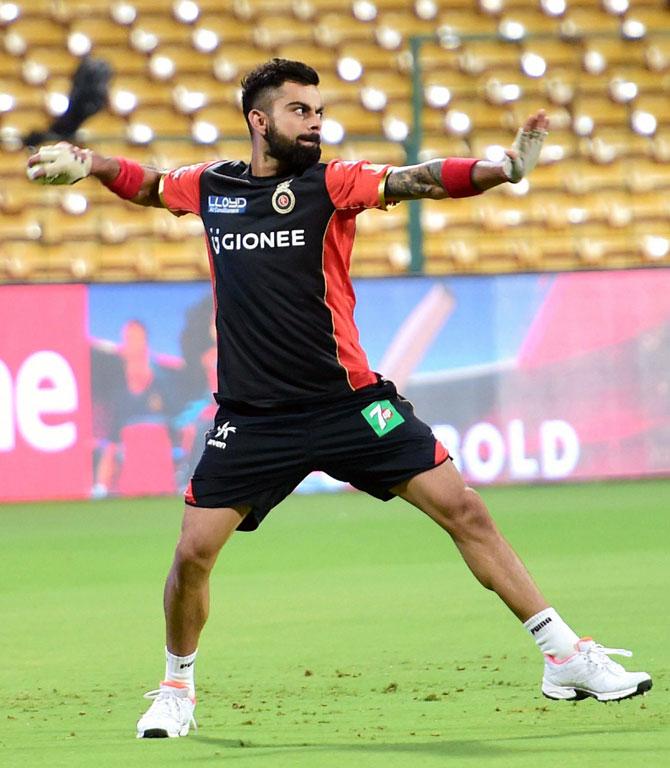 IMAGE: Royal Challengers Bangalore captain Virat Kohli during a practice session. Photograph: BCCI
Kohli hinted that he may play both De Villiers and Gayle against Mumbai, while Kedar Jadhav could take over as the wicketkeeper.

"Chris has always been a priority for us in the past so many seasons. Last game was a scenario where AB came in, Watto (Shane Watson) came in and other two guys were bowling well. I think that is why Chris was left out in the last game, but yes what works for us in Bengaluru we would definitely go with the strongest combination possible. Chris is the top contender for us to be playing the home games for us," Kohli stated.

Asked if it was conscious decision not to travel with the team in the first two games, Kohli replied in an affirmative.

"Once you travel with the team, there is a lot happening and to focus on one guy is not fair. So you rather stay away and then do your work. I just wanted to let the guys focus on their game and then do their work on the sidelines," he added.

"Actually, I enjoyed staying away from it a little bit, not having a camera sitting in the dugout, so I think it was quite refreshing. It was a good break for me."

When quizzed on De Villiers' absence from the net, Kohli said, the South African given an exemption considering that he is in good form and had to spend time with his family.

"With AB you never question anything because he understands his game better than anyone else. We are not bothered with him not having a practice today. It was a conscious decision by him which is to have a bit of time away from the game."

Talking about RCB's next opponents, Kohli rated Mumbai Indians highly.

"In IPL, you can't take any team for granted, but Mumbai is anyway one of the stronger sides in the tournament and we certainly need to respect that and focus on our strength of what can we achieve as a side but at the same time we want to be wary of the fact what what Mumbai can bring on the table," he said.