New Zealand off-spinner Paul Wiseman had a tough day on
day three
of the tour game against the Board President's XI, at the ACA - VDCA stadium, with India Test prospects Akash Chopra and Yuvraj Singh in full flow. But, he says, he enjoyed every moment out in the middle, finally being able to get some match-practice in Indian conditions.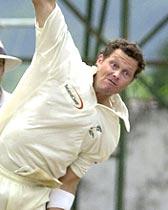 "It was fantastic to get out there. It was a tough day but it was exactly what we needed. We needed some match fitness. We haven't played since May, so it was a great day for us to get out of the hotel and stop sitting on our beds," he told newspersons on Sunday.
"The wicket though was a bit slow and low. The seamers had it pretty tough. It was pretty hard to get the ball above waist height. They did a great job for us; ran in hard and bowled in pretty good areas," he added.
But the 33-year-old recognizes the challenge that lies ahead.
"We are under no illusions about how good the Indian batsmen are and how tough the conditions are going to be. I also think it is the probably the toughest conditions for a spin bowler to come over, because you also have the best players of spin bowling in the world. It is the ultimate test for the spin bowlers coming to this country."
Wiseman did manage to extract wicked turn and bounce on a few occasions and he put that down to the wear and tear in the pitch.
"I got a little bit help with the footmarks at one end that the bowlers created, which dusted up pretty quickly. Daniel [Vettori] managed to do that too while bowling to [Yuvraj] Singh and he gave him a few problems there as well."
Wiseman said he had spoken to legendary India off-spinner Srinivas Venkataraghavan before and hopes to catch up with him again.
"You always like to talk to people, take little pieces away that they can pass on. It will be silly not to listen to greats like that."
He rates Harbhajan Singh and Muthaih Muralitharan as the best in the business, adding Shoaib Malik and Saqlain Mushtaq are pretty good as well.
He realizes the need to adjust to the conditions as quickly as possible for New Zealand to stand a chance in the Test series.
"Personally, I want to help win the series. It will be the first time New Zealand will have won a series in India. It is a pretty big ask but we are all focused and pretty keen to do it," he says.