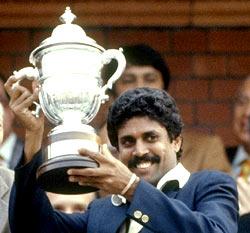 On the 30th year of India's maiden World Cup triumph, the captain of the team Kapil Dev feels that particular evening at Lord's "changed the dimension" of the game in the country.

"We felt that the 1983 World Cup changed the entire sport in our country and gave a new dimension to Indian cricket," Kapil said on Tuesday.
- Celebrating India's 1983 World Cup win

"We were just a bunch of young boys who wanted to have fun. Winning was more fun in the evening and that's what we started to look out for – how we can enjoy more. The first match (against West IndiesI) gave us a little hope. After that our aim was to make the top four. Every match became more and more serious after that," Kapil fondly recollected.
- Greenidge's wicket made that delivery special: Sandhu

One of the key member of Kapil's Devils, legendary opener Sunil Gavaskar said: "If you look at 183 with the kind of batting line-up that West Indies had, it really should have been a walk in the park for them."

"It's something that brings goosebumps even after so many years. At times, it is difficult to believe that you were once a part of a World Cup winning team," he was quoted as saying by BCCI's official website (www.bcci.tv).
- Perhaps that day was for me only: Kapil Dev

"It is the best moment of your cricketing career to see your captain lift the World Cup up in the air with massive reaction and reception from the huge crowd gathered at the Lord's. It was a moment to savour," Gavaskar stated.

All-rounder Ravi Shastri, who was a part of the squad said,"Being the youngest man in that party, all I'll tell you is that day at the Lord's changed my life. June 25, 1983 changed the face of Indian cricket. And when I say that I don't only mean the cricket lovers. The corporate got behind the team, the media started to give the Indian cricket team the recognition they deserve."
Also read:
- When Mrs Gandhi declared a public holiday
- 'Dev'astating gem turns silver
- Scorecards of India's 1983 World Cup matches: vs WI ' vs Zim ' vs Aus ' vs WI ' vs Zim ' vs Aus ' vs Eng (SF) ' vs WI (Final)
- Video: Gavaskar salutes Kapil's magical 175