'He was literally a founding father of our cricket. May he rest in peace'
Cricket fraternity mourns demise of the legendary West Indian batsman, who passed away into the ages on Wednesday.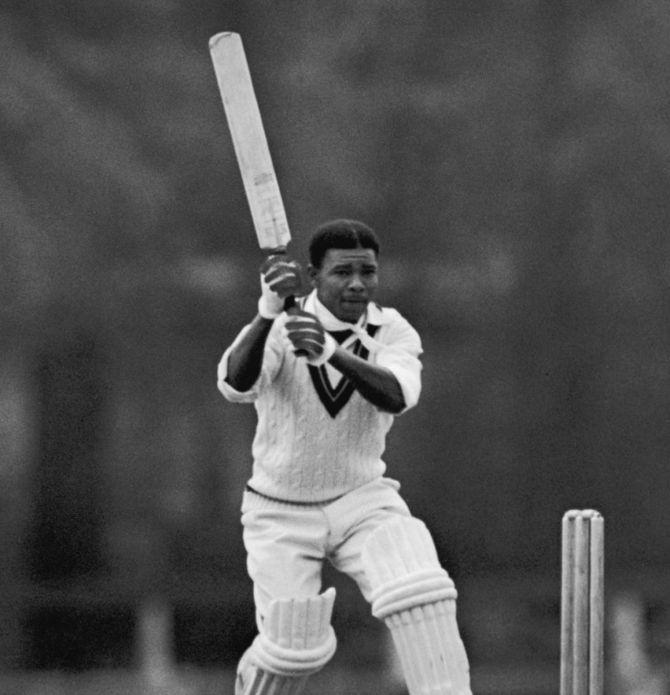 West Indies great and last of the legendary 'the three Ws', Sir Everton Weekes passed away on Wednesday. He was 95.
"Our hearts are heavy as we mourn the loss of an icon. A legend, our hero, Sir Everton Weekes. Our condolences go out to his family, friends and many fans around the world. May he rest in peace," the West Indies Cricket Board posted on its Twitter page.
The Barbados-born Weekes made his Test debut at the age of 22 against England at Kensington Oval in 1948.
Weekes played 48 Test matches scoring 4,455 runs at an average of 58.61 per innings.
In 143 years of Test cricket only Weekes has hit five consecutive tons in 5 Test innings. His record five centuries came in 1948 -- scores of 141 against England in Jamaica, followed by scores of 128, 194, 162 and 101 in India. In his next innings, he made 90 when he was run out.
His final match was against Pakistan in Trinidad a decade later.
He played alongside Frank Worrell and Clyde Walcott, with all three players making their Test debuts in 1948. All three -- Walcott and Worrell, Weekes -- were born within a couple of miles of one another, within 18 months in Barbados between August 1924 and January 1926, and all made their Test debuts within three weeks in early 1948.
He was also a highly respected coach, analyst, team manager, match referee for the International Cricket Council, and a member of the ICC Hall of Fame.
In all first-class cricket, he played 152 matches and scored 12,010 runs at an average of 55.34 with a top score of 304 not out.
"On behalf of CWI, I want to publicly express our deepest sympathy to the family of this remarkable Iconic sportsman and gentleman, who passed away earlier today. I also send condolences to former CWI President Sir Wes Hall, and his family, who were all extremely close to Sir Everton," CWI's official website quoted Skerritt as saying.
"I never had the opportunity to see Sir Everton bat, but I had the opportunity to get to know him a little in his later years. I learned about his incredible career by reading about him and looking at old videos when I could. His performance stats were excellent as he set tremendously high standards for his time," he added.
"A most amazing pioneer in West Indies cricket. A tremendous gentleman and a wonderful human being. He was literally a founding father of our cricket. May he rest in peace," Skerritt said as he paid tribute to Weekes.
ICC Chief Executive Manu Sawhney remembered ICC Cricket Hall of Famer, Weekes, as a top batsman of his era and one whose performances will be long remembered.
"Weekes is a distinguished name in cricket and he was an integral member of one of the best Test sides ever. We all know of the 'The Three Ws' that comprised Frank Worrell, Clyde Walcott and Weekes, and the reputation they had during the 1940s and 50s," Sawhney said in a statement.
"His attacking batting contributed in making the West Indies such an attractive side to watch. To be in that team itself was such a big honour, but there were times when Weekes really stood apart with his distinct style. On behalf of everyone at the ICC, I send our sincere condolences to his family and friends," he added.
Renowned commentator and former Windies bowler Ian Bishop paid his respects.
"I had the great privilege of spending time in the company of Sir Everton on several occasions over the past 2 decades. Never once did I leave his presence without feeling a sense warmth, cheerfulness & having learnt something rich & endearing each time. A truly great human being," Bishop tweeted.
"We lost a legend today. Sir Everton Weekes is part of @windiescricket great history and legacy. He also was a great human being. Condolences goes out to his family. May he Rest In Peace," Daren Sammy wrote paying tribute to Weekes.
The Marylebone Cricket Club said in a statement: "Everyone at MCC and Lord's are saddened at the news of Sir Everton Weekes' passing,"
"He will forever be remembered as one of the West Indies' finest cricketers."
Mike Atherton, the opener who led England in the 1990s, was also disappointed to know of the legend's passing away.
"Very sad to learn of the passing of Sir Everton Weekes. A humble man who wore his greatness lightly."
Former India captain Anil Kumble tweeted, "Saddened to hear about the passing of WI legend Sir. Everton Weekes. Had met him during the ICC conference in Barbados. He remembered a conversation we had during his time as match referee. Condolences to his family and friends."
VVS Laxman wrote, "Heard about the passing away of West Indies legend, Sir Everton Weekes. He was one of the greats of the game. My condolences to his family and loved ones."
Former India player and current coach Ravi Shastri said, "Saddened by passing away of Sir Everton Weekes who was the last of the famous 'Three Ws'. A true humble great of the game. My thoughts and prayers are with Sir Weekes' family and fans in this hour of grief. RIP Sir."