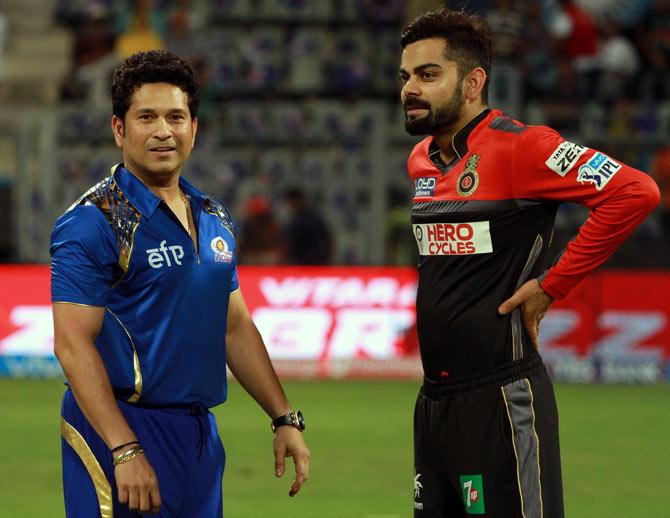 IMAGE: Sachin Tendulkar, left, with Virat Kohli during the Indian Premier League. Photograph: BCCI
He termed it an honour to have equalled Ricky Ponting's 30 ODI hundreds but India captain Virat Kohli feels that it will take "one hell of an effort" to reach anywhere near Sachin Tendulkar's world record of 49 hundreds.

"The great man (Sachin Tendulkar) is quite a bit away. That's going to take a hell of an effort. Again, I am not thinking about that. It's only about the team where even if I score a 90 not out and the team goes across the line, it's good enough for me," Kohli said at the post-match
press conference when the inevitable question of Tendulkar's record cropped up, in Colombo, on Sunday.
"It's an honour for me to equal someone like Ricky Ponting. That's not something that you aim for but obviously he's a great player and as batsmen we all respect what these legends have done."
He once again stressed that a player can't play for records and the team comes first.
"I look to perform as well as I can for the team. These things keep happening as you go along in your career. You don't target these things, but those stat windows are hard to neglect because they pop up everywhere after you have achieved something," said Kohli.