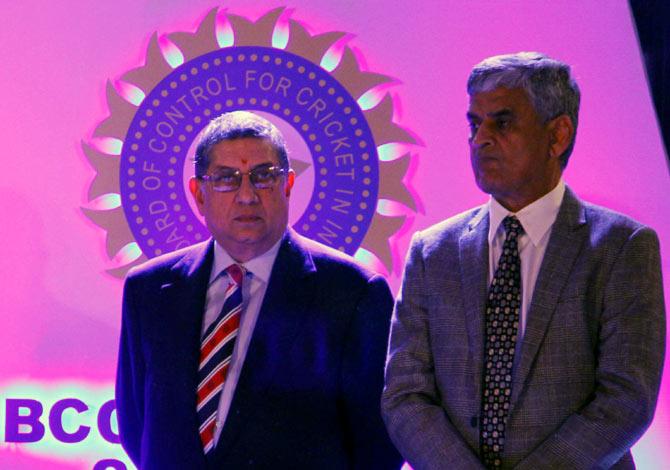 Narayanaswami Srinivasan (left) with BCCI secretary Sanjay Patel. Photograph: BCCI
The Supreme Court on Thursday proposed that the Board of Control for Cricket in India elections can be held next month, but those named in the Justice Mudgal Commission report, which probed the betting and spot-fixing in the sixth edition of Indian Premier League in 2013, must be kept out.
- Supreme Court comes down hard on Srinivasan; demands termination of CSK

"The BCCI elections can be held, but persons named in Mudgal report will not contest and new board will take decision on IPL-6 scam," the Supreme Court said in its observation on Thursday.

It is a direct reference to BCCI president-in-exile Narayanaswami Srinivasan, whom the apex court has asked to explain how there is no conflict of interest as he was the BCCI chief and his company, India Cements, owned IPL team Chennai Super Kings.

The BCCI elections were originally scheduled to be held in September before they were postponed to December 17.
- The IPL spot-fixing saga

"Why isn't BCCI holding elections, as the new board can ensure an investigation keeping Srinivasan and others away," asked the Court.

"BCCI must put an end to all these controversies," it added.

On its part, BCCI submitted that an external commission be set up to hand out punishment to persons found guilty in the Mudgal committee report.