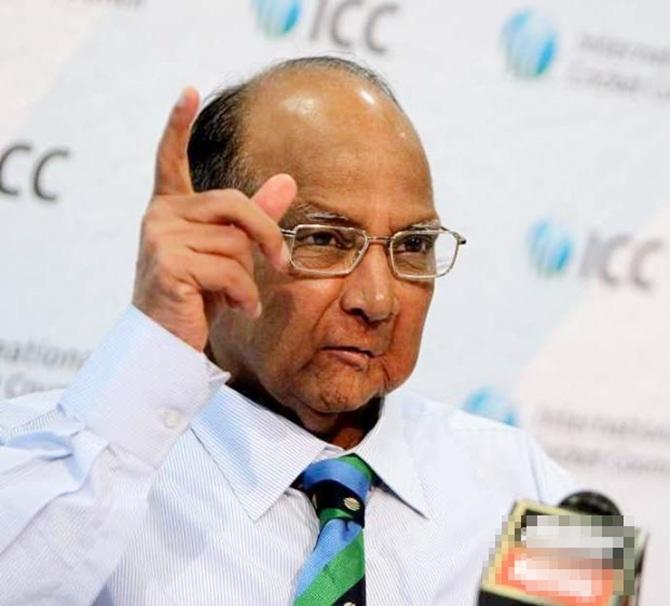 File photo of Sharad Pawar. Photograph: Getty Images
With just two days to go for the Cricket Board's much-awaited Annual General Meeting, both N Srinivasan and his rival faction are keeping their cards close to the chest as the suspense mounts on who will be the next President of the cash-rich body.
DON'T MISS!
With Srinivasan not contesting the much-postponed elections, he is now busy trying to find a suitable candidate who will be acceptable to all his loyalists, many of whom are exploring their options.
The anti-Srinivasan group has projected Maratha strongman Sharad Pawar as a possible candidate for the top post though it is still not known whether he is actually keen to contest.
"I have not decided on it. Basically I am not eager (to contest for president's post)," Pawar had said two days ago.
But it won't be surprising if he plunges into the electoral fray if he finds that he has enough numbers to topple Srinivasan. Mumbai Cricket Association has nominated him to be its representative at the AGM.
In the current scenario, the BJP may play a big part in tilting the scales for any candidate given that it controls 8 of the 31 votes.
Pawar had recently met Prime Minister Narendra Modi to reportedly seek his support for the BCCI elections but it is still not known whether he got any commitment from the leader although a source close to Pawar said that he has got the BJP's backing.
But knowing Pawar's track record he will not venture into any election unless he is assured of victory.
While the Pawar camp claims to have the support of the BJP, a top BCCI official, who is in the know of things, said the ruling party has not given any such undertaking or backing to any of the factions.
"I can confirm this to you that Mr Pawar has returned empty-handed after his meeting with the PM. There has been no concrete assurance," the official said.
He said that there is no possibility that BJP would give a whip to its state governments and government institutions to vote for the Maratha strongman.
"Like Pawar received green light from the highest authorities of UPA-1, where the Congress-led governments had a whip to vote for him during his fight against Jagmohan Dalmiya's candidate Ranbir Singh Mahendra (2005 BCCI elections), it's not the case this time," the BCCI veteran observed.
It's still not clear as to which state association from East will propose his name as most of the associations in this region are filled with Srinivasan loyalists.
While Jagmohan Dalmiya, because of his stature is an ideal candidate, there is news of BCCI secretary Sanjay Patel and interim president Shivlal Yadav being elevated to the top post by Srinivasan.
"Patel isn't unanimously accepted for such a big post and the Baroda businessman himself also is a bit wary of taking charge. The reason being at the most he would be dummy president for six months after which the next AGM in September will come calling and there is every possibility that Srinivasan might come back to take his chair after the impasse regarding CSK is solved," a member of the Srinivasan faction said.
"Sanjay wants to carry on as the secretary because if he becomes president, no way can he return to secretary's post. So the choice is effectively between Shivlal and Dalmiya. Dalmiya for a fact still has not forgotten the humiliation from Pawar after the 2005 defeat where he was mired in one legal case after the other. But just like in politics, there are no permanent enemies or friends in sports. Srinivasan needs to ensure that his flock remains together," he added.
Effectively the Pawar group has Mumbai CA, Maharashtra CA, MPCA, Punjab CA and Vidarbha CA with them. The Srinivasan camp has faced a lot of ire from the opposition and they are now in a mood to trade a few volleys.
Amid claims and counter-claims, both the groups have not disclosed their nominees as yet. A clearer picture will emerge only on Sunday when the process of filing nominations ends.