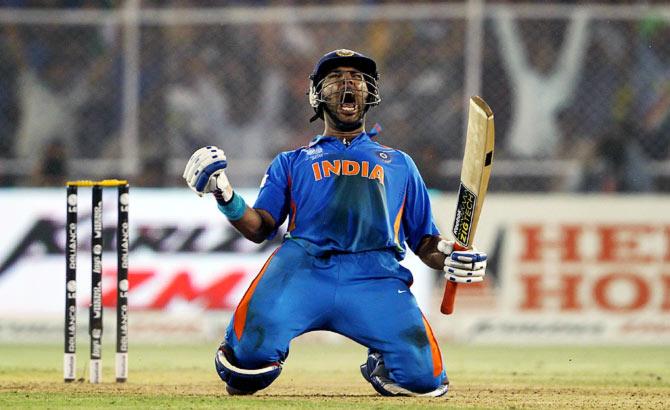 Yuvraj Singh celebrates hitting the winning runs against Australia during the 2011 ICC World Cup quarter-final match in Ahmedabad. Photograph: Matthew Lewis/Getty Images
Out-of-favour Yuvraj Singh's brilliant domestic form will weigh on the selectors when they meet in Mumbai on Tuesday to pick the squads for the ODI tri-series against Australia and England besides the ICC World Cup next month.
- Play selector! Pick India's 15 for the ICC World Cup

Punjab batsman Yuvraj, who was not selected in the preliminary list of 30 probables in December, has since come back into contention by striking three back-to-back hundreds against Haryana, Maharashtra and Saurashtra in the Ranji Trophy.

The hard-hitting left-hander, significantly the player of the tournament in the 2011 World Cup that was won by India and scorer of over 8000 runs from 293 ODIs, also got among the wickets with his left-arm spin on the placid track in the match against Saurashtra at Rajkot.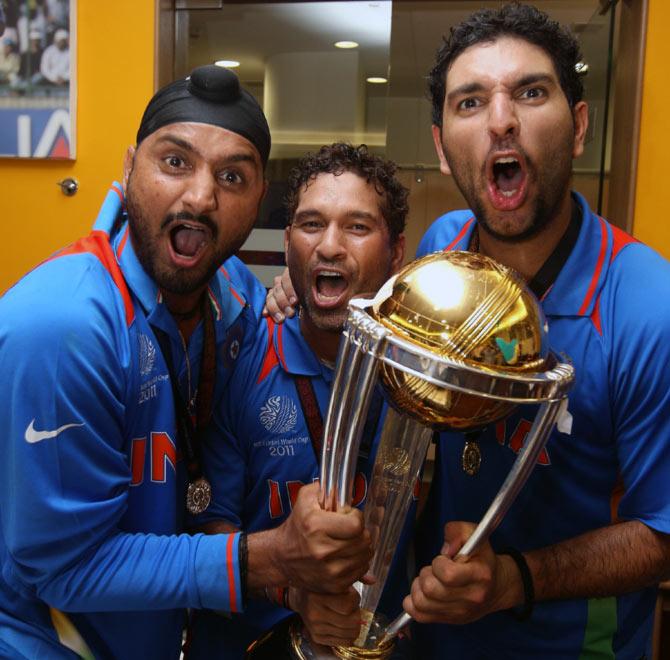 Yuvraj Singh (right) celebrates with team mates Sachin Tendulkar (centre) and Harbhajan Singh after winning the 2011 ICC World Cup. Photograph: Matthew Lewis/Getty Images
With there being a question mark over Ravindra Jadeja, undergoing rehabilitation for his throwing shoulder currently, Yuvraj would weigh significantly on the selectors' mind while choosing the World Cup squad.

There is another player of similar style who is almost certain to be picked, Gujarat's left-arm spinner Axar Patel, already in Australia as a late replacement for Jadeja in the ongoing four-match Test series.

It will all boil down to whether the selectors, as well as captain Mahendra Singh Dhoni and coach Duncan Fletcher, who will be on conference call from Australia, believe if it makes sense in bringing back Yuvraj -- a proven customer in the shorter formats of the game.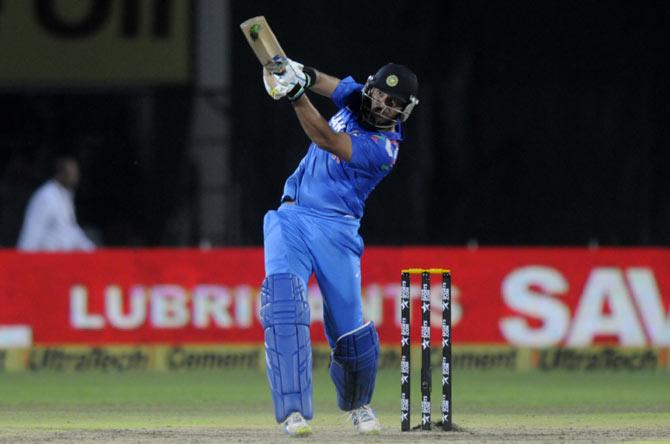 Yuvraj Singh hits out during a T20 match. Photograph: BCCI
At 33, Yuvraj, who did not figure in any India squad in 2014, is not too old to merit consideration, especially with doubts arising over Jadeja who is unlikely to be fit for the triangular series in Australia also involving England, starting later this month.

The Board of Control for Cricket in India expects Jadeja, who is currently undergoing rehabilitation in Chennai, to regain full fitness before the February 14-March 29 mega event to be jointly hosted by Australia and New Zealand.

"According to our assessment Jadeja can start to train and throw with his left hand from January 7," said BCCI secretary Sanjay Patel ahead of the selection meeting.

The International Cricket Council rules also do not debar the selectors from changing their mind and including a player not in the original list of probables, according to BCCI sources.

The selectors will also mull on pacer Bhuvneshwar Kumar, who has not taken any part in the first three Tests of the ongoing four-match Test series in Australia, because of an injury.
POLL:
Should Yuvraj be picked in the World Cup squad?