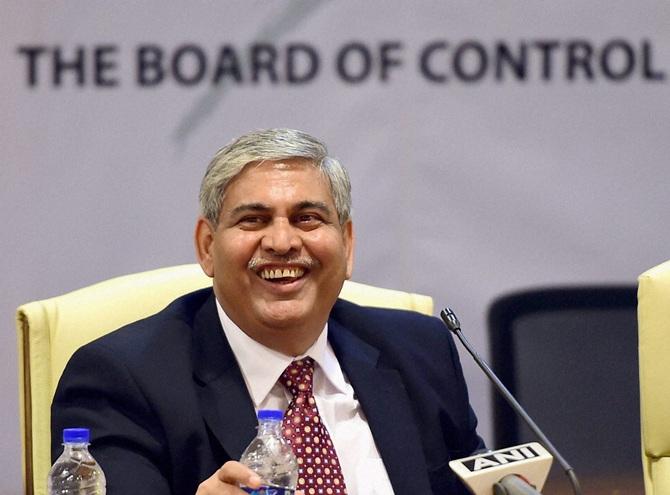 IMAGE: Shashank Manohar addresses the media. Photograph: PTI
The tentative Pakistan visit of ICC chairman Shashank Manohar in August-September appears to be in a limbo due to the political instability in the country over the ongoing Panama Papers case with speculations rife that Prime Minister Nawaz Sharif will be ousted by the apex court.
The Pakistan Cricket Board had sought advice and support from the government for provision of security and other arrangements but due to the political scenario they have received no response from the relevant authorities until now.
"Manohar's visit is being linked to the visit of the World XI in early September as earlier he was invited to come in August but by that time the PCB chairman Shaharyar Khan would have completed his three-year tenure and stepped down," a reliable source said.
Khan had first verbally invited the Indian head of the world body and later the PCB sent him a formal invitation.
"With Shaharyar to be replaced
by a new Chairman in August, it appears even if Manohar comes it will coincide with the visit of the World XI but at this point of time with just around six weeks remaining the tour seems unlikely due to the political scenario," another source said.
The PCB was over the moon after the ICC at its last board meeting approved the visit of the World XI to Pakistan in September to play three T20 Internationals.
Initially, the PCB had scheduled the visit of the World XI in late September but when it emerged that at this time some key international players would be unavailable the PCB decided to hold the tour in early September.
"But given that the ICC is seeking top security arrangements and assurances for the World XI, which are yet forthcoming from the government to the PCB due to the uncertain political conditions in the country, it seems time is running out and if the World Eleven doesn't come than Manohar's visit is also unlikely to take place," the source added.
Another well-informed source said that the PCB had contacted the relevant government officials and departments seeking meeting time to discuss security and other arrangements.
"But so far nothing has come from the government officials and departments who are busy with the Panama case," he said.