After summoning opener Chris Gayle to a meeting with its top brass, the West Indies Cricket Board has now sought an explanation from the veteran batsman Shivnarine Chanderpaul over his remarks in a recent interview.
In a strongly-worded letter from chief executive officer Ernest Hilaire, the WICB said it was concerned about Chanderpaul's participation in an interview last month in which he made ill-advised comments on matters relating to West Indies cricket, while being a centrally contracted player.
"We are in the first instance concerned with your participation in such an interview, of which we had no prior knowledge and for which the WICB granted no approval," Nationsport quoted a letter from the WICB sent to Chanderpaul.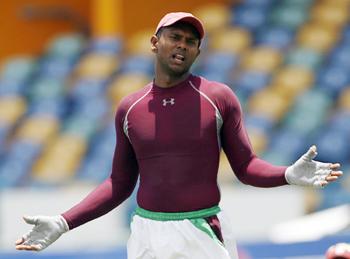 "Further, even had you independently decided to engage in such an interview, we must remind you of the duty enshrined in your retainer contract -- to ensure that you do not do anything that, in the WICB's reasonable opinion, is likely to denigrate the WICB, a WICB team, another player or any WICB sponsor or which reveals any information that, in the WICB's reasonable opinion, is confidential to the WICB," the release added.
Chanderpaul, in the interview to Line & Length Network, had blamed the excessive interference by the team management for the dip in his form.
The batsman said he could have done better batting-wise if the team management wouldn't have forced him to bat at different positions and in different ways.
Relations between Chanderpaul and the WICB soured after the senior batsman along with Gayle and Ramnaresh Sarwan was dropped from the squad that played against Pakistan in the just concluded ODI series which the West Indies lost 2-3.
Inspite of Gayle's stellar performance for Royal Challengers Bangalore in the just-concluded IPL, he was left out of the the West Indies squad for the lone Twenty20 match and the first two ODIs for his outburst against WICB.
WICB had said that Gayle will have to clear the air regarding an interview in which he had lashed out at the WICB for not bothering about his injury after the World Cup before being considered for selection.