Just 54 people turned up on the first day of an England-Pakistan Test a few weeks ago.
Bikash Mohapatra/Rediff.com suggests ways to save Test cricket.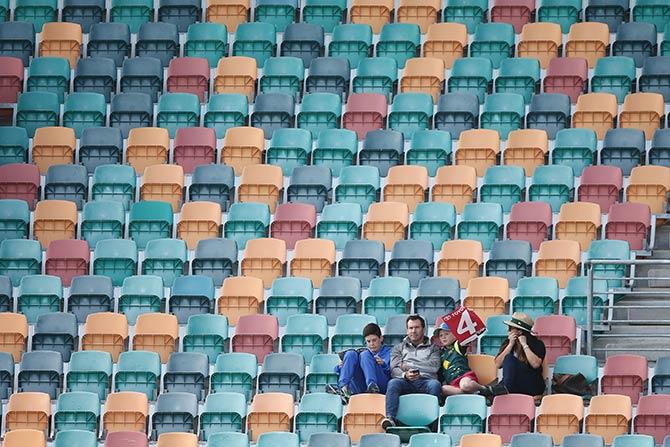 IMAGE: Few fans turned up at the Blundstone Arena in Hobart during day one of the first Test between Australia and the West Indies. Photograph: Cameron Spencer/Getty Images
These are testing times for Test cricket.
The first Test between Australia and the West Indies at the Blundstone Arena in Hobart drew less than 10,000 spectators.
In October, the opening day of the first Test between Pakistan and England in Abu Dhabi had only 54 -- that's right, 54! -- spectators at the 20,000-capacity Sheikh Zayed Stadium.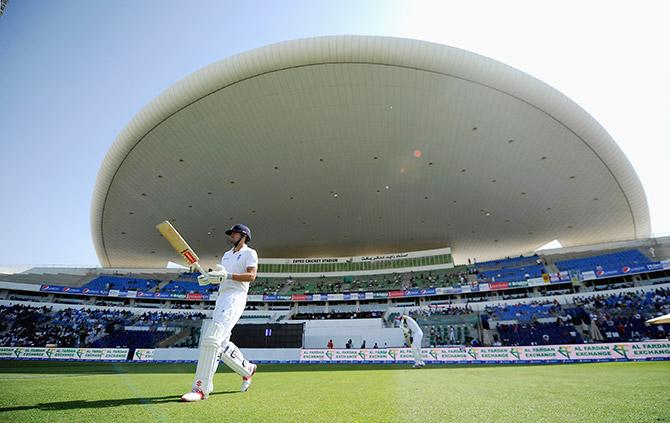 IMAGE: Alastair Cook walks out to bat during the first Test against Pakistan at the Sheikh Zayed Stadium in Abu Dhabi. The day had 54 people in attendance. Photograph: Gareth Copley/Getty Images
Last month, the numbers for the first Test between India and South Africa in Mohali weren't great either. As the series progressed, the figures did not improve much, even though the home team emohatically won the series.
'In India, all they want to see is one-day cricket. Once you lose a Test crowd, it's hard to get it back,' former England captain Bob Willis was quoted as saying on Sky Sports.
'In South Africa,' Willis added, 'only the Cape Town Test gets any crowd at all. People are concerned about the future of Tests -- it's only in England and Australia where you still get large crowds.'
At a time when the five-day format is struggling amid the growth of Twenty20 tournaments, such poor attendance is worrying.
An overt dependence on the toss, doctored pitches, early finishes (none of the five Ashes Tests this year went the distance, the ones in Edgbaston and Trent Bridge finished in three days) and predictable results (rarely does an away team emerge victorious) have ensured that fans are giving five-day cricket a miss.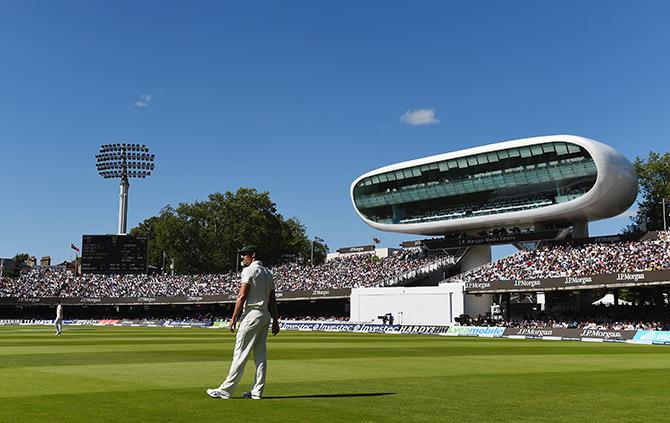 IMAGE: A packed house at Lord's on day four of the 2nd Ashes Test. Photograph: Shaun Botterill/Getty Images
Having watched Australia score 337/1 on the opening day of the second Test against England at Lord's, former captain Ricky Ponting lamented, 'The balance between bat and ball was nowhere near what it needs to be for a Test match.'
Media reports claimed the groundsmen had been told to prepare flat pitches to neutralise Australia's pace attack.
Ponting's remarks concerned the Ashes, probably the only Test series in current times that guarantees a packed house.
While everyone is keen on re-igniting popular interest in Test cricket, there are few solutions on offer.
Making the pitches more competitive seems a logical option even if it renders the home advantage null and void.
'We don't want green tops, but we don't want wickets where matches finish in two days and people who are bowling darts are getting six, seven wickets,' former India captain Rahul Dravid said recently, adding, 'I think we need to be very careful that we don't go down that path.'
'Square turners, matches finishing in two or three days. I really don't think it is good for the health of Indian cricket. Because if you think about it it's a waste of time, energy and money,' Dravid added.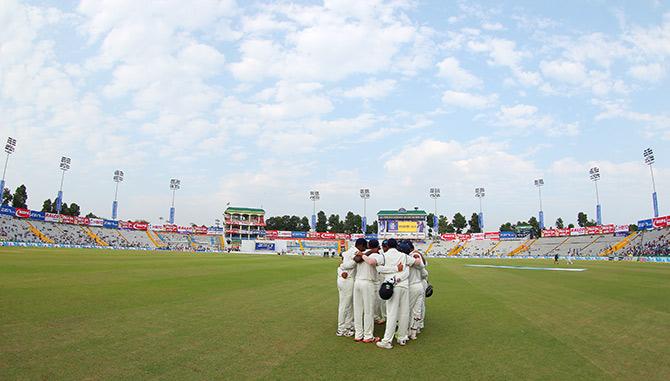 IMAGE: The Indian team on day one of the first Test against South Africa in Mohali. The match witnessed sparse crowds. Photograph: BCCI
India's Test Captain Virat Kohli believes, 'We should be delighted to have result-oriented wickets, which will have more fans coming to watch Tests.'
But why even a comprehensive Indian victory couldn't pack the stadiums was left unexplained.
Having more day-night Tests is an option.
The first-ever day-night Test -- between Australia and New Zealand -- in Adelaide last month was a sell-out. Around 123,000 fans flocked to the Adelaide Oval to watch the game.
Even though the match did not go the distance -- it finished inside three days -- it was a competitive affair in which both team had their chances.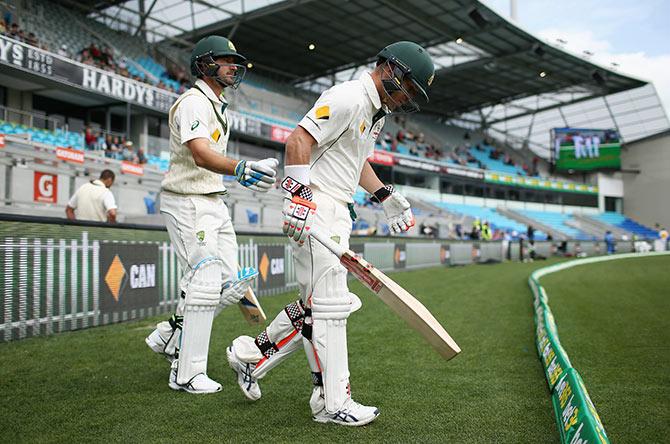 IMAGE: David Warner and Joe Burns run into to bat on day one of the first Test against the West Indies in Hobart. Photograph: Cameron Spencer/Getty Images
Following its success, Cricket ;Australia seems sold on the idea of day-night Tests. But the concept is a fledgling one -- not many are happy with the pink ball used and needs some work before it becomes a regular affair.
A third alternative is being discussed by the England and Wales Cricket Board.
The ECB proposal is to abolish the pre-match toss altogether and allow the away team captain the option to bowl first, thereby nullifying the home advantage.
But the ECB proposal is not conclusive. The away team captain would only be given the opportunity to bowl first, not bat. If he does not want to bowl, then a toss will take place :(
If quick solutions aren't found, the game's traditional format could die.
Do you have any ideas to revive Test cricket? Please have your say below.