'Can calm any situation with a flick of his wrists.'
IMAGE: VVS Laxman, right, with Sachin Tendulkar. Photograph: Morne de Klerk/Getty Images

Sachin Tendulkar spilled out his dressing room secrets, while Virender Sehwag paid tributes to his wristy flicks as the duo wished former team-mate VVS Laxman on his 43rd birthday in their own unique styles, on Wednesday.
"Happy b'day, Lax! Shall I spill out the secret behind ur ability to score runs? Taking a shower & eating an apple before going to bat. Oops," Tendulkar tweeted.
Laxman was quick to point out Tendulkar's contribution in his growth as a cricketer. "Apart from the shower & apple,you forgot a bigger secret @sachin_rt - the inspiration that you gave me right from my younger days.Thank you"
Laxman is regarded as one of the best batsmen to have played for India. He scored 8781 runs 134 Tests, including a magical innings of 281 against Australia in 2001, which is rated by many as one of the best innings in Test cricket.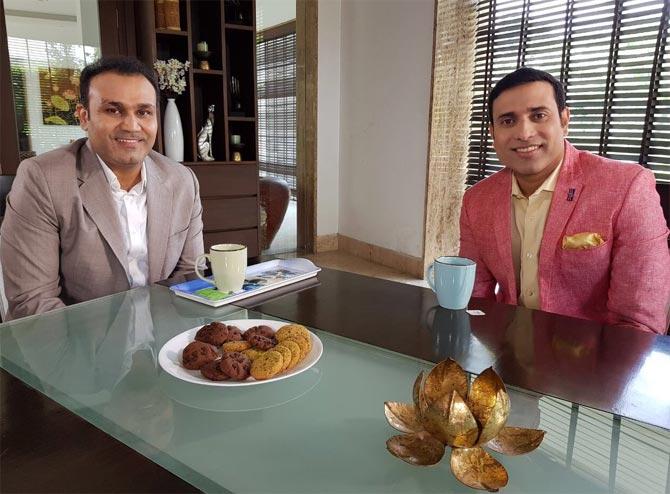 IMAGE: VVS Laxman, right, with Virender Sehwag. Photograph: VVS Laxman/Twitter

Sehwag, who has become a social media sensation with his witty posts, wished the stylish former Hyderabad batsman in his own unique style, calling him a 'magician' and also made a reference to a popular Bollywood song 'Chitiyan Kalaiyan'.
"Wishing #WristJaadugar & Bhrata Shri @VVSLaxman281 a very happy birthday.Can calm any situation with a flick of his wrists.Chitiyan Kalaiyan," Sehwag tweeted.
Former captain Sourav Ganguly, Harbhajan Singh and Anil Kumble were some of his other team-mates, who wished Laxman on his special day.
Sourav Ganguly: "@VVSLaxman281 happy birthday vvs ..have a great year ..love your jackets on TV ...god bless"

Harbhajan Singh: "Cheers to a very very special man.. very humble and kind hearted @VVSLaxman281 Happy birthday.. have a good one lax. Bless you."

Anil Kumble: "Happy birthday @VVSLaxman281, have a great time with friends and family on your special day :-)"