As the newly-appointed head coach Ravi Shastri spells out why he was so desperate to have Bharat Arun as part of his support staff, Rediff.com's Harish Kotian listens in.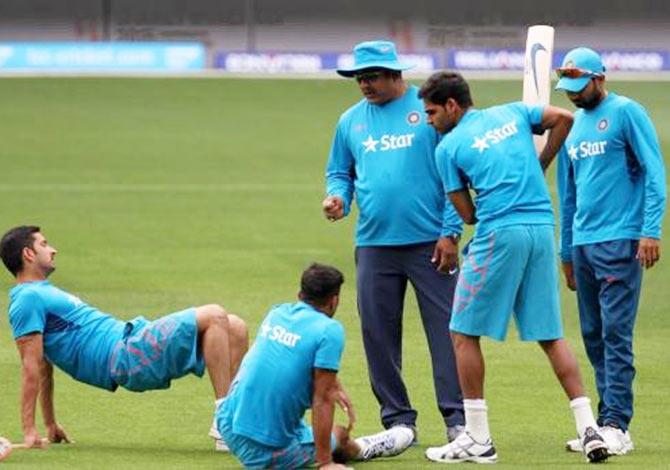 IMAGE: Indian bowling coach Bharat Arun with Mohit Sharma, Umesh Yadav, Bhuvneshwar Kumar and Mohammad Sami during the practice session. Photograph: BCCI
A day after getting Bharat Arun back as the Indian team's bowling coach, head coach Ravi Shastri spelt out on why he was so desperate for the former India and Tamil Nadu pacer to be part of his support staff.
When asked what is special about Arun, Shastri replied: "There is a track record, 15 years his life he has been coaching. You look at that track record, it has been outstanding, right from junior level to 'A' teams to Indian junior World Cup teams he has been a part of. He knows these boys better than I do because he has been in the system for the last 15 years. You look at the last World Cup (in 2015), India took 77 out of 80 wickets," he said.
Arun didn't have a long international career, featuring in just two Test matches in the 1980s against Sri Lanka, when he opened the bowling with Kapil Dev.
He played 48 first class matches for Tamil Nadu and was also part of the Ranji Trophy winning team in 1987-88.
Arun and Shastri are good friends and the latter was the bowling coach during Shastri's previous tenure as team director.
Along with him, the Board of Control for Cricket in India also decided to retain Sanjay Bangar as assistant coach and R Sridhar as fielding coach till the 2019 ODI World Cup.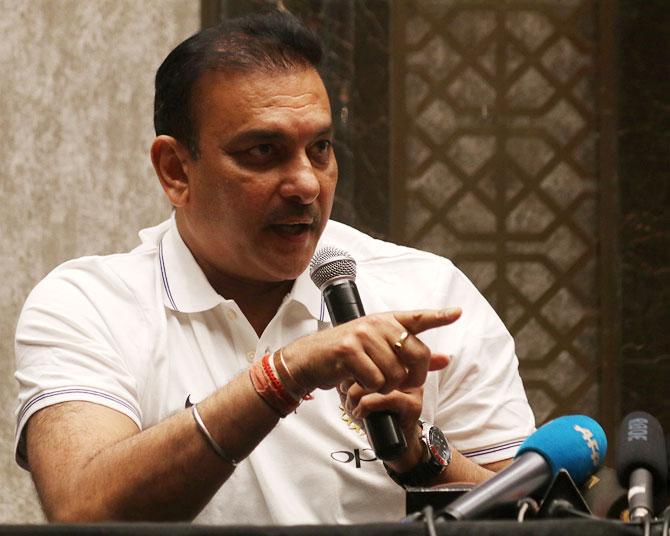 IMAGE: Ravi Shastri. Photograph: Hitesh Harisinghani/Rediff.com
Shastri says just because Arun has not had a successful international career, it doesn't mean he cannot serve the Indian team as a coach.
"If Bharat Arun's name was someone else who had played a lot of Test matches, you would have put him on the top of the tree. So I don't need to elaborate too much on what he is good at, what are his strengths. It is there for everyone to see," he said.
With Arun appointed on a full time basis, it will be interesting to see what role bowling consultant Zaheer Khan will have if he is called up ahead of overseas tours.