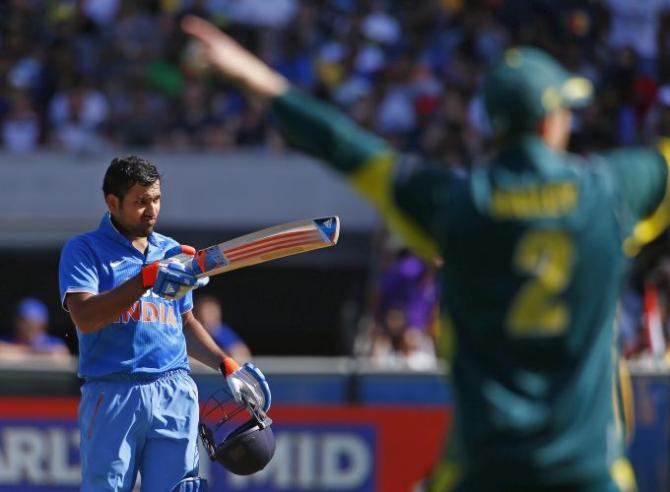 Rohit Sharma. Photograph: David Gray/Reuters
Gearing up for what is a virtual semi-final against England in Perth on Friday, the Indian cricket team is closely following the progress of batsman Rohit Sharma, who is nursing a sore hamstring.
With two defeats and a wash-out, the Indians have their backs against the wall in the ongoing ODI tri-series involving Australia and England.
Rohit's injury has affected the batting order, with Ambati Rayudu being promoted up the order at No. 3 and Ajinkya Rahane opening the innings with an out-of-form Shikhar Dhawan.
Even though a source close to the team management has ruled out Rohit's participation in the rest of the tournament, it remains to be seen whether India will risk of playing him instead of Dhawan.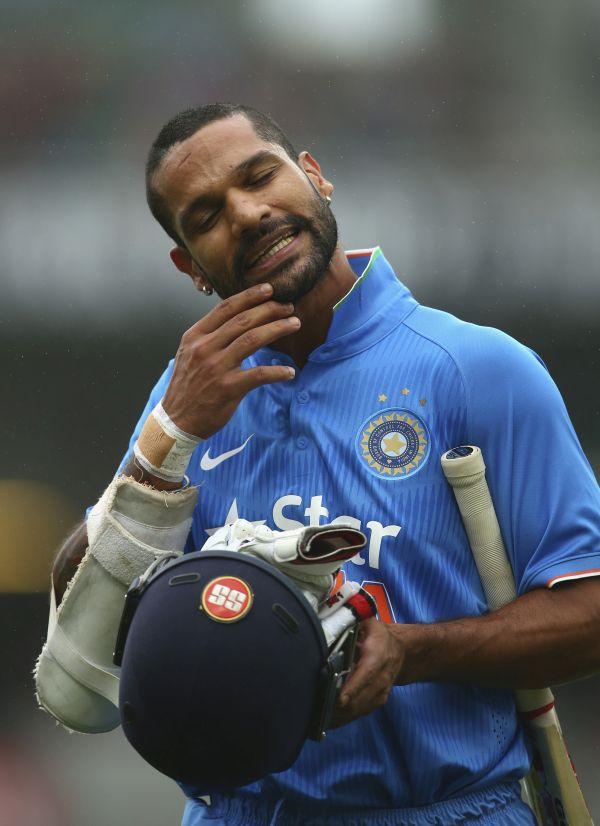 Shikhar Dhawan. Photograph: Ryan Pierse/Getty Images
Dhawan, who has always opened the innings, has been given quite a free run at the top of the order ever since the Men in Blue started preparing for the upcoming World Cup.
He enjoyed a brilliant outing in the 2013 Champions Trophy in England, scoring back-to-back hundreds that helped him aggregate 363 runs in just five matches, at an average of 90.75, and won the man-of-the-tournament award back then. However, ever since, it's been downhill.
If the tour to Zimbabwe in mid-2013 is taken out, then, in 17 ODI innings in the West Indies, South Africa, New Zealand, England and Australia, he has scored only 386 runs, at an average of 24.12.
In the interim, he has scored just two half-centuries against proper opposition (ignoring the hundred scored in Zimbabwe again), one in Port of Spain in July 2013 and the other in Birmingham on the English tour, the two knocks separated by more than a year.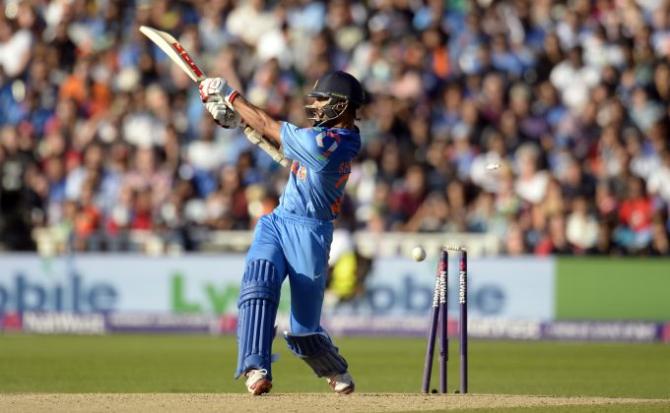 Shikhar Dhawan. Photograph: Philip Brown/Reuters
It isn't that Dhawan hasn't warranted a place in the World Cup squad. If the tri-series is forgotten, then in his previous ten innings, the left-handed opener has scored 518 runs, at an average of 57.55, with one hundred and four fifties, higher than his career-average of 43.59.
If this record is split into home and away, then, in six innings at home, he scored 387 runs at 64.50, with a hundred and three fifties included.
Meanwhile, in four innings overseas, he scored 131 runs, 97 of which came in that single unbeaten knock at Birmingham.
Clearly, his away-record is troublesome at best, even in Test cricket. He was dropped midway through the Test series in England, making way for Gautam Gambhir after the third match.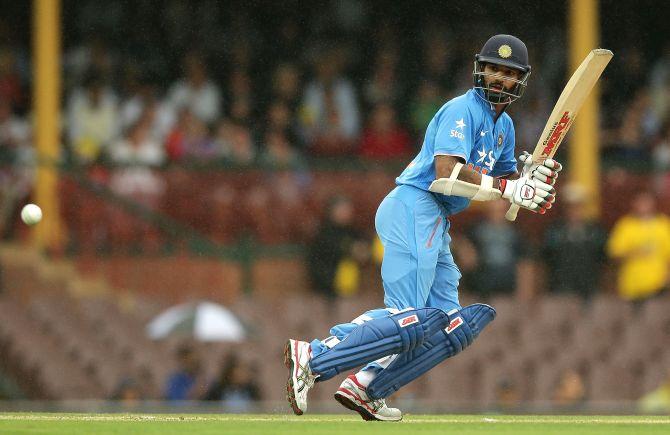 Shikhar Dhawan. Photograph: Mark Metcalfe/Getty Images
In Australia too, KL Rahul was picked ahead of him for the fourth match. In these seven matches put together he has scored only one fifty.
Sunrisers Hyderabad coach Tom Moody feels Dhawan's core problem is the uncertainty about where his off-stump is.
"His patchy form is to do with doubts about where his off-stump is. In overseas conditions you need to be very sure of that. He shouldn't be encouraged to change his batting approach to come out of this poor run. Instead he is someone to be persisted with. With his attacking play, he can take the game away from the opposition very quickly and you need such players in Australia and New Zealand. It is important that he shouldn't lose his free-style hitting approach," he had said.
Skipper Dhoni too was of the view that the best way to get out of a troublesome form is to continue to play the natural game.
"Sometimes when you are not scoring runs, the best thing to do is just go out and express yourself. That's what Adam Gilchrist used to do very well. When he was slightly out of form, he used to play his shots. But when he was totally out of form, he would play his shots from the very first ball. It often helps, not thinking too much, just watching the ball and playing your shots," Dhoni had said in Brisbane, after India's nine-wicket loss to England.