'Sachin on his own is a legend. Virat Kohli is playing at an early stage'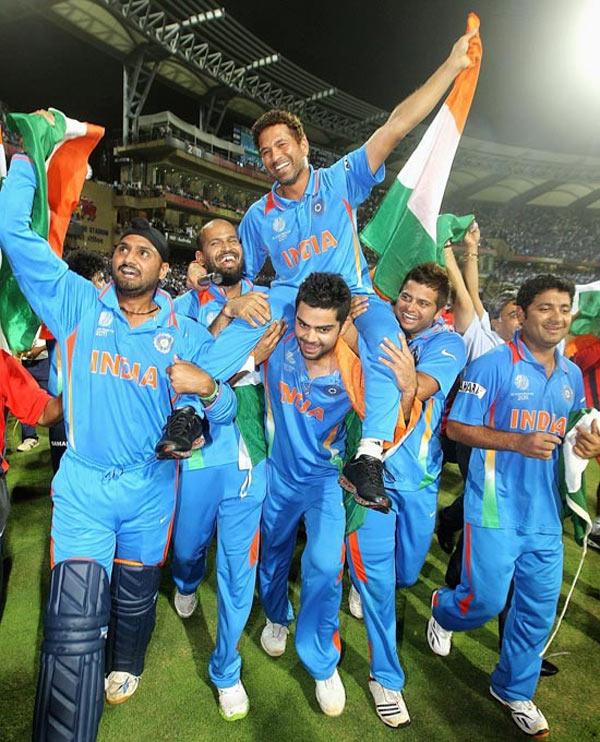 IMAGE: Virat Kohli hoists Sachin Tendulkar aloft after India's 2011 World Cup triumph at the Wankhede Stadium. Photograph: Getty Images
Former India skipper Kapil Dev, on Saturday, sought to downplay the repeated comparison between Sachin Tendulkar and Virat Kohli saying it's not proper to compare the two.
"Where is the need for such a comparison? Sachin on his own is a legend. Virat Kohli is playing at an early stage. So, I think it is not right to compare the two players," Kapil said.
Responding to queries, Kapil said it should be left to the five selectors to choose the next captain.
On whether skipper Mahendra Singh Dhoni should quit as captain as India failed to make it to the World T20 finals, Kapil said Dhoni has done India proud a number of times.
"When the selectors feel that there is a need for a change, they will make the change. It is better to leave it to them," Kapil said.
On India's performance at the T20 World Cup, he said "It was fabulous. Very good. On that given day, the rivals outplayed us."
"If the other team plays better, you must respect that. Every time India lose, I feel bad. But at the end of the day, it is cricket," he said.
Asked whether the shortest version of the game is spoiling cricket, he said, "Why such a question? Have you ever seen so many sixes and chasing moments? So long as the cricketing world is there, I am for it."