Ahead of World T20 Pak's form worry Akram, Akhtar
'Our pace bowlers have just forgotten conventional swing and seam bowling'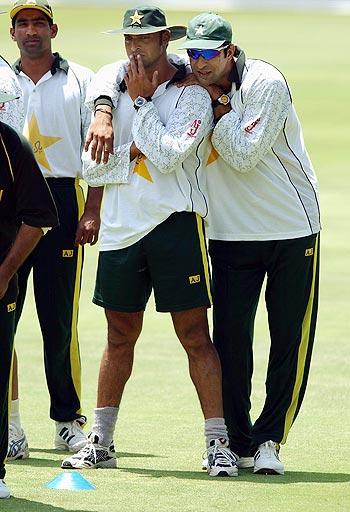 IMAGE: Shoaib Akhtar (left) with Wasim Akram. Photograph: Getty Images
Former Pakistan cricketers Wasim Akram and Shoaib Akhtar have expressed dismay over the national team's meek surrender in the Twenty20 series in New Zealand and said the crisis before the ICC World T20 in India was 'worrisome'.
"Our pace bowlers have just forgotten conventional swing and seam bowling even in helpful conditions in New Zealand. If the ball does not reverse swing they panic," Akram said on a televesion channel.
He said with just 20 overs to be bowled with the Kookaburra ball and matches being played mostly on drop in and batting wickets the Pakistani bowlers struggled to adjust to the conditions.
"None of our bowlers are making proper use of the cricket ball in T20 internationals and have lost the ability to bowl conventional swing and seam. I still believe that in places like New Zealand and Australia pacers will always get that little bit of movement to keep the batsmen guessing. But we are not seeing swing or seam from the Pakistani bowlers at all," the former fast bowling great said.
He said Wahab Riaz, Umar Gul and even Muhammad Aamir had all struggled to get the ball to move around which made them very predictable for New Zealand batsmen.
"I don't know what is the problem, perhaps it is a problem with their wrist position or they are not focusing on swinging

or seaming the ball. But it is not good news for Pakistan cricket," Akram said.
He said Aamir's performance was a clear indication that it was never easy for a bowler to make a comeback to international cricket after five-and-half years without having played much competitive cricket.
"Bowling in international matches is one thing and bowling and getting wickets in domestic cricket and a average league like the BPL is a different thing."

Akram also expressed surprise over the selectors decision to rest tall left-arm pacer Mohammad Irfan for the series.
"He is the one bowler who is most difficult with the new ball because of his height and bounce and he was not selected," he said.
He also felt Pakistani batsmen need to reinvent themselves in limited overs cricket as ODIs and T20 formats are fast changing.
"Our problem in T20 series is we don't have batsmen who can show variety and in ODIs we find it difficult to bat through 50 overs," Akram said.
Akram, however, hoped Pakistan would do better in the ICC World T20 in India as conditions and pitches will suit them.
Former tearaway pacer Akhtar said Pakistan's way of losing recent T20 matches to England and New Zealand was worrisome.
"It is a matter of concern the way the team is performing. We have always depended heavily on the bowlers but now even they are not getting wickets. The best way to win in T20 cricket is to take wickets. Trying to bowl to contain does not work in T20 these days and bowlers have forgotten the art of taking wickets," he said.
Akhtar said he didn't want to overly criticise the team as it was the best possible at the moment.
"The one change I would have had is to play Mohammad Irfan. How can you rest a potential match winner like him? It is beyond comprehension to me," he added.