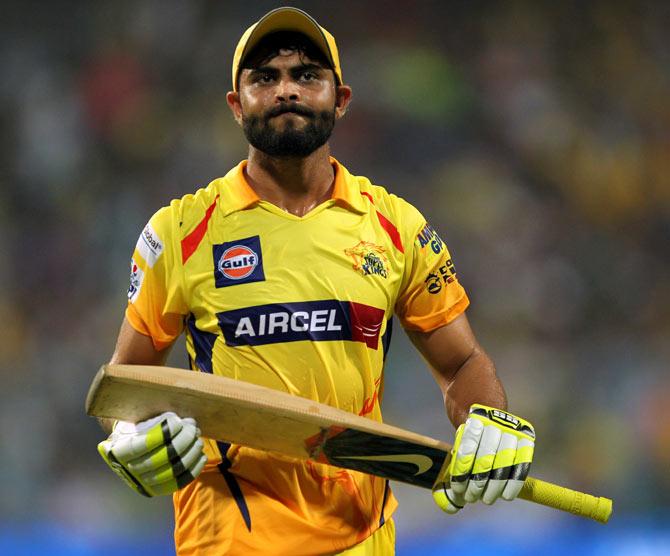 Ravindra Jadeja of Chennai Super Kings. Photograph: BCCI
Notwithstanding Ravindra Jadeja's poor showing in the ongoing Indian Premier League, Chennai Super Kings coach Stephen Fleming has backed the all-rounder, saying he believes in giving chances to players rather than chopping and changing a winning combination.

CSK are comfortably perched at the top of the IPL table with seven wins out of their 10 games and Fleming insists that the Mahendra Singh Dhoni-led side can carry the weight of non-performers as long as they are winning.

"Jadeja needs to get in to his form. He has skills and we value as to what he can contribute to the team. Players, who are out of form pick up and I do not believe chopping and changing players in IPL gives you an advantage, it could be destructive," Fleming said on Thursday, on the eve of CSK's match against Mumbai Indians in Chennai.

"We try and give chances to players as far as possible to give major contributions. His skills in the field suggest that he is good and comes up with couple of run outs. So, at this point of time we will be working with the player rather than trying to chop and change," he added.

On the question of Michael Hussey still sitting in the dug out, Fleming once again said that the think-tank is not keen on tinkering with a winning combination.

"We have got the best team at the moment to win games. We are not presumptuous to think we are in the semi-final already. We want to do one think at a time. As the tournament goes on it is difficult to field players who have not played because of match fitness. We are not going to compromise with the eleven that is winning the games to give chance to a player," the former New Zealand captain said.

"It is not to say that Michael Hussey is not a match-winning star but the rhythm in the team now is pretty safe. We will have to respect that we are just three games away to qualifying and qualifying is important and that is our main priority. When (Brendon) McCullum leaves for home, it will be an opportunity for Hussey or any other player to claim his berth," he added.

Suresh Raina, who has scored 256 runs in 10 matches including two fifties, has been the team's key performer and Fleming opines the left-hander should carry on playing his natural game even at the business end of the tournament.

"Suresh Raina was excellent in the last game. If he thinks he was guilty of being too aggressive, we need substance from him but on the other hand, we do not want to curb his natural instincts. Suresh is making lot of scores. We always value his major contributions," said Fleming.

CSK off-spinner Ravichandran Ashwin has missed out on the last few games with injury and Fleming is still not sure about his availability.

"We are not sure whether Ashwin will play. He has not bowled today. We will take a decision tomorrow. The positive side is that the cut he suffered is not in the main knuckle," he said.

Satisfied with the team's top-order, Fleming is not willing to tamper with the batting order in the upcoming matches.

"We will be lucky if we send left handers up the order and we will be trying to manipulate the left handed batsmen to counter them. (Pawan) Negi as you have seen is a very good asset. Jadeja is also playing well but he is not quite sound at the moment. I think if we can use the skills of the player rather than the name of the player, it would serve us better. Baba Aprajith is an excellent player for us and his off spin bowling opportunity is there for him and we can use him to take some wickets.

"There are lot of roles that these players role are handy. We also feel that on a slow tough wicket that the last game was, it would be easier for the left handers to do the job against left arm bowlers," he said.

"(Dwayne) Smith and (Brendon) McCullum have been good for us considering the high risk they take. They can win games but if it does not happen other players can do their role. When they are on song they win games like what they did against Mumbai Indians last month," he added.