Australia have pure blinding pace, England will rely on technique and experience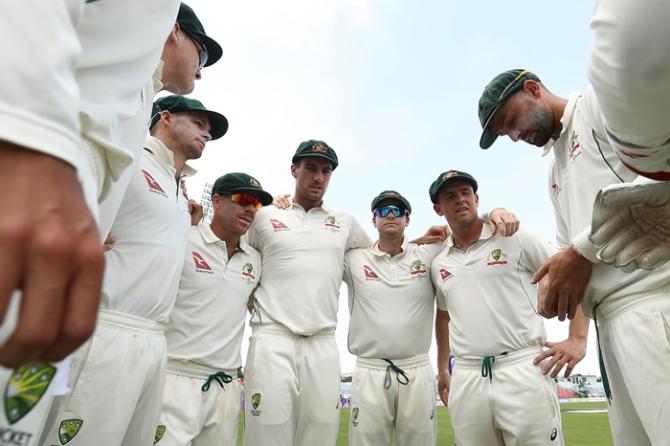 IMAGE: Favourites to reclaim the Ashes? Photograph: CA/Twitter
Australia will start as favourites to reclaim the Ashes over the next seven weeks if only because of their home advantage but picking the winners in cricket's oldest Test rivalry has become a fool's game in recent years.
England pitched up bristling with confidence on their last tour Down Under in 2013 and were promptly whitewashed, while Australia's touring swagger in 2015 was pricked when they lost three of the first four tests and had to hand over the urn.
Given that neither team are currently world beaters, that series two years ago, where the momentum shifted almost by the session, might well prove to be the template for the latest instalment of a rivalry that goes back to 1882.
Certainly, England captain Joe Root and his Australian counterpart Steve Smith are world-class batsmen and both sides can boast another in openers Alastair Cook and Dave Warner.
Beyond that, though, there are question marks over the technique of England's otherwise inexperienced top order and suggestions of a brittleness in Australia's.
It is, after all, just over a year since South Africa skittled Australia for 85 on their way to an innings victory in Hobart that set up their series triumph.
Australia's youthful overhaul that followed appeared to have laid the groundwork for a more stable future until the baffling policy reversal in the squad selection last week.
The series gets underway on Thursday in Brisbane, where Australia have not lost a Test since 1988 and England's hopes of victory in 2013/14 were effectively ended by a confidence-shattering spell of bowling from Mitchell Johnson.
Johnson has since retired and Mitchell Starc inherited the mantle of Australia's left-arm enforcer, leading an attack that also features Pat Cummins and the redoubtable Josh Hazlewood.
Backed up by the off-spin of Nathan Lyon, whose ability to use the bounce of the Australian tracks makes him a formidable force at home, the hosts believe they have a clear advantage in the bowling department.
Where Australia have pure blinding pace, England will rely on technique and experience with James Anderson embarking on his seventh Ashes series and Stuart Broad a sixth.
Given the sheer slog of bowling on the hard Australian tracks, however, it is unlikely that either pace attack will remain intact for all five Tests, particularly given the injury records of Starc and Cummins and the age of Anderson and Broad.
England would have been looking to the bowling of all-rounders Stokes and Moeen Ali as key part of their strategy but the former's tour was almost certainly ended in a flurry of punches outside a Bristol nightclub in September.
Stokes may yet be cleared to play a part in the series by police and the England and Wales Cricket Board, who suspended him after he was arrested on suspicion of causing actual bodily harm.
It would not happen until after the Brisbane Test, however, and making it over in time for the second match in Adelaide starting on Dec. 2 might also be optimistic, not to mention unseemly haste from the ECB.
The absence of Stokes and the injury to his replacement in the squad Steve Finn had many Australians viewing the reclaiming of the Ashes almost as a foregone conclusion.
That is until the Australian selectors named their 13-man squad for the series last Friday.
In a decision Shane Warne described as "confused" and Allan Border as "bizarre", 32-year-old Tim Paine was selected as wicketkeeper despite not performing the role for his state and having last scored a first class century in 2006.
Also recalled for the eighth time was 34-year-old Shaun Marsh, who is expected to fill the number six spot in the batting order as Australia's quest to unearth a Test all-rounder continues.
Uncapped Western Australia batsman Cameron Bancroft, who will replace young gun Matt Renshaw and open with Warner, at least had runs to his name, 442 of them at an average of 110.50 in three Sheffield Shield matches.
England have had a solid if not spectacular preparation in three tour matches against weak opposition on flat pitches and will hope the selections unsettle the home side as much as they have upset former players-turned-media pundits.
If the tourists can get out of the Gabba with at least a draw, as happened the last time they triumphed in Australia in 2010, they can move on to the uncertainty of the first day-night Ashes Test in Adelaide, where movement might be a big factor in the bowling.
Get any kind of result in Adelaide and all bets will be off heading on to Perth's WACA, which will host a test for the last time before a move to a new all-purpose stadium.
The series then makes its traditional stops in Melbourne and Sydney.