Ravichandran Ashwin's 6/46 was the off-spinner's best bowling figures away from home.
Did you know there have been 66 five-wicket hauls by Indian spinners in Tests since the new century began?
Rajneesh Gupta highlights the six top performances by Indian spinners in Tests abroad since the 2000s dawned.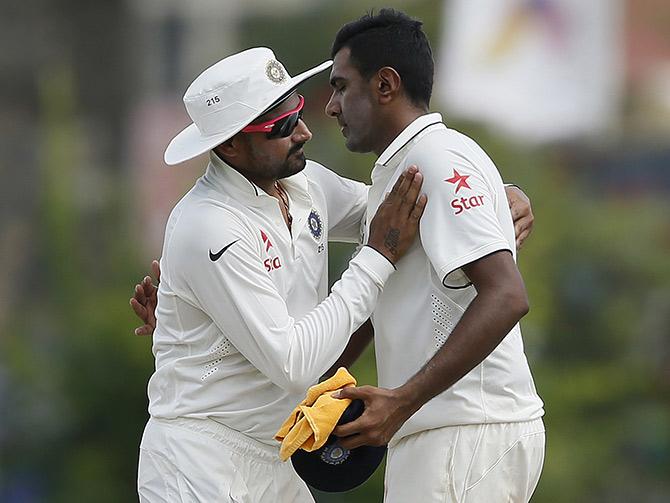 IMAGE: Harbhajan Singh, left, congratulates Ravichandran Ashwin. Photograph: Dinuka Liyanawatte/Reuters
Anil Kumble. 8/141. Sydney, 2003-2004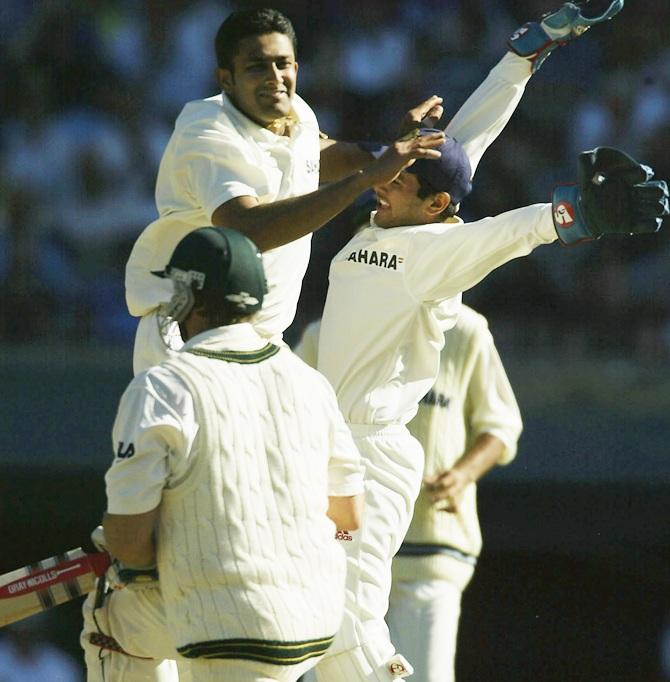 IMAGE: Anil Kumble, left, celebrates with Parthiv Patel. Photograph: Mark Dadswell/Getty Images
In a contest between two great batting sides Anil Kumble made all the difference and almost took India to a remarkable series win over Australia.
India batted first and posted a mammoth 705/7 - the highest ever total by India and the second highest ever conceded by Australia.
At 214/1, Australia were going great guns. The leg-spinner varied his pace, maintaining his line, and was rewarded with the second best figures by an Indian spinner in an away Test.
Harbhajan Singh. 7/120. Cape Town, 2010-2011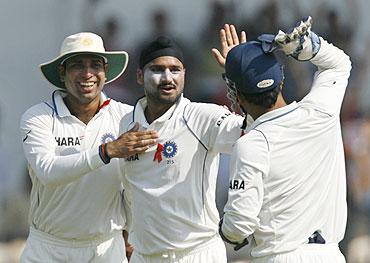 IMAGE: Harbhajan Singh celebrates with teammates. Photograph: Getty Images
The Test was hanging in the balance when South Africa started its second innings. Bhajji exploited the occasionally variable bounce, pegging South Africa back to 64/4 to raise hopes of an unlikely Indian win.
But Jacques Kallis dug in and added 103 runs with Mark Boucher for the seventh wicket as the Indian quicks allowed Kallis to score his second century of the match.
Harbhajan was India's workhorse, sending down 38 overs for 7/120, figures which only he had bettered for India against South Africa.
Ravichandran Ashwin. 6/46. Galle, 2015
Ashwin established a new record for best figures by an Indian spinner on the opening day of a Test outside India.
Harbhajan Singh. 6/63, Hamilton, 2008-2009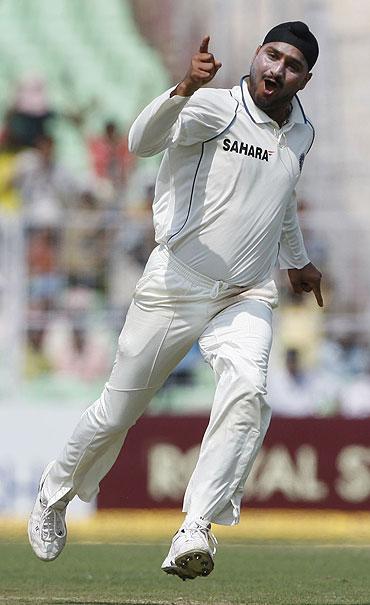 IMAGE: Harbhajan Singh. Photograph: Getty Images
Harbhajan Singh inspired India to its first win in New Zealand in 33 years.
Bowling round the wicket and flighting the ball into the rough patches on the fourth day pitch, Bhajji varied his pace cleverly. The bounce in the pitch made it a difficult proposition for the batsmen to tackle him.
It was his best peformance in an away Test at that time and the fourth best by an Indian in New Zealand.
Anil Kumble. 6/72, Multan. 2003-2004
The Test is remembered for Virender Sehwag's 309 and his 336-run partnership with Sachin Tendulkar, but Anil Kumble also played a vital role in India's first win in Pakistan in 21 Tests spread over 49 years.
After Pakistan followed on, the leg-spinner ran through the Pakistan batting, taking all six wickets on the fourth day, helping India register an innings win.
Anil Kumble. 6/78, Kingston, 2006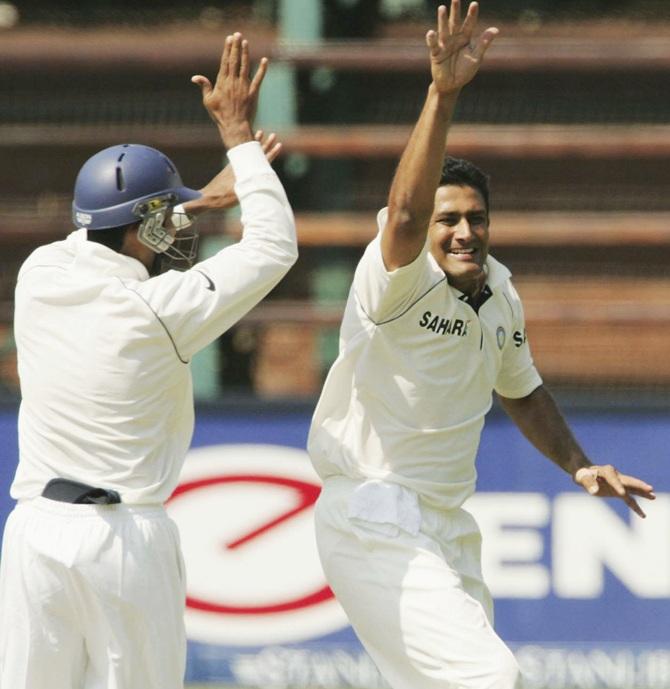 IMAGE: King Kumble celebrates! Photograph: Duif du Toit/Gallo Images/Getty Images
The Test lasted all of three days and gave India its first series win against a major side outside the subcontinent since 1986 and also its first series win in the Caribbean in 35 years.
India did not cross 200 in either inning, but still had enough runs on the board. Chasing a fourth innings target of 269, the West Indies were jolted by pacers at the start and from there onwards it was Kumble's show.
He took six of the next seven wickets, with just one needing the assistance from a fielder.