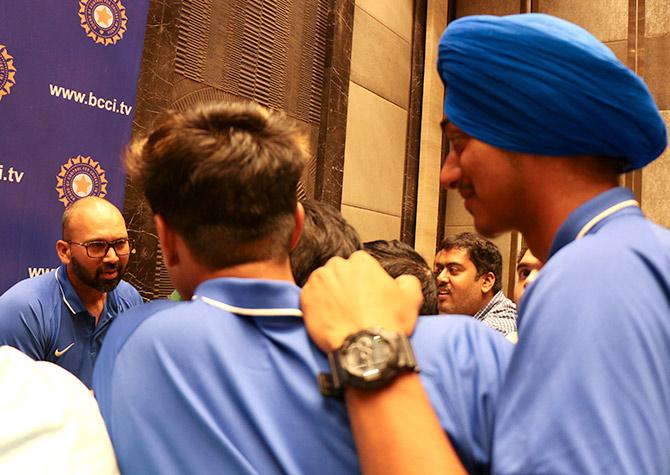 IMAGE: India Under-19 all-rounder Abhishek Sharma interrupts a media session to 'interview' bowling coach Paras Mhambrey. Photograph: Satish Bodas/Rediff.com
India's bowling shone bright at the just-concluded Under-19 World Cup that saw the team thrash Australia in the final to win the title for a record–breaking fourth time.
India finished unbeaten to emerge triumphant in New Zealand on Saturday following some good performances by the bowler, particularly pacers Kamlesh Nagarkoti, Shivam Mavi and Ishan Porel.
With Kamlesh Nagarkoti and Shivam Mavi consistently clocking speeds of 140 kmph the world stood up and took notice of the India's potential.
Thus, it was not surprising that Under-19 bowling coach Paras Mhahmbrey was effusive in praise of his wards.
"Throughout the tournament, accuracy wasn't an issue with the bowlers. It was important to channelize that and be able to consistently introspect. I think that was simpler. I didn't have to really work so much, because the bowlers and I were usually on the same page… our thought processes were similar. So it really helped me to work with them.
"If you have pace you have to focus on it. Also, you can't get carried away with pace. You need to hit those lengths. To win games you need people who'll bowl accurately at both the ends. You can't have a guy bowling at 150 kmph and leaking runs. With pace, accuracy is also important," Mhambrey told journos on the team's arrival from New Zealand, even as they realised they were being jostled around -- reminder enough that these new World champions are just teenagers.
India's left-arm spinner Abhishek Sharma decided that Mhambrey has spoken enough about the pacers and it was time he got to the 'real questions' in.
So Sharma, prodded by fellow-left-arm spinner Arshdeep Singh, squeezed his way past 7-8 journos who had crowded around Mhambrey, and stuck out his mobile phone in Mhambrey's direction to get a sound byte.
"Sir, one question please," Abhishek started. He got Mhambrey's attention and a slight smile.
"You have three left-arm spinners in your playing eleven... How good is that for you?" he probed, to peels of laughter from those standing around.
"Very good," was Mhambrey's quick reply.
Then the former Bombay Ranji bowler went on to elaborate: "A lot of focus has been on the fast bowlers, but it's also equally important that all the bowlers at some point or the other have contributed to the team's success and that's important.
"It's important to recognise that though a lot of the focus has been on the fast bowlers, if you look at all the spinners they have contributed at some point or the other to win a game and that is important, including Abhishek, who bats as well. On a serious note, it is important to have a bunch of six-seven bowlers who can win a game for you."
Satisfied with the answer, Abhishek screamed, "Thank you saar," and ran off with Arshdeep!
Spinners Anukul Roy and Shiva Singh also played a leading hand in India's title win.
To a question by this journo about ensuring that the success does not go to the teenagers' heads, Mhambrey replied: "It's a lot of counselling work that we need to do with these kids. Obviously, at a young age, with a lot of popularity and attention, as a teenager, it may happen that you may get carried away and may wander off from the actual objective.
"I feel it's just a start for these guys. Yes, we have won a World Cup but it's just a start of their cricketing careers. It's important for us to make sure that we are in constant touch with these guys – that is what we are going to do. We are going to, in future, monitor their progress of whatever respective states they play for. Open communication in terms of not only on the coaching bit but also in terms of the physio, trainers, and know what work is going on with them. The communication between the NCA and the player through the season is going to be important."
WATCH: Abhishek Sharma 'interviews' coach Mhambrey
Video: Afsar Dayatar/Rediff.com