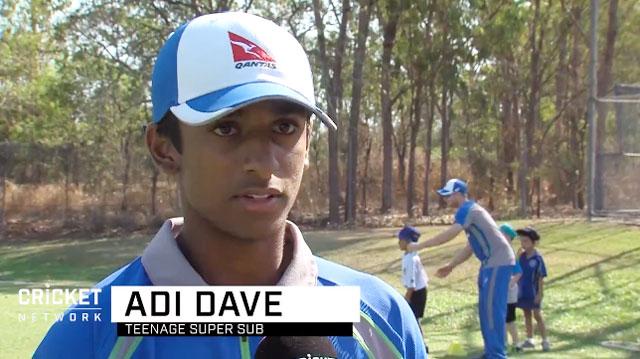 IMAGE: A video grab of Aus teen super sub fielder Adi Dave. Photograph: cricket.com.au
When Australia's intra-squad three-day match was played earlier this week, the practice match caught the world's attention when opener David Warner got hit in the neck while trying to negotiate a bouncer from Josh Hazlewood.
But the Aus media found a real cricketing reason for the match garnering attention – 15-year-old Adi Dave.
The Darwin local was brought in as substitute fielder for the practice match between
Steve Smith XI and the David Warner XI.
And was he made to field?
Smith threw a helmet to Dave and was directed to take position at short-leg.
Not one to be intimidated, Dave gleefully accepted the command.
"I was happy to go anywhere. I was thinking to myself the night before 'what if I go under there?', but I was happy to," Dave told cricket.com.au.
Standing at the receiving end, the teenager did not have any catches come his way but he copped a few blows on his legs.
According to cricket.com.au, Dave got a smack in the calf when Travis Head played a pull shot but the fearless lad "just put some ice on it and I was good to go".
The Australian media have termed Dave, who turns up for Northern Territory, as a promising left-arm orthodox bowler.
Last year, Dave represented the Northern Territory in Cricket Australia's Under-17 National Championships, while he's also been part of the territory's Emerging Players and School Sport squads.